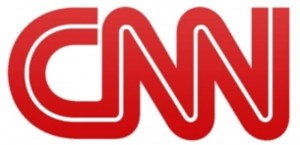 The first cable-news net­work, CNN, is los­ing rat­ings, and the net­work seems to be in trouble:
CNN con­tin­ued what has become a pre­cip­i­tous decline in rat­ings for its prime-time pro­grams in the first quar­ter of 2010, with its main hosts los­ing almost half their view­ers in a year.

The trend in news rat­ings for the first three months of this year is all up for one net­work, the Fox News Chan­nel, which enjoyed its best quar­ter ever in rat­ings, and down for both MSNBC and CNN.

CNN had a slightly worse quar­ter in the fourth quar­ter of 2009, but the last three months have included com­pelling news events, like the earth­quake in Haiti and the bat­tle over health care, and CNN, which empha­sizes its hard news cov­er­age, was appar­ently unable to benefit.
I have an admis­sion: I pre­fer Fox News over CNN. Yes, I'm sorry. I had always loved CNN ever since Wolf Blitzer reported under mis­sile fire from a hotel in Bag­dad dur­ing the first Gulf War, but now I can­not watch the network.
Here in Israel, I have tried watch­ing CNN Inter­na­tional, but I can­not. Half of the time, the pro­gram­ming focuses on celebri­ties and other non-newsworthy news. (I can only imag­ine what CNN in Amer­ica shows.) And most of the other half of the time, the anchors are read­ing Face­book mes­sages and tweets from view­ers. Who cares?
No mat­ter how much Fox News focuses on sen­sa­tion­al­ism, con­ser­v­a­tive bias, and super­fi­cial anchors with blond hair and short skirts, the net­work at least presents seri­ous sub­jects. Biased, sen­sa­tional news is bet­ter than neu­tral report­ing on celebrity gos­sip. If I want to catch up on the head­lines of the moment on tele­vi­sion, I pre­fer to watch Fox News over CNN. And that's a shame.
I won­der whether more peo­ple are watch­ing Fox News for the same rea­son, and that this is the rea­son for the decline in CNN's rat­ings. Still, media pun­dit Dan Kennedy won­ders whether straight, hard-hitting jour­nal­ism might still be how to help CNN:
Maybe we're all mak­ing a cat­e­gory error. As for­mer CNN host (and Media Nation favorite) Aaron Brown tells Calderone, CNN remains a "highly prof­itable busi­ness." CNN posits itself as a news alter­na­tive to the par­ti­san, opinion-driven talk-show line-ups offered by Fox and MSNBC. In that sense, maybe the three cable news nets aren't really com­peti­tors at all.

The prob­lem, of course, is that CNN's prime-time line-up also con­sists mainly of talk shows, though not very good ones. The other night I briefly tuned in the best of the bunch, "Ander­son Cooper 360," and saw Dr. Phil talk­ing about the Phoebe Prince tragedy. I nearly injured myself in my haste to change the chan­nel. (By the way: I like Cooper, but think he's being misused.)

What I'd like to see is a smart, ana­lyt­i­cal approach that makes sense out of all the news tid­bits we accu­mu­late through­out the day, unafraid to call out lies and mis­rep­re­sen­ta­tions but non­par­ti­san in its over­all approach. Some­thing, frankly, like Brown's old pro­gram, "News­Night," can­celed to make way for "AC360."
New York Times colum­nist Ross Douthat also offers an idea that might work, no mat­ter how opti­mistic it may be:
What might work, instead, is a cable news net­work devoted to actual debate. For all the red-faced shout­ing, debate isn't really what you get on Fox and MSNBC. There's room, it would seem, for a net­work where rep­re­sen­ta­tives from the right and left can both feel com­fort­able, and com­pete on roughly equal terms. Sort of like they did on … "Crossfire."

But not the "Cross­fire" of 2004. CNN over­re­acted to Jon Stewart's jere­miad, but he wasn't entirely wrong. The show was years removed from its Michael Kinsley/Pat Buchanan glory days, and its lib­eral hosts at the time, Begala and James Carville, really were Demo­c­ra­tic Party hacks. (The con­ser­v­a­tives, Carl­son and Robert Novak, were much more independent-minded, but the con­stant need to rebut par­ti­san talk­ing points took its toll on them as well.)

What cable news needs, instead, is some­thing more like what Stew­art him­self has been doing on "The Daily Show." Instead of bring­ing in the strate­gists, con­sul­tants and pro­fes­sional out­rage artists who pre­dom­i­nate on other net­works, he ush­ers con­ser­v­a­tive com­men­ta­tors into his stu­dio for con­ver­sa­tions that are lengthy, respect­ful and often riv­et­ing. Stewart's series of debates on tor­ture and inter­ro­ga­tion pol­icy, in par­tic­u­lar — fea­tur­ing John Yoo and Marc Thiessen, among oth­ers — have been more sub­stan­tive than any­thing on Fox or MSNBC.
I under­stand Douthat's com­ments, and I'll empathize them in three con­texts: "The West Wing," "The Daily Show," and my pre­vi­ous expe­ri­ence as a Boston reporter.
Some years ago, I was once watch­ing a later sea­son of "The West Wing" in which the Demo­c­ra­tic and Repub­li­can can­di­dates com­pet­ing to become the next pres­i­dent went off-message dur­ing a pres­i­den­tial debate and actu­ally had a real con­ver­sa­tion about the issues fac­ing the United States. I wish that some­thing sim­i­lar would actu­ally occur in today's polit­i­cal cli­mate of par­ti­san talking-points. But there's a rea­son that tele­vi­sion shows are fictional.
One of the rea­sons for the suc­cess of the "Daily Show" is that Jon Stew­art actu­ally has insight­ful, in-depth dis­cus­sions with his guests rather than two-minute seg­ments in which pun­dits get a check for spout­ing off the talking-points-of-the-day. (From what I under­stand, the "Daily Show" seg­ments are edited, and the full inter­views are avail­able on the program's website.)
Another rea­son for the suc­cess of both the "Daily Show" and Fox News is that the two, for lack of a bet­ter phrase, have balls. Jon Stew­art will call out hypocrisy and BS when he sees it. Fox News will pum­mel its ide­o­log­i­cal oppo­nents (fre­quently unfairly) — though their tar­gets are usu­ally Democ­rats and lib­er­als. Main­stream media out­lets refuse to have jour­nal­is­tic balls because they fear being seen as biased and not neutral.
Here is an exam­ple. When I was a reporter for the Boston Courant, the Red Sox decided to let Bruce Spring­steen per­form a con­cert at Fen­way Park in 2003. Neigh­bor­hood res­i­dents were upset because they did not want the increased traf­fic and noise.
In com­mu­nity meet­ings, Red Sox offi­cials said that the con­cert would be a one-time event. But, of course, that turned out to be false. Now, as a reporter at the time, I should have been allowed to ask an on-the-record ques­tion like, "So, either you [the Red Sox] lied, or you changed your pol­icy. Which was it?" But could I actu­ally do it? Nope. You don't want to rock the boat. You just quote com­ments from the Red Sox on the ben­e­fits of hav­ing the con­certs, and you quote neigh­bor­hood lead­ers on why they think it is a bad idea. Write, and print.
Here is another exam­ple. At the same job, I fre­quently cov­ered urban-development projects over­seen by the Boston Rede­vel­op­ment Author­ity — an essentially-autonomous arm of the state gov­ern­ment that could do what­ever it wished. I broke the story of how the ini­tial unveil­ing of Hotel Com­mon­wealth revealed that the devel­oper had vio­lated the design that had been approve by the BRA. When I inter­viewed rep­re­sen­ta­tives from the devel­oper and the BRA, both had blamed the other for the "mis­com­mu­ni­ca­tion." I could only get — and then print — their respec­tive quotes — I could not write that one or both were full of BS even though that was plainly the truth.
If I could make rec­om­men­da­tions to CNN (or any other broad­cast net­work that wants to improve its rat­ings), it would be the fol­low­ing points based on the com­ments I ref­er­enced earlier:
Ana­lyze issues in-depth
Ignore pun­dits who merely want to recite talking-points
Do not be afraid to call out hypocrisy, lies, and

BS

— as long as you do it to all sides
I never had the chance to cover national pol­i­tics, but here are a few exam­ples of what I would change and points I would make:
"

You are a "Demo­c­ra­tic strate­gist." Your job is to make your team look good. Why should I even give your com­ments credibility?
To Vice Pres­i­dent Dick Cheney: "You are tout­ing your eco­nomic growth, but the Iraq War has been entirely off-budget. So are not your num­bers lies? Why are you not includ­ing the war in the government's finan­cial figures?"
To the Tea Party move­ment: "You say that you are opposed to the vast increase in gov­ern­ment spend­ing, but where were you when George W. Bush did the same thing? Is that not hypocritical?"
These are just a few exam­ples. Broad­cast jour­nal­ism, of course, has always been more about enter­tain­ment than jour­nal­ism — it is the nature of the medium — but such hon­est, provoca­tive tac­tics would improve both jour­nal­ism and ratings.
Related: How Google Might Save the News