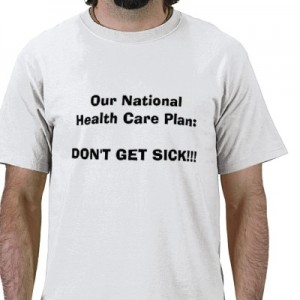 One of the ben­e­fits of a gov­ern­ment based on the separation-of-powers — like that of the United States, in which two sep­a­rate parts of a leg­is­la­ture as well as the exec­u­tive must agree on a law — is that change usu­ally occurs incre­men­tally, and the coun­try is gen­er­ally sta­ble as a result.
In such a sys­tem, major shifts in law rarely occur quickly (not count­ing actions by the judi­cial branch), and pol­icy typ­i­cally spans only from the center-left to the center-right (as com­pared to what hap­pens in par­lia­men­tary sys­tems in Europe and else­where). When change does occur, it usu­ally hap­pens bit-by-bit over sev­eral years or longer — and the polit­i­cal tac­tics used to imple­ment such change are referred to as the Over­ton Win­dow.
The ben­e­fit is that extremely-bad laws are rarely enacted since a law passed by one branch of Con­gress can be struck down by either the other branch or the pres­i­dent. How­ever, the oppo­site side of the coin is that extremely-good laws can be eas­ily blocked as well. The pub­lic can demand "change" on any given issue, but sig­nif­i­cant "change" rarely occurs eas­ily in the U.S. gov­ern­ment as a result of this process.
Take the debate over the recently-passed health-care reform (known by oppo­nents as "Oba­macare"). As a result of the polit­i­cal process, the result­ing bill that was passed was a mod­er­ate com­pro­mise that sat­is­fied nei­ther the left (who wanted a single-payer sys­tem of uni­ver­sal health-care) nor the right (who wanted noth­ing at all).
Accord­ing to Wikipedia, the health-care reform bill resulted in the following:
32 mil­lion addi­tional cit­i­zens being insured by 2019, but an esti­mated 23 mil­lion would remain with­out coverage
Insur­ers would be forced to cover more of a person's health care costs by exclud­ing life­time and annual caps, cov­er­ing first-dollar costs for screen­ings and immu­niza­tions, and pre­vent­ing exclu­sions for nec­es­sary care.
Man­date that no more than 15% of pre­mi­ums would be used fo over­head expenses by insur­ance companies.
But as a result of polit­i­cal maneu­ver­ing and nego­ti­a­tions, the mud­dled bill that emerged may in fact do more harm than good:
The new health care law wasn't sup­posed to under­cut employer plans that have pro­vided most peo­ple in the U.S. with cov­er­age for gen­er­a­tions. But last week a lead­ing man­u­fac­turer told work­ers their costs will jump partly because of the law…

While it's too early to pro­claim the demise of job-based cov­er­age, cor­po­rate num­ber crunch­ers are look­ing at options that could lead to major changes.

"The eco­nom­ics of drop­ping exist­ing cov­er­age is about to become very attrac­tive to many employ­ers, both pub­lic and pri­vate," said Gov. Phil Bre­desen, D-Tenn…

"I don't think you are going to hear any­body pub­licly say 'We've made a deci­sion to drop insur­ance,' " said Paul Keck­ley, exec­u­tive direc­tor of the Deloitte Cen­ter for Health Solu­tions. "What we are hear­ing in our meet­ings is, 'We don't want to be the first one to drop ben­e­fits, but we would be the fast sec­ond.' We are hear­ing that a lot."
I can under­stand the eco­nom­ics. The pri­mary func­tion of  a busi­ness is not to pro­vide health-care cov­er­age for employ­ees or con­tribute to the com­mu­nity — it is to increase its value for its share­hold­ers through max­i­miz­ing rev­enue and min­i­miz­ing costs. While some busi­ness own­ers will sac­ri­fice a lit­tle value to give ben­e­fits to employ­ees or dona­tions to com­mu­ni­ties — and those who do should be praised — they are under no oblig­a­tion to do so.
Health-care reform has been one area in which mas­sive change is prefer­able to incre­men­tal change — for rea­sons that include ben­e­fits to busi­ness own­ers, aid to employ­ees, and help for soci­ety in gen­eral. The nature of the U.S. polit­i­cal sys­tem pre­vented a major over­haul — a move to uni­ver­sal health-care — that would have ben­e­fited all par­ties in the long-term.
Shortly after mov­ing to Israel in Jan­u­ary 2008, I devel­oped a case of bron­chi­tis. My first expe­ri­ence with a uni­ver­sal health-care sys­tem was quite inter­est­ing at the time, and it piqued my inter­est on the soci­etal implications:
Which is the best means to have a healthy pop­u­la­tion? In gen­eral, there seem to be two options (based on my expe­ri­ences in the United States and Israel):

Every­one receives health insur­ance, but the qual­ity of ser­vice is mod­er­ate for every­one and pre­scrip­tions are a lit­tle expensive; or

Those who acquire health insur­ance receive excel­lent care and cheap pre­scrip­tions, but those who do not have it receive noth­ing at all.

Which one would you pre­fer? The for­mer is uni­ver­sal health-care, while the lat­ter is a free-market system.
When debat­ing a con­tro­ver­sial issue like uni­ver­sal health-care, it is com­mon for oppo­nents of national health-care to resort to illog­i­cal argu­ments involv­ing words like "social­ism," "com­mu­nism," and "Marx­ism." And this is a deflec­tion that reveals a lack of log­i­cal counterpoints.
As I wrote in a prior post on the sad state of U.S. pol­i­tics, I would love to see a world in which words includ­ing "lib­eral," "con­ser­v­a­tive," "Democrat(ic)," and "Repub­li­can" were ban­ished from polit­i­cal dis­course. An issue of pub­lic pol­icy should be judged solely on its mer­its (or lack thereof) and not on whether it is an opin­ion rooted in one of the adjec­tives listed above. A lib­eral can have a good or bad idea; a con­ser­v­a­tive can have a good or bad idea. But the idea is what mat­ters. So ignore any par­ti­san rhetoric on uni­ver­sal health-care.
My argu­ments, of course, are based on eco­nom­ics. While hav­ing healthy peo­ple is a moral good in and of itself, the fact remains that such a pop­u­la­tion will gen­er­ally be more pro­duc­tive in all aspects of soci­ety. But the main argu­ment against uni­ver­sal health-care is that it is expen­sive — this is a ratio­nal, valid point, but it is also one that ignores the greater context.
My last jour­nal­ism job in Boston was serv­ing as the exec­u­tive direc­tor and pub­lisher of Spare Change News, an alter­na­tive news­pa­per that cov­ered social-justice issues includ­ing home­less­ness and poverty, after I had first arrived there as the edi­tor of the pub­li­ca­tion in 2003.
When I became exec­u­tive direc­tor and hired a new edi­tor to replace me, most of my time involved admin­is­tra­tive and finan­cial duties includ­ing fundrais­ing and book­keep­ing. As a result, I knew from where the money was com­ing and to where it was going — and, from what I remem­ber, the small, non-profit orga­ni­za­tion paid $2,000 to $3,000 a month for health-insurance for our full-time and part-time employ­ees. (To ben­e­fit its work­ers, SCN paid 100% of the cost.) I am sure that the pay­ments have increased since pre­mi­ums have risen in recent years.
Here is the crux of the mat­ter from an eco­nomic stand­point. If SCN would had not needed to pay for employee health-care cov­er­age, I could have used that money to hire another staffer. And this is what oppo­nents of uni­ver­sal health-care should remember:
By reliev­ing busi­nesses of the need to pro­vide health-care insur­ance, a uni­ver­sal health-care sys­tem would decrease unemployment
Increas­ing employ­ment would give the pub­lic more pur­chas­ing power, allow­ing them to buy more goods and help the econ­omy since con­sumer spend­ing is roughly two-thirds of U.S. 

GDP

Increas­ing employ­ment would increase payroll-tax rev­enue to the government
Increas­ing employ­ment would decrease unemployment-insurance expen­di­tures by the government
Increas­ing employ­ment would make busi­nesses more pro­duc­tive, increase their bottom-lines, and increase corporate-tax rev­enue to the government
The main argu­ment against universal-health care — not includ­ing pleas to emo­tion involv­ing words like "social­ist" — is that it would vastly increase expen­di­tures by the gov­ern­ment at a time of large deficits and grow­ing debt-burdens.
But the eco­nomic ben­e­fits of an increase in con­sumer spend­ing, pay­roll taxes, and cor­po­rate taxes would likely off­set the eco­nom­ics costs of a national health-care pro­gram. Since most of the oppo­nents of uni­ver­sal health-care seem to be on the right, this is an argu­ment that they could surely sup­port. But the real ques­tion is whether such a mas­sive over­haul could occur any­time soon in a polit­i­cal sys­tem that enforces sta­bil­ity and moderation.