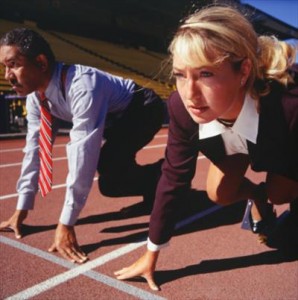 Vox Day — a self-described Christian-libertarian blog­ger and World­Net­Daily colum­nist whose best writ­ings like the return of the Great Depres­sion are on eco­nom­ics — has founded an inter­est­ing blog with var­i­ous con­trib­u­tors, Alpha Game, that pur­ports to give men advice on dat­ing suc­cess­fully from the s0-called "Game" point of view in online dating-services, online-dating web­sites, and friend-finder dat­ing.
In a recent post, he responds to a com­menter who takes issue with his char­ac­ter­i­za­tion of women as rarely know­ing what they want and whose ver­bal state­ments should never be taken at face-value:
What could pos­si­bly be aston­ish­ing about treat­ing women as if they have no clue what they want when they observ­ably do not? Remem­ber, we're not talk­ing about momen­tary desires here, but rather dreams, those life objec­tives that fun­da­men­tally reflect the deep­est and most sin­cere aspects of the individual's per­son­al­ity. If a grown man tells me that his dream is to be a NFL quar­ter­back, I cor­rectly con­clude that he is deluded because it's not pos­si­ble for some­one to start play­ing foot­ball post-college at such a high level. If a young man tells me that his dream is to be a nuclear physi­cist and a marine biol­o­gist, I cor­rectly con­clude that he doesn't know what he wants because the two objec­tives are mutu­ally exclu­sive. And if a man says he dreams of becom­ing a rock star but can't sing and doesn't bother learn­ing to play an instru­ment, I cor­rectly con­clude he is not seri­ous about it.

So, why would one reach con­clu­sions that are any dif­fer­ent when one hears women express dreams that are either a) impos­si­ble, b) mutu­ally exclu­sive, or c) totally at vari­ance with their present course of action? [The com­menter] says that the female need to be a mother is in every woman's DNA. I think she is cor­rect, so what is a man to con­clude when lit­er­ally every woman his age tells him that she does not want to have chil­dren? He can either take them all at their word, which is what [she] is imply­ing, or he can do as I advise and ignore what they say they want.
Women & Communication
As I have writ­ten in a prior post on whether game-dating can help men to pick-up girls, I under­stand the phi­los­o­phy of "Game" but find it dis­taste­ful. While the under­ly­ing the­ory is accu­rate as far as under­stand­ing the nature of women and female attrac­tion based on biol­ogy, soci­ol­ogy, and evo­lu­tion­ary psy­chol­ogy, the prac­ti­tion­ers of "Game" use that knowl­edge to reach an immoral end — sleep­ing around and (usu­ally) avoid­ing mar­riage for as long as pos­si­ble. (Besides, the more that the strat­egy is pop­u­lar­ized, the less effec­tive it will become when women "wise up" to its tactics.)
Regard­less, Day makes an inter­est­ing point regard­ing how women use lan­guage. Israeli cable-television here shows reruns of the NBC com­edy "Scrubs," and an episode I watched a few days ago epit­o­mizes the point. J.D., a doc­tor at the fic­tional hos­pi­tal, is good friends with Carla, a nurse there. One day, he over­rules her on a med­ical pro­ce­dure in a con­de­scend­ing man­ner. Later, J.D. apol­o­gizes, and Carla "accepts." Later in the episode, she still har­bors a grudge:
J.D.: But you just accepted my apol­ogy. You can't take it back!
Carla: Have you ever spent time with a woman?
I remem­ber the old line in stand-up com­edy that my col­lege friends and I used to quote: "it's funny because it's true." In short, women are far more likely not to mean what they say. To put it more bluntly, women are often more likely to lie (under the lit­eral def­i­n­i­tion) — if not to oth­ers, then at least to them­selves (and usu­ally with­out real­iz­ing that they are doing so). Now, before I receive the usual bom­bas­tic com­ments and e-mails, remem­ber this line:
If you want to tell peo­ple the truth, make them laugh. Oth­er­wise they'll kill you. — Oscar Wilde
(As a for­mer jour­nal­ist, I do not write humor — try to keep the death-threats at bay.) That quote is exactly why stand-up come­di­ans can make the same com­ments about the gen­ders as pun­dits, but the for­mer receive laugh­ter while the lat­ter get con­dem­na­tions. How many come­di­ans devote entire rou­tines to the tired bits of "Women are crazy!" or "Men are stu­pid!" and get roar­ing applause? But if polit­i­cal writ­ers take the same premises and incor­po­rate them into an analy­sis of a public-policy or cul­tural issue, then they are either women-haters or men-haters (respec­tively). Well, I will try to dis­cuss this issue rationally.
In the exam­ple above from "Scrubs," the nurse Carla had stated that she accepted J.D.'s apol­ogy, but she had com­mu­ni­cated — at least as she knows how — that she actu­ally had not. Here's the difference.
Arti­cle Pages: 1 2