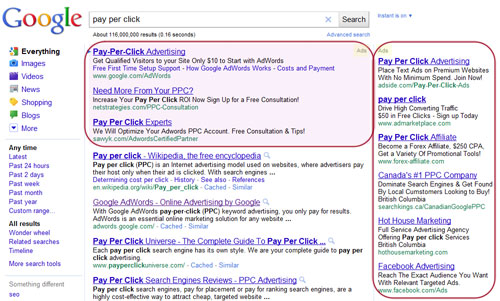 If you want to understand why pay-per-click (PPC) advertising has become a less and less viable option for small businesses and start-up companies, ask Tom Telford.
According to a recent article in the New York Times, he had founded a vacation rental-management firm named Blue Creek Cabins and had been paying Google roughly $0.60 per click in paid-advertising campaigns since 2001 in return for many leads and sales.
However, his success did not last:
By 2010, Mr. Telford had started a new management company, Cedar Creek Cabin Rentals, and was spending $140,000 a year on pay-per-click advertising to promote the 45 cabins in his charge. The programs had become increasingly popular and competitive, which meant that in order to retain his ranking in search results, he had to pay about $1.25 a click, double what he had paid initially. "The cost per keyword climbed dramatically over the years," he said. "And it's still going."

And that is a problem. While Mr. Telford agreed to pay more for his keywords, he said he did not see a commensurate increase in sales. "For a while, I was spending more than I was getting," he said. "It finally hit me to ask, 'Can I sustain this?'"
As more and more businesses in general have recognized the value of online advertising, PPC competition and prices have increased. Another example: Say that you are a freshly-graduated Boston personal-injury attorney who wants to gain clients for your individual practice through paid online advertising. At the moment of this writing, here were the costs-per-click (CPC) of a few relevant keywords (the prices are set at an ongoing auction):
| | |
| --- | --- |
| Keyword | Cost Per Click |
| boston personal injury lawyer | $52.89 |
| boston personal injury attorney | $57.38 |
| personal injury lawyer boston | $55.49 |
| personal injury attorney boston | $55.75 |
| personal injury lawyer boston ma | $47.78 |
| personal injury attorney boston ma | $54.20 |
| boston ma personal injury attorney | $55.34 |
I doubt that a new lawyer just out of law school, whose per-hour billing rate would be far lower than that of major firms, could afford to pay more than $50 for every person who comes to the website through a paid campaign – particularly when a small percentage would likely ever become clients. So, PPC is now benefiting large companies (and large law firms) who can afford the increase in costs more so than small businesses and start-ups (and private law practices). The same increase in PPC prices has been occurring in nearly every industry and sector.
Telford, the vacation rental manager, has not been the only one to notice problems in PPC advertising today. Earlier this year, Sookie Shuen wrote at Social Media Today that PPC is usually not a viable option anymore for many businesses who are focused specifically on leads and sales (even though it is great for Google) because of two reasons:
It's a short-term fix

PPC is purely about grabbing the potential customer's attention without actually developing a lasting relationship with them. It focuses on the attraction stage and neglects to actually nurture and convert the buyer. This is why used alone, it can only ever offer limited returns.

It is brand-unaware

PPC is purely about the ad and about capturing the interest of window shoppers. With no brand awareness or value proposition around it, the PPC campaign tends to attract window shoppers who are focused on cost rather than quality.
The issue also stems from a fundamental disconnect between the interests of publishers and those of advertisers. As Kevin Ross of the University of California at Santa Cruz and Kristin Fridgeirsdottir of London Business School note in a statistical paper (with our notes): "… publishers usually prefer CPM [or CPC] pricing as they find it less risky while advertisers prefer CPA [cost-per-action] pricing, which is performance based."
If I am Google or run my own advertising network, my goal is to maximize the number of clicks since that is how I earn revenue. I do not generally care whether the clicks ever actually help the business that is advertising. If I am the business, I want to make sure that I am getting the most leads and sales for my advertising dollars. And the first option is usually more expensive for the advertiser.
Now, this is not to say that PPC advertising as a whole is worthless. In Google Analytics and other advertising platforms, one can see which traffic from which keywords is leading to more conversions and sales. However, this requires the constant monitoring and adjusting of campaigns to minimize the costs coming from clicks – removing keywords that do not lead to conversions, adding negative keywords to restrict the instances when advertisements appear, and finding more long-tail keywords to catch people that are further along in the buying process.
However, it takes a lot of continuous work over time to optimize a PPC campaign to deliver the greatest value – and the fact still remains that many clicks, even after the constant fine-tuning of campaigns, will not leads to leads and sales and will be wastes of money as a result.
Enter cost-per-action advertising (CTA) – also known as cost-per-acquisition advertising. In this type of campaign, advertisers pay only when a click leads to an action that, depending on a company's marketing goal, could be an e-mail inquiry captured through a form, a product sale, or something else.
The benefits of CTA advertising, as noted by Social Compare (with some of our notes), include factors that PPC does not:
The advertiser pays according to results [leads or sales], performance only
Receives [brand] exposure even without clicks
Low vulnerability to frauds [publishers clicking on ads to make themselves money]
High correlation between ads and sales or leads
Indicator of campaign and banner quality
However, CPA costs are generally higher than PPC ones since a CPA lead is usually much more qualified – one that is more likely to lead to a conversion or sale – than a PPC lead coming from a random click. Still, CPA campaigns as a whole are often less expensive – but you need to test to be sure.
Take a hypothetical client example. The PPC cost was $1, and the cost per conversion was $18. As long as the CPA cost would be less than $18, the CPA alternative would have saved the company money. The total cost of the one-day PPC campaign would have been $485 – but if the CPA, for example, would have been $7, the total cost would have been $189. Testing these two options in any campaign will tell you which one is best.
Still, different methods of online advertising do have valuable purposes, depending on the specific context. CPM advertising is based on the cost per 1,000 people who will see your advertisement – if you, for example, want to build a general brand or generate buzz around a future product among masses of people, this can be the best method. PPC can be a good way to gain traffic to your website in general. If you want to get sales or conversions, then CPA can be the most-appropriate strategy. It all depends on your specific business and marketing goals.
The key, as in many aspects of online marketing, is to test to see which method is best for your business. And as PPC costs continue to increase, it is likely that CPA campaigns will deliver the greatest value over the long term – especially if you are a small business or a start-up company.
Thanks for reading! Follow me on Twitter. See my marketing speaker page or marketing workshop page to have me visit your conference or company!