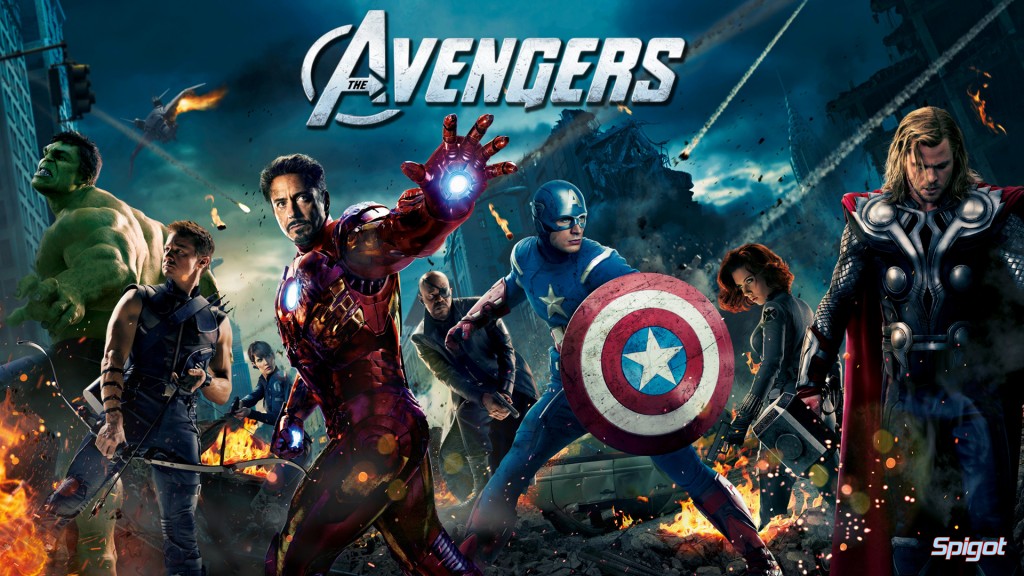 TEL AVIV – Here in the Silicon Valley of the Middle East, I finally saw the hit movie "The Avengers" only recently since it had finally come to Israeli cable TV. As a fan of director Joss Whedon, I loved watching how a group of heroes with expertise in specific areas came together for the common good because I saw many parallels with how so-called "SEO" needs to function today.
In a similar fashion (but without a nifty superhero outfit), I will explain here how "SEO" today needs to involve a team of people including website developers, public-relations professionals, social-media marketers, and content creators. Just as a single Avenger could not defeat Loki of Asgard alone, so do SEO best-practices today need teamwork across multiple disciplines in what is better termed "holistic marketing."
"SEO is Really a Collection of Best Practices"
Since I love and obsess about online marketing as much as I do about Joss Whedon, I routinely answer online-marketing questions on Quora. (Feel free to follow my Quora questions and answers here.) Recently, I saw a definition of "SEO" by Fang Digital CEO Jeff Ferguson in this Quora thread that perfectly summarizes everything that I had been thinking for years. And that definition is the headline you see right above.
SEO Holistic marketing is now the use of numerous, related disciplines because those elements are now all taken into account by Google's algorithm. If you do not have inbound marketing and conversion analytics; an effective, holistic marketing strategy; technical SEO; quality content; and public relations via social media, then your SEO efforts will no longer be as effective as they were when the SEO process years ago was merely optimizing a website and building links. You need a team of experts in all of these areas to work together – just as the Avengers worked together to defeat Loki.
SEO Holistic marketing today consists of:
Setting up website analytics to track traffic sources, conversions, leads, and/or sales (and then adjusting your tactics as needed in light of the future data and results)
Ensuring that your overall marketing strategy maps to your business goals and is in line with the best practices of traditional marketing and communications
Optimizing your website for search engines on a technical level
Indentifying the targets from whom you want sales, conversions, links, and mentions from potential customers and media outlets
Creating quality content to engage those targets and obtain links and traffic to your website
Using public relations – often through social media – to promote your company and content among (and obtain links from) the targets and the public in general
Keeping abreast of any Google algorithm changes that may affect your efforts in all of these areas
Just as different Avengers have different skills, so will your SEO team need experts in these various areas to save the world achieve your online-marketing goals. Here's what you can learn from the superhero blockbuster:
Nick Fury (management). As the leader of SHIELD (the world-saving organization that uses the services of the Avengers), Samuel L. Jackson's character answers to a mysterious council and has to justify his team's actions and plans. If an "SEO person" has a specific role today, it is to keep the "big picture" of inbound marketing in mind while managing his own team of Marketing Avengers and showing the results to his council – the board of directors, CEO, or client – via web analytics and conversion data.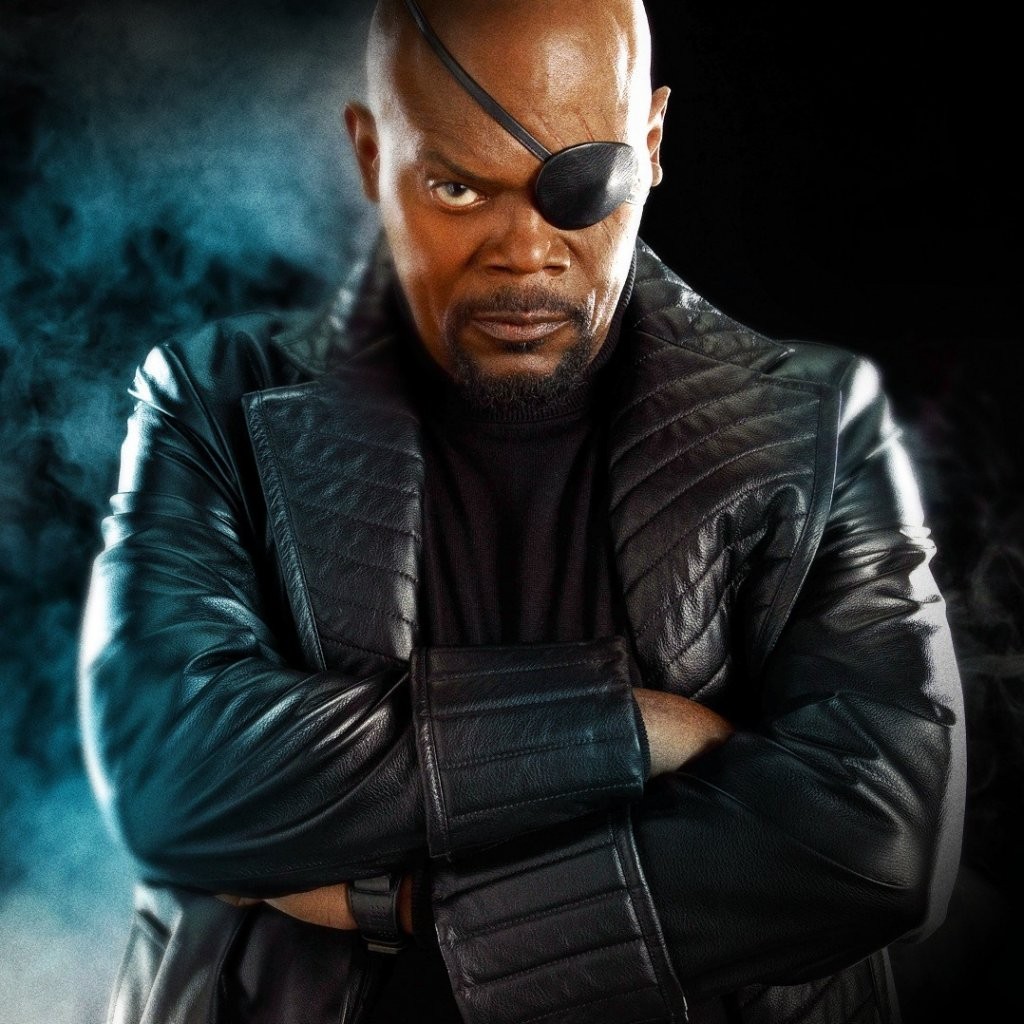 "I'll save the world and get you website conversions – all while wearing this tough-looking eye-patch."
Captain America (traditional marketing and communications). Chris Evan's character, who had been frozen since World War II, has an old – but still valuable – worldview. Today, the traditional best-practices and guiding principles of marketing and communications remain – only the tactics and tools have changed. As Bob Hoffman, CEO of the Hoffman/Lewis advertising firm, often notes in his Ad Contrarian blog, marketing tools such as Facebook and Twitter are not miraculous cure-alls by themselves – especially when they are not used correctly. If your online-marketing strategy does not map to your business strategy and hence would not make sense to a traditional marketing veteran, then you risk sounding like the speaker in this Onion parody of TED talks on social media:
Iron Man (technical SEO). Robert Downey Jr.'s character is a technological genius who was an arms manufacturer before he became a superhero. In the same vein, website developers need to use their powers for business good not only by building engaging websites that sell but also by optimizing them to help search engines (and then be indexed and ranked appropriately). Your team's technical genius needs to understand how the latest developments will affect SEO beyond the commonly-known elements such as keywords and sitemaps. For example: As people increasingly search the Internet on mobile devices (rather than computers) and respond to visual content (rather than text), webmasters need to know how to use HTML5 to help Google to index websites that consist mainly of images and banners rather than text. For starters, see this SEOmoz webinar (registration required) by Graphitas Managing Director Justin Taylor on how live text and other technical innovations can help: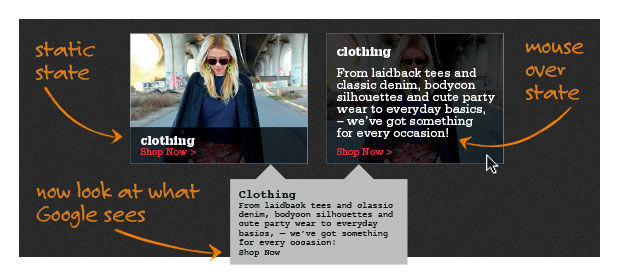 How to optimize for both user experience and SEO? Tony Stark would know.
Hawkeye (targeting). Jeremy Renner's character is a master archer with a multitude of trick arrows to aim at his targets. Today, you need to identify your target keywords, influencers, media outlets, sales targets, and general audience before you aim your inbound-marketing bow with its various arrows at them – and the more specific and niche-oriented the targets, the better. A person searching for "weather mobile apps" in Google is more likely to convert on The Weather Channel's website than someone who is searching for "mobile apps" in general. A reporter or blogger who covers mobile apps specifically is a better PR target than one who covers mobile phones in general. The more precise your targeting, the better your conversion rate. What is better: 100 out of 1,000 visitors converting or 50 out of 2,000? Your specialized bow needs to aim for quality, not quantity, in your SEO and inbound marketing efforts for reasons that other Marketing Avengers below will address.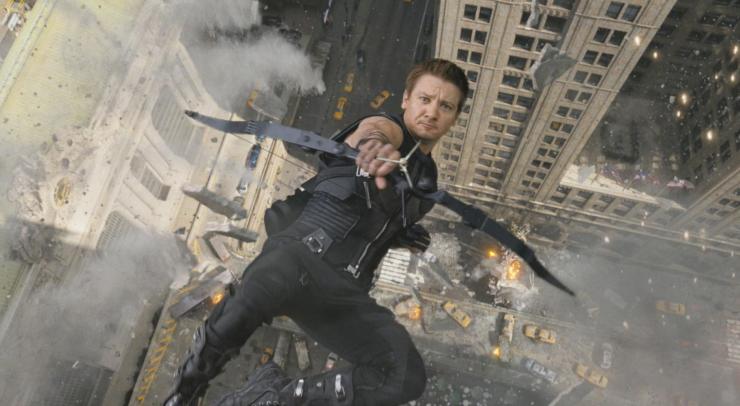 "If I can aim accurately while falling off of a building, you can target the right audience!"
Thor (quality content). Chris Hemsworth's character's weapon is a mighty hammer – and that tool in the guise of content is what powers SEO today. Now, search-engine marketing is not about "linkbuilding" – it is about "link earning" and answering the question: "Why should I link to you?" The answer is content. If you create remarkable blog posts, videos, podcasts, and infographics for your industry, then your targets and people in that industry will want to spread the word by linking to your content. The benefit is twofold: You build your reputation as a thought leader, and you get quality links and traffic to your website. Use the hammer of content to nail high website rankings.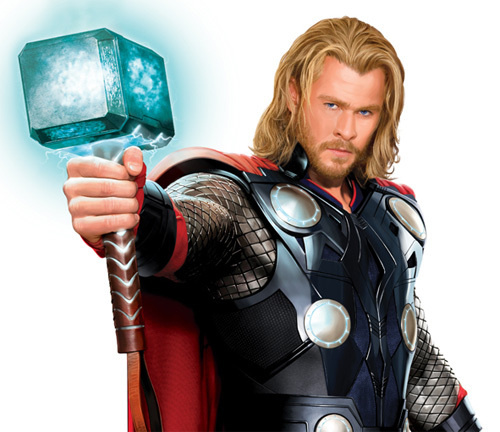 "Your content had better be more interesting than my character!"
Black Widow (public relations). When we first meet Scarlett Johansson's character in "Iron Man 2," she is selling herself to Tony Stark – by defeating a strong man in a boxing ring. In the beginning of "The Avengers," she is deftly obtaining information from a Russian general while she is "being interrogated." Later, she comforts Hawkeye after he had recovered from Loki's spell that had caused him to switch sides. Black Widow is adept at communication, and your online-marketing team needs to be just as good when you use social media as a form of public relations, create online communities, conduct customer service on Facebook, deal with the media, or promote your content to influencers in your sector and industry to gain backlinks, traffic, and brand mentions and build yourself as an authoritative thought-leader.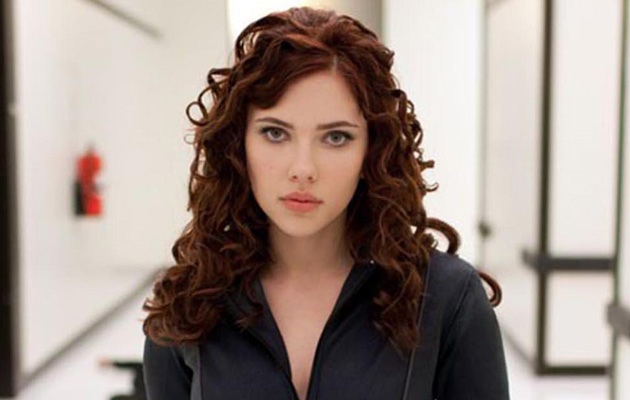 "I said that quote was off the record! You wouldn't want to cross me, would you?"
The Hulk (Google penalties). Mark Ruffalo's character is a mild-mannered scientist who helps the team with his knowledge – until he gets angry and becomes a force of destruction. In the same manner, Google can help you – unless the search engine becomes angry with you. If you use SEO best-practices from the start, then you'll have little to fear from any future algorithm changes such as Panda (copied or thin content), Penguin (spam links), and EMD (exact-match spam domains). But you'll still need to follow the latest SEO news so the Google Hulk does not thrash your website because of something you may have missed.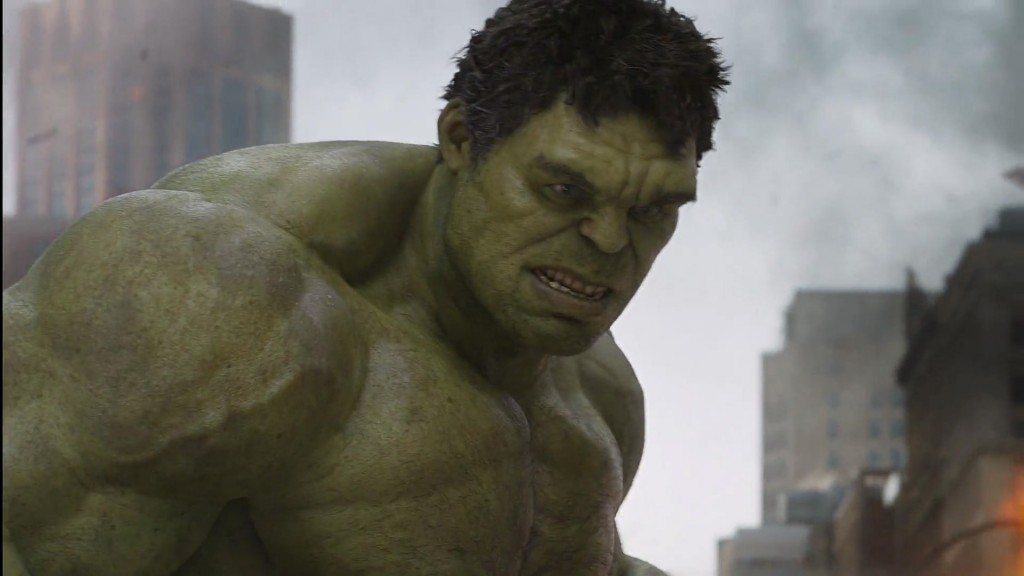 "Duplicate content and spam links make me angry. And you wouldn't like me when I'm angry."
Forget All You Know About SEO
I often hear about companies both here in Tel Aviv and in many other countries that are looking to hire an "SEO person" – but those firms are years behind in understanding what SEO holistic marketing has become today. A single person cannot do all that is needed.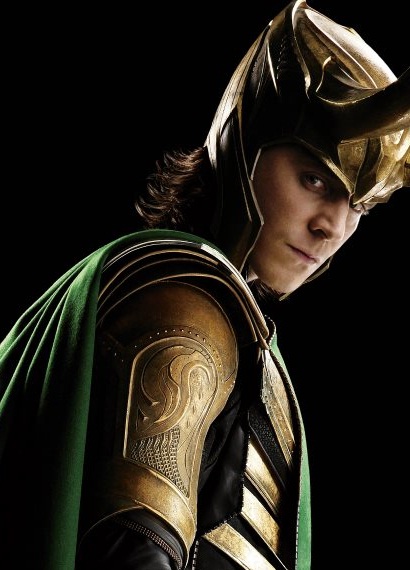 When I first started working in SEO years ago, the process was simple: optimize a website and build links. But for countless reasons, such a simple process does not cut it anymore. You need content creation, social media, and public relations to earn quality links and social signals for search engines. You need PR leading to co-citations – mentions of your company on authoritative websites, even without links – to build your brand and increase the authoritativeness of your company in your sector. You need quality content to attract the best links rather than relying on the old methods including directory submissions and article websites.
In short, you need a comprehensive, holistic strategy that incorporates all of the elements outlined above. Holistic marketing needs to map to a company's business plan, and SEO is part of that.
The Hulk may have given Loki a good thrashing in "The Avengers," but it was not enough. All of the Avengers, in the end, needed to work together to save the world. Using old SEO methods may have given your website a Hulk-like advantage in the short term, but your company will need a holistic strategy, technical optimization, influencer targeting, content creation, and public relations for long-term success.
Otherwise, you might as well surrender your online-marketing efforts to Loki, who, in Norse mythology, was essentially the god of chaos. And no one wants that.
Thanks for reading! Follow me on Twitter. See my marketing speaker page or marketing workshop page to have me visit your conference or company!