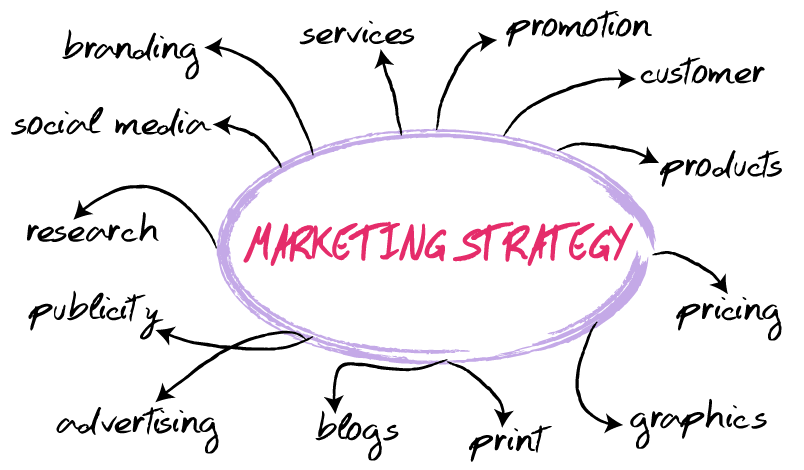 Imagine that you are the owner of an e-commerce website, and you are tracking purchases made by each individual who visits. Your top 100 customers comprise 90% of your sales, while most of your other website visitors buy very little. To sell more in general, would you aim to "remarket" more to the 100 people or to all other visitors? Most likely, the latter – it is easier to sell more to existing customers than to acquire new ones.
Smart marketing in most contexts usually focuses on quality (those likely to buy more) and not quantity (all customers in total). The more time spent on trying to get hesitant people to buy is often a waste – it would be better to focus on already-loyal customers. In various ways, the same principle is true in PR, content marketing, SEO, and social media today. Each technique has its own type of best practices that can be described as "quality trumps quantity."
Public Relations
When conducting PR outreach, one of the most important – and often under-emphasized – aspects is the compilation of a media list. Long before the pitching even begins, the creation of the list of targets will often determine whether a PR campaign will succeed. Becky Vieira puts it well:
Trust me when I say this: the quickest way to irritate any reporter and to potentially blackball yourself from any future coverage is to pitch the wrong contact.
Although the formation of media lists can be a complex process, Vieira summarizes the basic points:
Identify your target audience
Determine what media they are consuming
Research those outlets and their writers
The idea of "opportunity cost" – doing X costs one the opportunity to do Y – is crucial in the creation of a media list. Every minute that is spent pitching one reporter is one that is not spent on another reporter. Every second that is used to gain coverage in a less-relevant outlet is one less that can be used to get a placement in an important one.
Imagine a start-up company that needs funding and develops mobile applications for travel. The three target audiences may include the start-up investment community, people who use and download mobile apps, and people who are interested in traveling. The media outlets that are read by these three audiences would likely be the most-important outlets to target. Placement in a "big name" general-interest publication may not necessarily help.
A media list may contain only twenty crucial targets – but it is easier to gain coverage in all or most of them when one's limited time is not wasted on pitching to an additional one hundred less-important ones as well. The quality of one's media list trumps the quantity. No database service can provide the best media list – only personal research can do so.
Content Marketing
When companies first began to realize that blogging is crucial to inbound-marketing success, many of them started to write short, frequent blog posts. (A certain tool that I once used would pop-up an alert once a post had reached 700 words and recommend that it be continued in a second part.) As a result, the Internet has now become flooded with a lot of what Doug Kessler has accurately termed as "crap." See his memorable presentation:
What would make a brand more authoritative: Forty pithy posts with short tips on (for example) mobile marketing, or a single, lengthy essay that would aim to be a "complete guide to mobile marketing"? Most likely, the latter one would receive more links, comments, and social-media shares than the forty prior posts combined. Personally, I would rather have one bookmark on a topic for future reference than forty. And I am sure that I am not alone.
Google agrees on the need for quality content. As Peter J. Meyers notes, the search engine is now featuring "in-depth articles" on more and more topics by authoritative sources to weed through the crap clutter:
To take advantage of this, incorporate Google's own recommendations into your content-marketing strategy:
Use Schema.org article markup
Set up authorship markup
Set up a Google+ account, including your logo
Properly handle paginated articles
Use "first click free" for paywall content
The same principle that Google is applying to online content also holds true for all other aspects of content marketing: the quality of content trumps the quantity of content for reasons that also relate to the practices below.
SEO
As best as we can understand at the moment, Google's ultimate goal is to become an "information engine" rather than just a "search engine." As Meyers also notes on the increasing prevalence of the Knowledge Graph, Google wants to provide authoritative answers immediately and not only list websites that contain the answers. (Try searching for "When is [insert some holiday] 2013?)
Take the recent news that Ben Affleck will portray Batman. A Google search for the actor's name includes this result at the top of the page: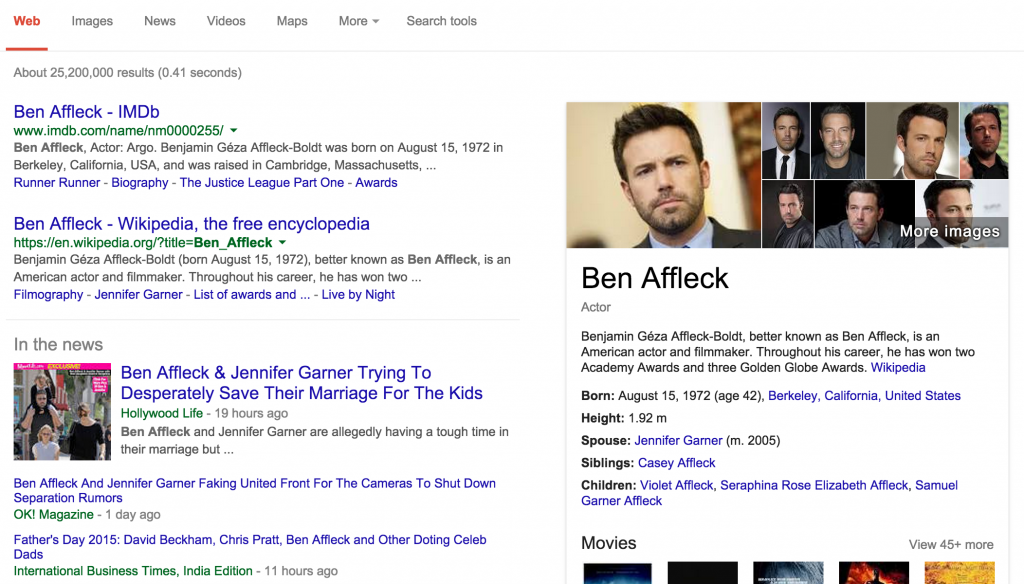 Google is a machine that cannot verify facts itself. Instead, the Knowledge Graph compiles information from websites that it deems to be quality brands and the most-authoritative source on their topics (in this case, Wikipedia).
As this practice increases in scope each month, companies will need to build their online brands and publish authoritative information in their sector to "get found" in the Knowledge Graph and related search results.
Another important part of SEO has always been linkbuilding. In a nutshell, the idea was that the more links that point to a website, the better it looks to Google. However, the search engine has now become very good at detecting whether links are "good ones." Take this search result for "mobile app companies" (with backlink data from a tool we use):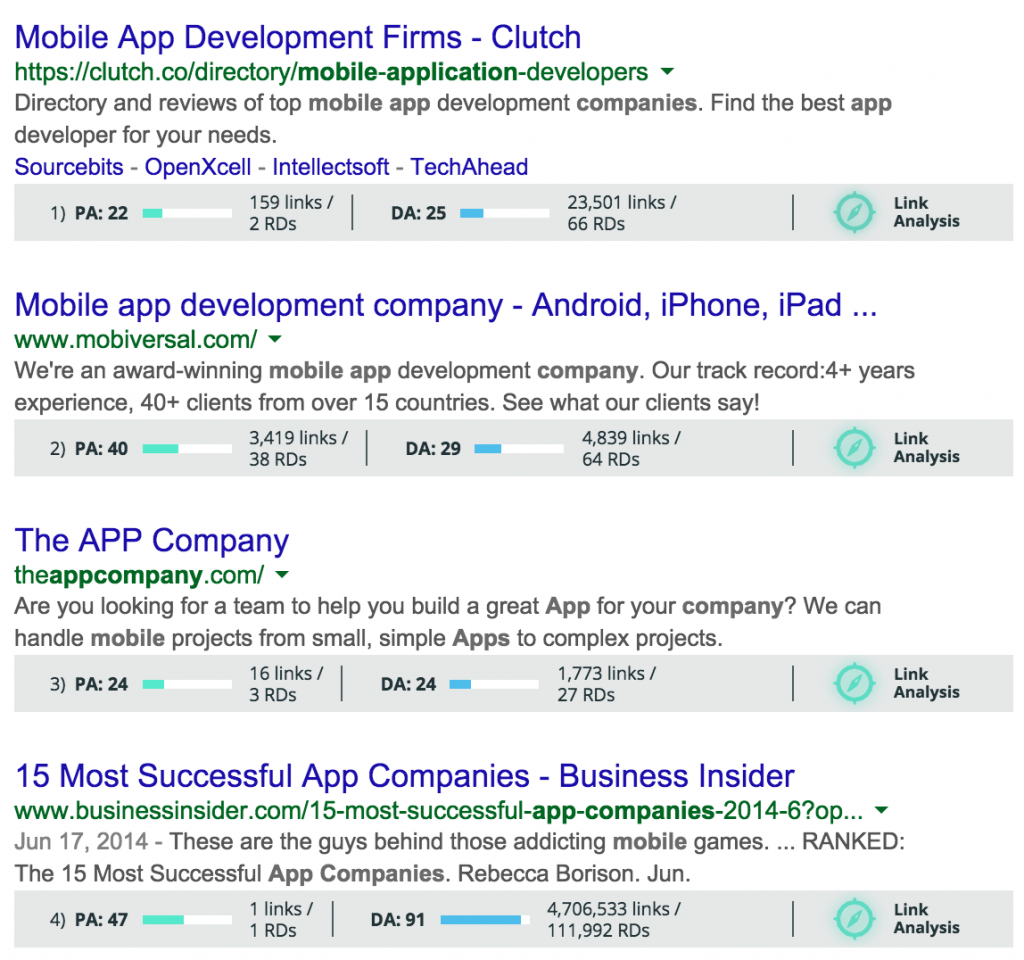 The site ranking first has roughly 4.7 million fewer links to its domain than the one ranking fourth. The fourth search result has more links to the domain than the top three results combined. Google's algorithm contains roughly 200 ranking factors, so it is impossible to know exactly why these sites rank in this order, but one likely reason (of many possible ones) is that the sites with fewer links but "better" ones are ranking more highly.
Quality trumps quantity in the building of good links and authoritative brands as well as all in other aspects of general SEO strategy.
Social Media
Content is crucial in social-media marketing strategy, low-quality content and poorly-timed interaction can harm campaigns. An infographic by Michael Maghsoudi of PostRocket shows the importance of Facebook's EdgeRank algorithm. To summarize: The more than a person interacts with a person or page's posts, the more that he will see posts by that person or page in the future.
Therefore, it is crucial to post quality content and not just a lot of content on Facebook. Posting random news links and other items that receive few "likes," comments, and shares will result in fewer and fewer of a page's followers seeing its future posts. On Facebook, a good post once per week is better than a bad post every day. On Twitter, is it not enough to post a lot of tweets – the postings need to be "quality" in terms of what will lead to more clicks, followers, and engagement.
According to Hubspot social scientist Dan Zarrella's presentations on the science of Twitter (see another on Facebook):
10% of tweets should be replies (if the goal is to maximize retweets from targeted users)
One tweet per hour should be sent (when the goal is to get clicks on a link)
60%-80% of tweets should be links (if the goal is also retweets)
Most tweets should be sent from 1 p.m. to midnight (of the target audience's location)
It is best to tweet on Thursdays, Saturdays, and Sundays
The best use of Facebook (in part) is to publish and promote quality content; the best use of Twitter (also in part) is to foster quality engagement. Social media should also focus on quality over quantity.
Quality as a Best Practice
Hype cycles always occur whenever new marketing technologies and mediums are created. In recent times, companies have rushed to get as much press coverage, publish as many blog posts, gain as many backlinks, and post as many social-media updates as possible. (And usually without an overall strategy that maps to their business and marketing goals.)
Today, however, those businesses that will succeed amid the growing competition and Internet clutter will be those that focus on quality rather than quantity in their PR, content, SEO, and social-media campaigns.
Thanks for reading! Follow me on Twitter. See my marketing speaker page or marketing workshop page to have me visit your conference or company!