Facebook does whatever is best for Facebook.
In the end, the social network's concern for your business is a secondary priority at best. Now that Facebook is a publicly-traded company, its primary goal is to maximize profits through whatever means possible.
And that now includes forcing brands to "pay to play." As Cotton Delo notes in Ad Age:
If they haven't already, many marketers will soon see the organic reach of their posts on the social network drop off, and this time Facebook is acknowledging it. In a sales deck obtained by Ad Age that was sent out to partners last month, the company states plainly: "We expect organic distribution of an individual page's posts to gradually decline over time as we continually work to make sure people have a meaningful experience on the site."
Jennifer Slegg breaks it down further at Search Engine Watch:
The reality is, if Facebook can display business posts in the newsfeed, they would far rather get paid for it than do it for free.
Here's an example. One of our B2C clients has 5,000 Facebook "likes" among a targeted, relevant, and niche audience that is naturally interested in its product. However, our recent Facebook postings have only received a low level of organic engagement.
In short, only 1% of the people who have "liked" this Facebook page even see its posts on average. This result occurs even with our use of Facebook-marketing best practices including:
Posting content that is visual and engaging
Using content that aligns with the client's messaging and the goal of obtaining more interest and sales
Engaging with the audience at the specific times when they are using Facebook
This is a case where the problem is not the product or the marketing – it is the specific platform and medium.
Now, I do not mean to say that social-media marketing in general or Facebook marketing specifically is useless. Far from it. Take this data from AdRants and Hubspot's 2013 State of Inbound Marketing report (PDF):
1.) Social media is the second-best channel for obtaining website conversions: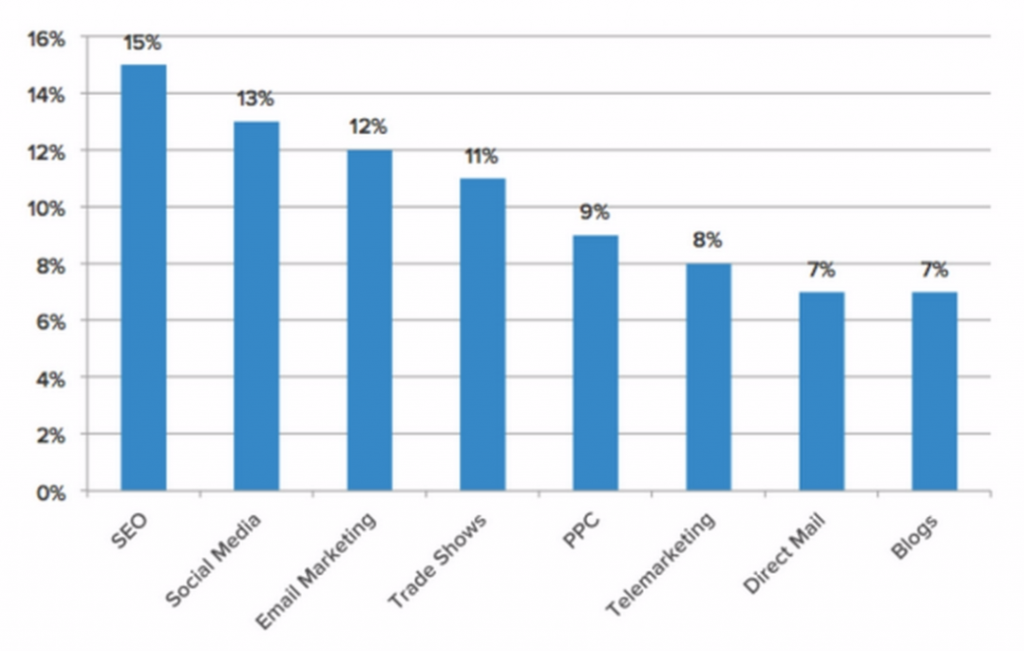 2.) Social media and e-mail marketing are tied for first place as far as lower-than-average costs per lead: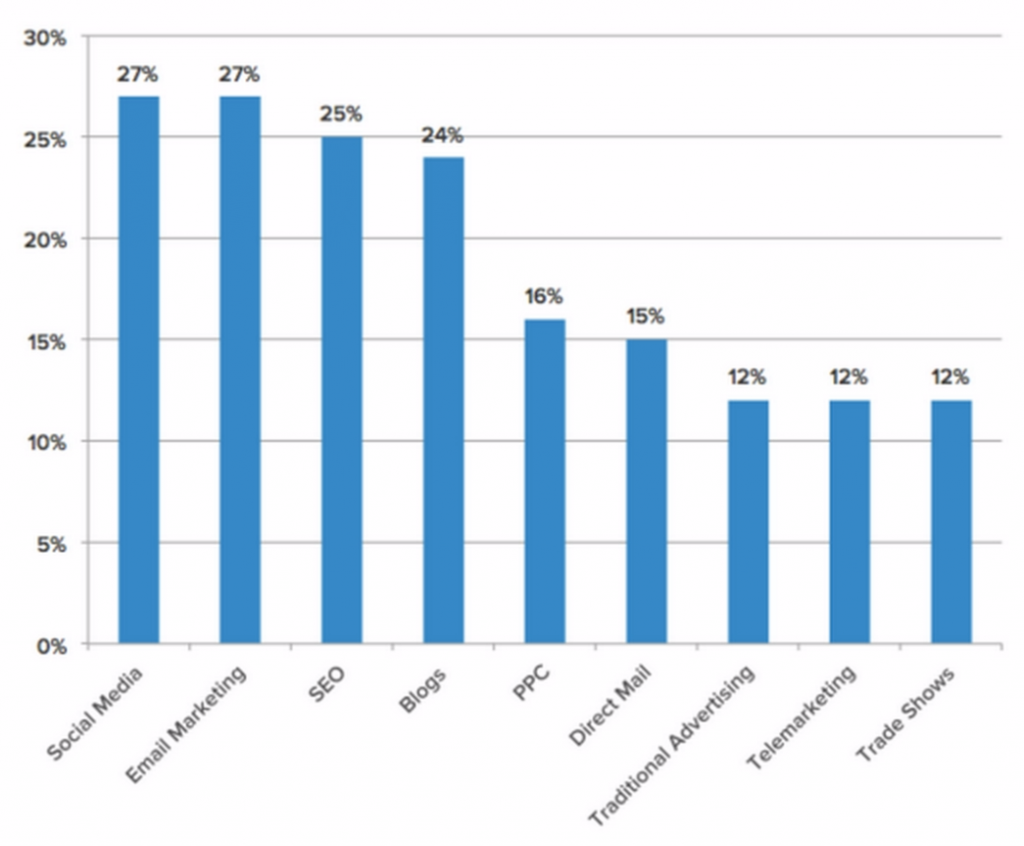 The point is that social-media marketing, while effective, should not be the sole focus of a marketing campaign.
The key to success is to develop a holistic marketing strategy that uses a comprehensive marketing mix across numerous relevant channels and mediums. For the specific client mentioned earlier, we are using a mix of public relations, SEO, and social media to help them to achieve their marketing and business goals.
Whenever a brand focuses too much on one channel – such as Facebook, in this example – it surrenders its brand and marketing investment to the whims of a third party that is focused primarily on its own success. It would similar to investing one's retirement portfolio in a single stock. I recall a time not too long ago when major companies began to promote their Facebook pages at the expense of other marketing channels such as their websites. As Keredy Stott noted at Social Media Today in 2010:
[Adidas Football's Facebook page] has been advertised at televised [soccer] matches on outdoor digital banners, different world cup sponsors took advantage of campaigns on product packaging and more recently. [Smirnoff's Facebook page] is being pushed through television adverts – Facebook pages are turning mainstream but why is that exactly and will brands gradually turn their backs on websites?
Noting the ever-declining organic reach of posts by Facebook pages, all of the time and money that Adidas and Smirnoff had spent on promoting their Facebook pages three years ago will mean less and less today (unless they pay to promote their posts for the foreseeable future).
In addition, what if Facebook goes the way of MySpace in five years? What will they do? If a lot of their marketing budgets had been devoted only to building Facebook pages, then the investments will have been lost.
(Note: Google+ is also an interesting example, but in a different way. As Violet Blue at ZDnet and Courtney Subramanian at Time magazine note, the search engine has now "bet the farm on Google+" and is increasingly coercing users of any Google product – such as YouTube, most recently – to use its social network after having seemingly "left it for dead" a year ago. As a result, Google+ also shows how any third-party channel can quickly change its practices – for better or worse for marketers. In addition, the building of a brand on Google+ benefits SEO directly, as Eric Enge writes at Search Engine Watch.)
The point is to maintain control of your brand by diversifying your online-marketing tactics in the form of the use of multiple methods and channels within an overall strategy. There is never just a single solution for any company's needs.
As case studies reveal, social-media marketing can deliver tremendous results (when used in the correct way with a corresponding content strategy). But to maintain your brand in light of whatever the future may hold, it is important to use social media in tandem with the following:
When businesses market on Facebook and other social-media outlets, it is crucial that they also build their websites and brands by using methods that are independent of the whims of third-party platforms.
Don't let Facebook – or any other external marketing platform or channel – alone determine whether you will succeed.
Thanks for reading! Follow me on Twitter. See my marketing speaker page or marketing workshop page to have me visit your conference or company!