In May 2013, marketing-software company SEOmoz rebranded itself as Moz and changed its offering from a purely technical website tool (SEOmoz Pro) to a set of holistic-marketing ones (Moz Analytics). The change symbolized an emerging, strategic trend that companies and marketing agencies now need to keep in mind.
Technical SEO is Only a Start
At the beginning, SEOmoz Pro merely crawled websites and identified technical website issues for marketers or webmasters to address: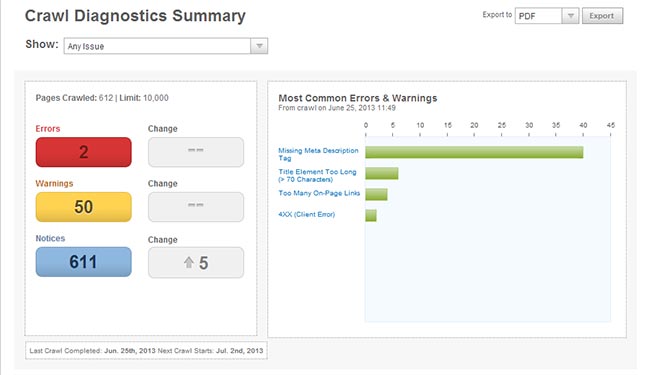 SEOmoz's Open Site Explorer also allowed SEOs to research and analyze the backlinks that have been gained by a website and its competitors. Together, the two tools represented the early foundation of so-called "SEO strategy."
Moz Analytics, however, added to these tools by incorporating social media and branding data: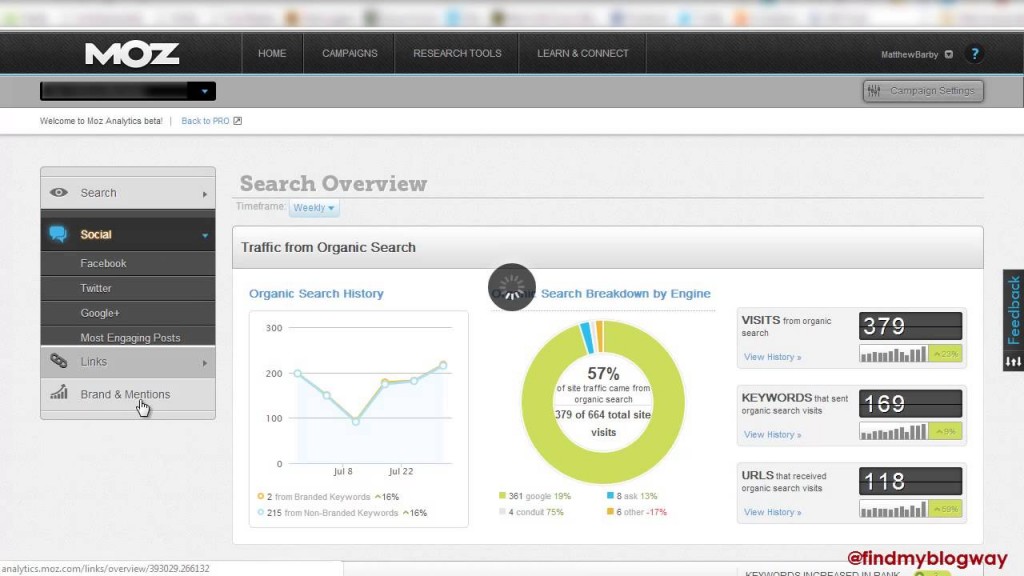 Moz also offers Fresh Web Explorer (its version of Google Alerts, which has been declining in quality for a long time) and Followerwonk, a Twitter research and analytics tool. In short, Moz needed to offer a holistic set of tools because SEOs and online marketers needed analytical data in more and more areas. The software company responded to the desires of its target market.
Moz is just one example, and we do not mean to focus on them. Countless other marketing-software companies are adopting similar principles. This same idea is relevant to companies today.
Marketing agencies: What do you mean when you offer "SEO services"? Businesses: What do you mean want someone to "to do SEO"? These questions are meaningless at best and implications of "black-hat" behavior at worst.
Back to the Beginning
The History of SEO has an interview with SEO pioneer Jill Whalen that includes this excerpt on the changes in the industry from the 1990s to today (emphasis added):
Surprisingly the more things change the more they stay the same… search engines always want the same things–they want the best most relevant web sites for their users who are the searchers, and that hasn't changed; it's trickier now because there is so much more competition, you can't just make any old website and have it show up fine. It used to be pretty easy in the old days: just make a website, optimize it on the page, and it would show up; but with so much more competition you really need a website to stand out these days, you have to be different, you can't just put up yet another whatever widget site, when there is already 50 billion widget sites.
In the 1990s, webmasters needed to ensure that search engines were able to crawl their websites and identify the themes of the sites in general as well as individual pages. Then, they needed to create website content that would interest visitors and inspire them to link back to the site. These were the "best practices" long before "SEO" was even a word.
SEO – which seems to have been coined in 1997 – is merely a slang, short-hand term that refers to a collection of digital best practices in multiple areas that help websites both to get found in search engines and to guide website visitors down a desired conversion path.
However, things changed in the ensuing years. Website owners discovered that they could "trick" search engines into giving them high rankings quickly through methods including keyword spam, exact-match anchor text in backlinks, doorway pages, and article spinning. Digital marketers began using – and selling – these tactics and called it "SEO."
Fortunately for reputable online marketers and unfortunately for those who engaged in such cheap tricks, Google implemented various algorithm changes over the years to render these practices largely worthless. In 2014, the "SEO strategy" that works today is the same one that worked in the 1990s (well, with a few changes in light of technological advances).
How to Implement an SEO Strategy
1. SEO has always been just doing web development and web design well. It is helping search engines to crawl and index a website via items including XML sitemaps, a quality site hierarchy, and ensuring that text is not "hidden" within images or Javascript. It is ensuring that pages load as quickly as possible. It is knowing how to target multiple countries and languages.
2. SEO has always been just doing conversion optimization well. It is creating a website that pushes visitors towards a desired action – it may be a product sale, a contact-form submission, a lead generated, an e-mail list subscription, or anything else. It is testing the click-through rates of calls to action and conversion rates of landing pages to generate the greatest ROI.
3. SEO has always been just doing content creation well. It is producing quality content – blog posts, videos, graphics, e-books, white papers, and so on – to "get found" more often in search results. (The more pages that your website has with quality content, the more pages that your website will have in Google's index.) It is also using content to move prospects and leads further down in the sales funnel. It is aligning content and social media.
4. SEO has always been just doing social media well. It is creating a strategy to spread links to your content on social networks so that more people will see the materials and then click to visit your website. It is telling your audience about the content on your website so that they will link to it from their websites, a process called link earning (not to be confused with link building.) It is knowing how to use Google+ because people see personalized Google search results based on what they have "+1ed."
5. SEO has always been just doing public relations well. Google likes brands – and websites that will rank highly in search results are increasingly those companies that build strong online brands rather than those that stuff keywords and build spammy links (and rightly so). So, it is about how to use PR to get coverage and links from authoritative news outlets and bloggers.
6. SEO has always been just doing web analytics well. The question is more than "How do I rank for my keywords?" (This is especially true following Google's elimination of organic keyword data.) It is about analyzing how various types of web traffic are contributing to your marketing and business goals. As Craig Bradford notes, it is knowing what digital mediums deliver last-interaction conversions and assisted conversions in sales cycles and then adapting tactics accordingly.
Think About Goals, Not Processes
"SEO" did not, does not, and will never exist. Moz removed "SEO" from its name for a reason. It is just a slang term that refers to a large group of already-existing practices. When a word such as "SEO" means many different things, the term becomes meaningless. A phrase that means everything actually means nothing.
Too many companies think about processes or channels when they should be thinking about goals. Hiring an agency or a person to "do SEO" in 2014 sounds like hiring someone to "do the telephone" in 1914. It is only a means to a desired end.
What is your company's marketing goal? Say that it is B2B lead generation. The point is that you should not hire an agency or person to "do SEO" – you should hire an agency or person who can implement technical website optimization, content creation, conversion optimization, and more since all of these elements are part of most effective digital strategies.
What does this mean for companies and agencies? Some strategic points on "SEO" for the future:
Companies: Get an entire digital-marketing team that has experience in all of the areas listed above or hire a holistic agency that has such expertise. Obtaining an "SEO person" means nothing anymore
Agencies: Do not sell "SEO" anymore. Rather, sell individual or batched-together services such as technical optimization, conversion optimization, lead generation, and content creation – noting that all of these things and more are critical to digital-marketing success today because they all work together in an integrated manner
People in the industry often ask us how many "SEO clients" we have. The answer? Zero. Rather, we have had clients for whom we have (for example):
Optimized landing pages to increase B2B lead conversion rates from 1% to 6%
Recommended technical website changes to target audiences in various countries and languages
Created content that aims to rank in search engines for specific search terms and user intents
After all, good "SEO" has always just been good digital marketing. Moz understands this – and so should everyone else.
Thanks for reading! Follow me on Twitter. See my marketing speaker page or marketing workshop page to have me visit your conference or company!