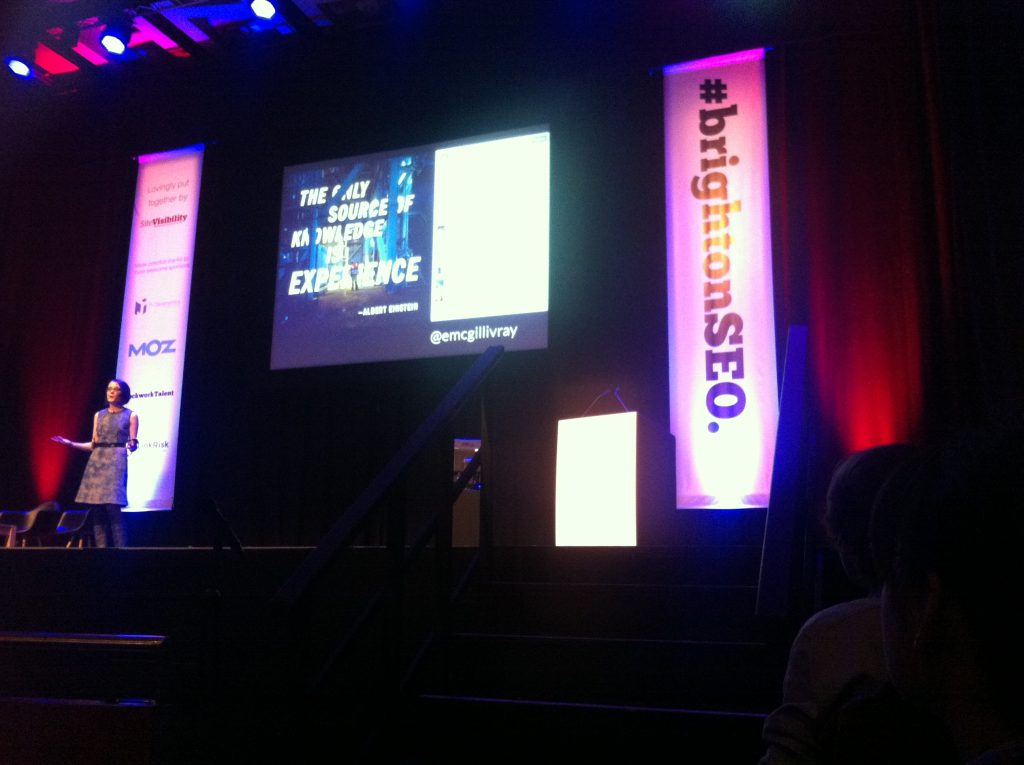 Note: I wrote this essay upon returning home from work. It is a heartfelt reaction to the big news of the day in the digital marketing world. I must state that I know nothing about the financial state of Moz or about the company's internal operations or politics. This is an off-the-cuff post.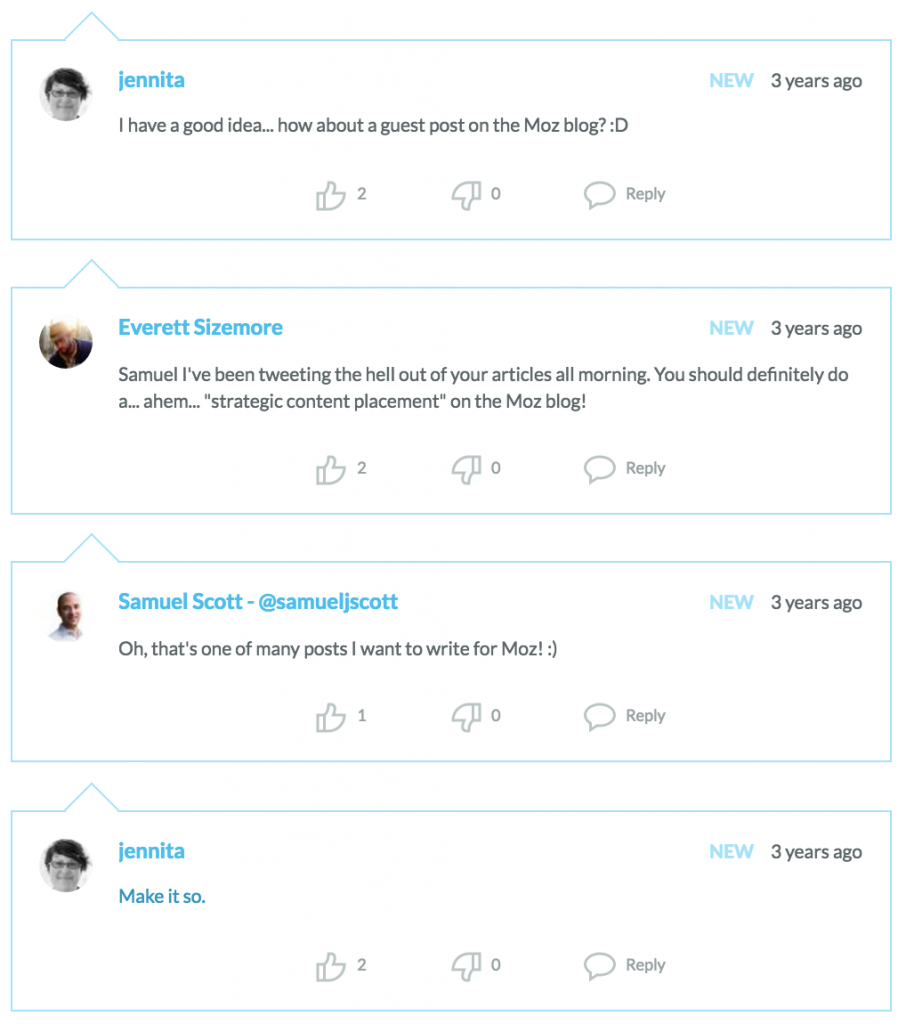 Jen Lopez is the reason that I am the marketer that I am today.
Three years ago, the company's (now outgoing) Director of Community wrote this Moz Blog post following Matt Cutts' announcement that people should stop writing "guest posts" on other blogs merely as a way to get backlinks. Inspired, I replied with a lengthy comment on how "guest posts" are merely a new buzzword for what publicists have always called "by-lined articles" and that they should be treated the same way.
Jen, among others, suggested that I compile all of my thoughts into a post for Moz. So, that's what I did. The contributed article was so popular that I used it to pitch to speak at SMX Milan in December 2013. I was accepted — and that become my first-ever speaking engagement. SMX Milan went over so well that I then spoke at SMX West in Silicon Valley in March 2014. I even briefly saw Jen in the Speakers' Room and thanked her profusely even though I was extremely nervous about going up to the podium soon thereafter.
By all accounts, my talk and PR and SEO also went over well in San Jose. My Twitter following started to grow. People started to subscribe to my RSS. I was beginning to make a name for myself and the agency for which I was working at the time.
In March 2015, I had started to work in my current position as Director of Marketing and Communications for a log analysis software company in Tel Aviv. I was also speaking at BrightonSEO in March 2015 — again on the topic of SEO and PR.
I had always known Erica McGillivray and I think we had e-mailed a bit, but I had never met her until the Speakers' Dinner the day before. The next day, Erica gave the first talk — and I thought she had left afterwards.
After my presentation in the afternoon, I went back down to my seat in the first row on stage-left. I hope that I appear confident on stage whenever I speak, but I am a nervous, nauseous wreck directly beforehand and afterwards. As I was calming down, I felt a tap on my shoulder. It was Erica!
"We came specifically to hear you speak," she said, referring to her accompanying girlfriend. Then she smiled, gave me a hug, and sincerely said that I done well — and this was coming from someone whose (now outgoing) job every day consisted in part of evaluating and organizing speakers. All of the stress I was feeling disappeared as if Roger the Mozbot himself had descended from Seattle to bless my talk.
Now, what else had I been doing over this time in addition to speaking and starting a new job — and what would I continue to do in the future? Contribute to the Moz Blog some of the best stuff I have ever written:
I also gave a Mozinar on how to integrate PR and SEO, and I will be speaking at MozCon on server log analysis this year.
All of this came because of Jen, Erica, and the rest of the community team's work and support following a single comment on a single post that Jen wrote back in January 2014. And I'm just one person of many who can probably tell the same story.
Now, why am I writing this? Moz announced some major changes today. The Moz Content and Followerwonk products will be closed. Most or all of the community team has been laid off — with extensions granted until after MozCon, I think. (You can see Moz's announcement here and news coverage here and here.) The company seems to be doubling-down on its SEO product and on SEO as a marketing strategy (rather than community).
But the problem is that community relations is a PR strategy, not a marketing one. I hope Moz is not confusing the two. The KPI of a PR team is not growth. The value of community relations is not always quantifiable, but it is always clear. I just hope that Moz is not pursuing a "growth at all costs" strategy now following another fundraising round.
Still, I would keep in mind one thing: The community team should get the credit for every single visit, prospect, lead, and customer of Moz that first landed on the website on one of my posts or Q&A answers or Mozinars.
I follow and engage with the social media posts of people who work for Moz; I do not actively follow the company's accounts. I contribute to the Moz Blog for many reasons. One is to help the community that has helped me. Another is because of the support that Moz's community team gave to my creative work. If I recall correctly, Moz itself began years ago as a bunch of people commenting on Rand's blog (or something like that). The community has always been the primary driver of the company.
I know so many people directly and indirectly as a result of Moz's community team. Some I will meet for the first time at MozCon this year. (And what about the future of MozCon?) If you take away the community, what is left? Just another SEO software product? (Even if it's a good one.) I have always thought that the community and the quality resources on the Moz website are the two central elements of the Moz brand.
Today, I'm the Director of Marketing and Communications at a fast-growing high-tech startup. I fly around the world to speak at events. I also contribute to TechCrunch. Almost 13,000 people think that I'm interesting enough to follow on Twitter. And all of that came as a result of my participation in the Moz's community and the help of Moz's community. I have gotten so much from Moz that I have always wanted to give a lot back to Moz. Everyone wins.
I would never even think about telling Moz what to do. I do not know for sure what is going on — I'm just an outside observer and community member. But I'm just writing this partly out of sadness at what has been lost and partly out of worry for what is going to happen to the people who I have gotten to know over the years.
Most importantly, I'm writing this simply as a way to say "Thank you!" to the former Moz community team in the best way that I know.
I'm sure many others feel the same.
Edit with additional thoughts: I would also argue that marketing tactics such as SEO attract first-time users, but community is what keeps them involved and engaged. I know that difficult decisions must be made in terms of what marketing and PR strategies to do and not do. But all are valuable.
Thanks for reading! Follow me on Twitter. See my marketing speaker page or marketing workshop page to have me visit your conference or company!