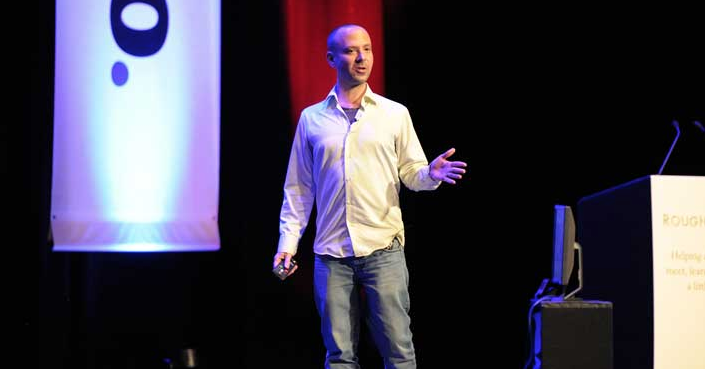 A former journalist and newspaper editor turned marketing and communications executive, Samuel Scott is Marcom Director at Logz.io, a global marketing speaker, and writer of the regular "The Promotion Fix" column in The Drum. Scott has been quoted or cited by publications including AdWeek, CIO, and Fortune.
The Internet obtained mass adoption when Samuel Scott was in high school. As a result, he and his generation are uniquely positioned to comment on the world both before and after the birth of the World Wide Web. Samuel is old enough to remember marketing before the Internet, but he is young enough to be almost a tech native. Samuel is a marketing strategist who understands how the two worlds are reflections of each other, and he is a great speaker who writes and gives frank, no-BS, and no-holds-barred talks on how marketing and communications professionals can integrate online and offline marketing into unified strategies.
Samuel's knowledge and experience comes from his first career as a journalist and newspaper editor who then moved into marketing and communications and worked in executive agency positions and personal consulting capacities. Today, he is a keynote marketing speaker and creator of marketing campaigns that combine traditional and online marketing. In Samuel's day job, he is Director of Marketing and Communications for log management platform Logz.io.
Seeing @samueljscott on stage makes a lot of ppl happy. One of the nicest, coolest, brightest ppl on earth. #MozCon pic.twitter.com/jZM87r5YvB

— Ronell Smith (@RonellSmith) September 13, 2016
Marketing Presentations
The Biggest Myths in Marketing Today
How to Integrate Traditional and Digital Marketing
The Marketing Department of the Future
The Billions You're Losing Online Advertising Fraud
Publicity Strategies that Get Viral Attention
How PR Can Help Digital Marketing
How Digital Marketing Can Help PR
How to Use PR to Help Content Marketing
The Importance of Server Log Analysis in Technical SEO
Why Google Analytics Data is Wrong and What You Can Do About It
Samuel and his marketing talks and articles have been quoted or cited by publications including Adweek, CIO, Inc., Fortune, IT World, MediaPost, CMO.com by Adobe, Search Engine Land, Moz, Search Engine Journal, Content Marketing Magazine, and SEO Japan. He has also presented webinars on Moz and SEMrush.
Hi @megansingley this has got to be one of the best #mozinar s I have ever watched and not just from @Moz — WildShark SEO (@wildsharkseo) October 7, 2014
Upcoming Speaking Appearances
Samuel is an online marketing speaker who has spoken or presented in six countries on three continents. Here is where he will speak next (subject to change):
Digital Olympus (online event) — Internet Advertising Fraud — April 26, 2017
3XE Digital (Dublin, Ireland) — Keynote: "The Biggest Lies That Digital Marketers Tell Themselves" — May 17, 2017
ICEEfest (Bucharest, Romania) — Keynote Topic TBD — June 15-16, 2017
Regardless of the topic, Samuel is a marketing presenter who always captivates audiences and inspires them to grow their careers in whatever they do.
god how much does @samueljscott sound like Malcolm Gladwell — kelvin newman (@kelvinnewman) April 10, 2015
If the end of the world starts, I want @samueljscott to be the 1st to tell me. His relaxing voice will make the news not seem so bad #mozcon

— Bryan (@MrBryanReynolds) September 13, 2016
Past Presentations and Talks

LiMA DAY 2016 (Vilnius, Lithuania) — Keynote address entitled "Focus on the Person and Live Longer Together" — November 2016
MozCon (Seattle, Washington) — September 2016 — Server Log Files & Technical SEO Audits: What You Need to Know
White Night SEMrush Meetup (St. Petersburg, Russia) — July 2016 — General Marketing Conference
Content Marketing Masters (Berlin, Germany) — June 2016 — How to Integrate PR & Content Marketing
Calq webinar (Leeds, England) — March 2016 — How to Earn Natural Links with Publicity Campaigns
Kahenacon Advanced (Tel Aviv, Israel) — November 2015 — What Digital Marketers Need to See in Server Log Files
Performance Marketing Insights (PMI) (London, England) — October 2015 — The Billions We're Losing in Display Ads
WebPromoExpert webinar (Kiev, Ukraine) — September 2015 — The Millions We're Losing in Online Ad Fraud
BrightonSEO (Brighton, England) — April 2015 — Stop Thinking About Building Links. Start Thinking About Publicity!
SEMrush webinar (St. Petersburg, Russia) — April 2015 — How to Create a Unified Brand Strategy Online
Moz webinar (Seattle, Washington) — October 2014 — How to Integrate PR Into SEO Strategy
SMX West (San Jose, California) — March 2014 — PR Strategy for Digital Marketers
SMX Milan (Milan, Italy) — November 2013 — How to Build Links and Win Authority With PR
Private talks and tutorials at the offices of prior clients
Marketing Talks In-Depth
Keynote Marketing Speeches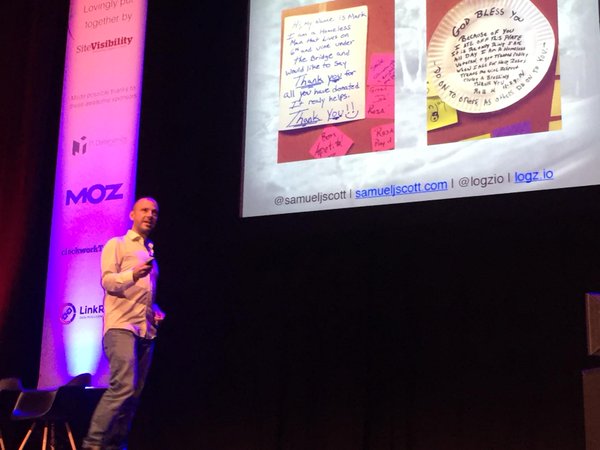 The Biggest Myths in Marketing Today
How to Integrate Traditional and Digital Marketing
There is no such thing as "inbound marketing." There is no such thing as "content marketing." There is no such thing as "social media marketing." Most of the people who use those terms either do not understand marketing or are selling something. In Samuel's marketing keynote speaker presentations, he calls for a revolution in the way that digital marketers approach what they do.
Marketing has always been the creation of a message, the insertion of that message into a piece of content, and the transmission of that content over a communications channel to an audience. The Internet is merely a new set of communications channels. That marketing process has always occurred in the marketing world within the framework of one of the five elements of the Promotion Mix: direct marketing, advertising, personal selling, sales promotions, and publicity.
"E-mail marketing" is direct marketing over the channel of e-mail. "Mobile marketing" is direct marketing over the channel of mobile devices. Most online advertising is actually direct marketing and not advertising. A lot of "content marketing" is advertising by another name. Hosting webinars and giving presentations is not "inbound marketing" but personal selling. A lot of "content marketing" is publicity by another name. "Outreach" and "guest posts" for SEO linkbuilding purposes are usually (bad) forms of publicity campaigns. "Content" is not a strategy, but it is used within the five strategies that comprise the Promotion Mix.
"Social media" is not a strategy — it is a communications channel over which the content within a marketing strategy is transmitted. As a result, there will be fewer and fewer "social media jobs." Publicists will use social media to do publicity. Advertisers will use social media to advertise. Customer-service representatives will use social media to do customer support. And so on.
Most "online marketers" do not even know the traditional principles that students learn on the first day of Marketing 101 because their first exposure to "marketing" was manipulating search engines and getting Facebook "likes." As a result, they cannot separate the truth from the bullshit because there are a lot of self-interested parties who are only trying to sell something. If digital marketers knew how to structure a proper integrated marketing campaign, they would see better results. After contradicting most of what online marketers think they know, Scott will close the presentation by uplifting the audience and showing how they can use this traditional marketing information to take what they know best — digital channels — and use them better than anyone else.
Samuel's keynote marketing presentation goes through the overall strategic marketing process step-by-step and then shows how to adapt that approach to the Digital Age. He is one of the best marketing speakers to anchor any conference or business meeting with this comprehensive and inspiring presentation that will get people talking! For more:
Internet Marketing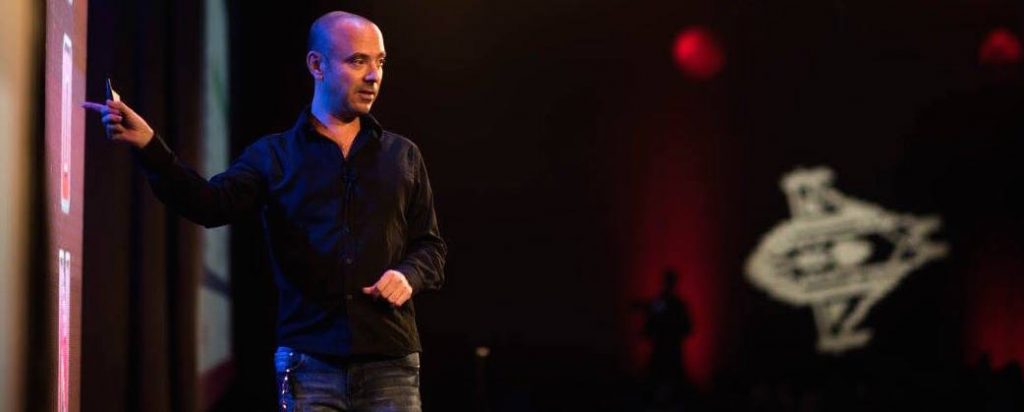 The Marketing Department of the Future
Imagine that it is the year 1996. What did traditional marketing departments think about? The 4 Ps. The Promotion Mix. Communications strategies. SWOT analyses. The Five Forces. Building brands.
In 2006, what did digital marketing teams think about? High Google rankings. Getting Facebook and Twitter followers. Building links. One team was using professional marketing strategies that had been developed over many decades. One team was calling themselves "marketers" but did not even know traditional terms and practices.
What should marketers do in 2016? Digital marketers need to understand that almost all of those things that digital marketers thought about in 2006 are gone. Google's getting better and better at stopping artificial attempts to manipulate rankings. Facebook followings turned into a joke now that brands need to pay to have any reach. The best links are those that websites get without even actively thinking about links.
As an Internet marketing speaker, Samuel presents how traditional marketers need to understand the Internet is merely a new and specialized set of communications channels that sit in existing marketing communications processes. Publicists will need to learn how to use social media and other online channels to do publicity. Direct marketers will need to learn how to get results from sending marketing collateral over postal mail and e-mail. Creative teams will need to learn create content for both the online and offline worlds. Everyone will need to learn how to measure the ROI of everything. You can see more in his Moz essay on the topic.
Real truth about PR, linkbuilding, marketing and ranking @samueljscott #brightonseo @ Brighton Dome https://t.co/YVdc7Q1XQD — Nicole Bullock (@cuteculturechic) April 10, 2015
How PR Can Help Digital Marketing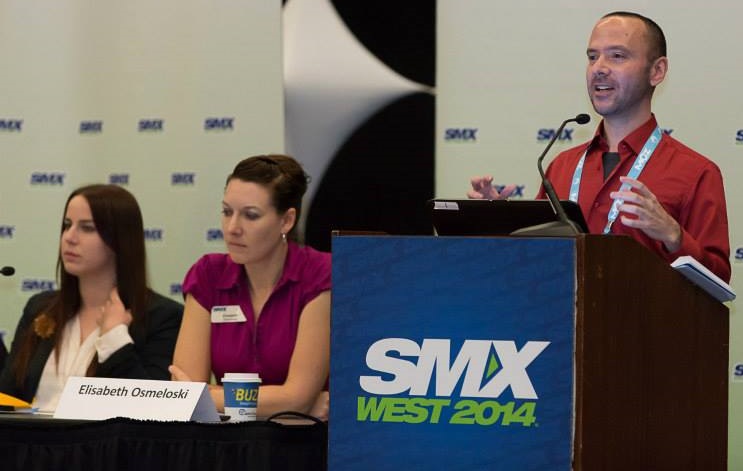 What is incorrectly called "outbound marketing" will always remain relevant because outbound marketing creates demand — so-called "inbound marketing" fulfills demand — and provides backlinks that are 100% natural and authoritative for SEO purposes.
In this talk, Samuel will present case studies and examples that show how digital marketers can get many links by not directly thinking about links at all. He will provide an overview the publicity process that PR executives have used to show to get the media, bloggers, and the people:
Goal definition
Audience identification
Messaging and positioning
Media list creation
Press releases and pitching
Tools and ROI
You can see more in his Moz essay on the topic.
Love @samueljscott explaining how PR gives you the natural link profile every SEO wants #BrightonSEO — Erica McGillivray (@emcgillivray) April 10, 2015
Marketing & SEO
Server Log Analysis & Technical SEO
As Director of Marketing and Communications for log analytics software company Logz.io, Samuel is also an SEO speaker who discusses server log analysis and technical SEO. Log files are important to examine because they contain the only data that is 100% accurate in terms of how search engines are crawling your website — Google Analytics data is wrong. He explains how to analyze the data effectively to analyze:
Bot crawl volume
Response code errors
Crawl budget waste
Duplicate URL crawling
Crawl priorities
Last Crawl Date
Overall crawl budgets
You can see more in a MozCon presentation of his on this topic.
Why Google Analytics Data is Wrong and What You Can Do About It
Most people think ad blockers affect only advertisers and publishers. But all marketers are being affected because more than 70 million people are now either using ad blockers that block analytics scripts automatically or can do so with a one-click configuration.
Everything from Google Analytics to Marketo to Hubspot to Visual Website Optimizer is based on front-end, client-side scripts. Whenever that code is blocked or otherwise does not execute, those platforms will transmit no information and become essentially useless. However, that data is still in in the server-side log data. Here's how to use that information from the only analytics data that is 100% accurate.
Learn more in this post of his.
Public Relations
Using Digital Marketing to Help PR
The practices that SEOs and digital marketers use can inform and help the PR process. What media hits in what places are actually getting real results for your clients or company? How can you measure brand awareness? As a PR speaker, Samuel will show how digital analytics can help by measuring:
If you have gained media hits in publications and blogs (in any context), track the referral traffic, conversions, and sales
In the context of media hits, track overall conversion rates and bounce rates from each outlet to see which ones seem to be more relevant to your goals and future campaigns
Following any publicity campaigns, track the increase (or not) in branded searches in Google Search Console (formerly Google Webmaster Tools)
During any creative campaigns on social media, track video views, referred social traffic, conversions, and sales as well as any growth in followings, "likes," and shares
Use various tools to track brand mentions (this is the modern version of creating a what had been called a clip file) as well as the sentiments involved in mentions of your brand
In the context of publicity campaigns that aim to release information (such as surveys or studies), see how your resulting reports, blog posts, or e-books are ranking in organic search results for those informational queries
For events, speaking opportunities, or any other local publicity effort, track mentions, traffic, conversions, sales, and anything else relevant in analytics specifically from that country, city, or locality
Great Mozinar happening NOW by @samueljscott. Learning about the link between PR and SEO – loving it! @Moz — Tori Utley (@tori_utley) October 7, 2014
Publicity Strategies that Get Viral Attention
Over the past one hundred years, publicists have developed a set of specific strategies to get attention for their companies, executives, products and services. As a social media speaker, Samuel Scott explains how to execute those strategies to get earned media coverage in major publications and spread virally on social media at the same time.
This talk covers topics including:
What specifically is publicity within the Promotion Mix?
When should marketers use publicity campaigns?
What are the major publicity strategies?
How can I create a publicity plan?
How can I measure the results?
You can see more in his essay on Moz.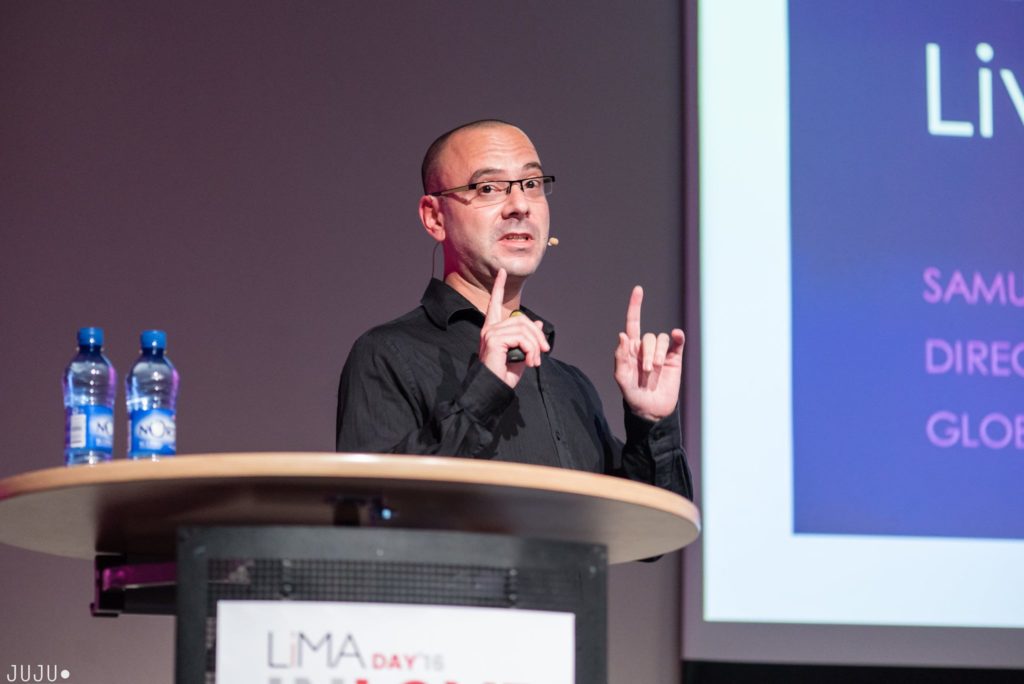 Online Advertising
The Billions You're Losing in Online Advertising Fraud
There is billions of dollars of fraud, deception, kickbacks, and misrepresentation occurring in the digital ad industry, and most marketers and advertisers are completely unaware of it. As an online advertising speaker, Samuel shines a light on what media buyers, publishers, and ad networks are really doing by explaining:
What an "impression" really is
How advertisers are paying when bots view ad impressions
How most ad impressions are never seen by human eyeballs
How publishers are committing fraud and colluding with ad networks
That media buyers are taking kickbacks from ad networks
How the online ad industry is committing suicide — fraud, bots, and tracking is leading to more use of ad blockers
Samuel wrote about the topic in The Drum, TechCrunch, and Moz.
.@samueljscott did a terrific job, all pumped up, to tell the truth about display!!! #PMILDN pic.twitter.com/2lpZDq65VK

— Guillaume (@GuillaumeRigal) October 30, 2015
Content Marketing
Using PR Strategies to Help Content Marketing
All too often, content is produced but then no one ever sees it. It's becoming more and more difficult to stand out among the flood of new content that hits the Internet every single second of every single day. As a content marketing speaker, Samuel Scott will show how to generate content ideas that will specifically interest the media, outline the strategic publicity process that PR companies have always used, and then reveal how to use that strategy to maximize the attention, links, and shares that your content gets from the media, reporters, and bloggers.
He will cover:
How to create specialized content specifically for the goal of getting media and blogger coverage (for the resulting links, social shares, and more)
How to maximize the media coverage and reach of your content with the traditional, strategic process that PR companies have always used
How to incorporate PR strategy generally throughout the content marketing process
Social Media
The Right Way to Approach Social Media
Social media networks are merely communications channels over which marketers execute their existing functions and strategies. In his social media marketing speaker talk, Samuel describes why "social media marketing" does not actually exist, why there will be no "social media jobs" in five years, and how marketers should respond.
Testimonials
#BrightonSEO PR over standard link building chat by @samueljscott – inspirational story to start. Good stuff! pic.twitter.com/GNboJCcPXb — Nicola Henderson (@digitalhenders) April 10, 2015
inspiring presentation by @samueljscott and how all link building is just byproduct of good marketing #BrightonSEO pic.twitter.com/KdykSAFUbD

— Christoph C. Cemper (@cemper) April 10, 2015
the flashes are going crazy in the concert hall during @samueljscott's talk. Who knew PR can build such good natural links? 😉 #BrightonSEO — Aisha Kellaway (@AishaKellaway) April 10, 2015
One guy that is actually making sense. Outreach is PR. Music to my ears @Samueljscott #BrightonSEO #pr #seo — Miss Maya Mistry (@MissMayaMistry) April 10, 2015
Hi @samueljscott you're welcome. That was a perfect example of future proofing the SEO efforts of any business using the power of REAL PR. — WildShark SEO (@wildsharkseo) October 8, 2014
Danny Sullivan's outstanding answer on the challenge of "rubber molding" echoes this morning's presentation by @samueljscott. Be newsworthy! — Sha Menz (@ShahMenz) March 13, 2014
Great job @samueljscott, quite the PR guru. #SMX #22a — Kenny Eliason (@NeONBRAND) March 12, 2014
#smx adoro la presentazione di @samueljscott Questa slide l'appendo in uff. (oltre a infilarla in tt le future ppt) pic.twitter.com/yoX8vHfdbw — Diego Valente (@DValente10) November 7, 2013
Samuel's Marketing Presentations
Webinars & Interviews
Unbounce
My 25-minute podcast interview with Unbounce on what the high-tech industry and online marketers get wrong about marketing (MP3 download).
Calq (webinar on earning links with publicity campaigns)
WebPromo Experts (webinar on ad fraud)
PMI London (post-presentation interview on ad fraud)
Samuel's Speaking Fee
Base fee: Minimum $5,000 (depending on the specifics of the event and who is holding it)
Airfare: Round-trip business airfare arranged and paid by the conference or company on El Al Israel airlines from Tel Aviv to your location (negotiable based on location and airline availability)
Hotel: Minimum four-star hotel arranged and paid by the conference or company at a location close to the speaking engagement that includes the day and night before and after the conference or the speech at your company
Expenses: $50 per day for food as well as transportation and other items (negotiable based on what is provided at the conference or event). Kosher food at the event or delivered to the hotel is preferred
Payment: The total amount for the base fee + expense rate is given via check before I leave the conference or your company
Currency: The payment can be in your local currency
Contact Samuel to Speak