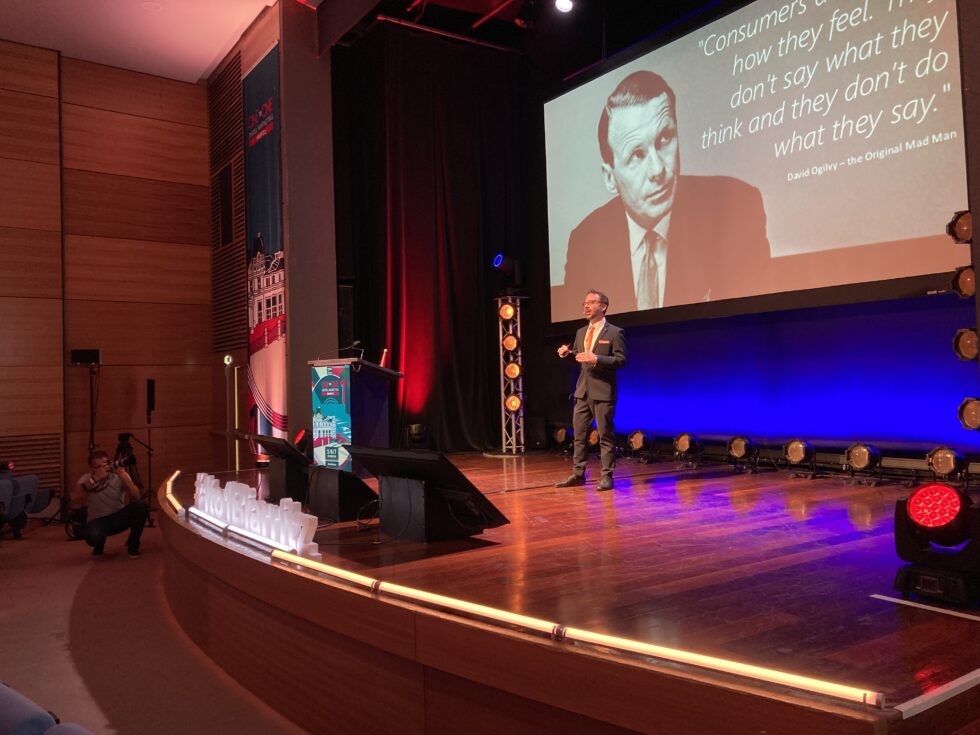 The speaking business events world has returned! For 2024, I am mainly giving talks on these themes. You can click on the name of a talk for more details.
Interested in an appearance? Visit my speaking page and drop me a line! Or feel free to recommend me to event planners and conference organizers who you know.
MARKETING IS NOT WHAT YOU THINK: What VCs, CEOs, and CMOs in the High-Tech Startup Industry Need to Know
Advertising, communications, and marketing are not the same thing. In fact, they mean very different and important things. In this keynote address, Samuel outlines the entire marketing process of research, segmentation, targeting, positioning, objective setting, product creation, pricing, distribution, and promotion. The first two steps are diagnosis — understanding where you are. The next three steps are strategy — deciding where you will go. The last four steps are tactics — planning how you will get there. To maximize your company's value, you need to know what to do at each step. Marketing is a lot more than just "creating content."
Actionable takeaways:
— Learn the entire, end-to-end marketing process.
— Understand how to do market diagnosis, marketing strategy, and marketing tactics.
— See the best practices for each individual step along the way.
BETTER TOGETHER: How Brand and Performance Advertising Both Fuel Growth
The marketing world has become obsessed with online direct response and short-termism, both of which are hurting long-term advertising effectiveness. In this talk, Samuel argues that we need to get out of our bubble and rethink our approach to media planning today by integrating traditional and online channels as well as long-term and short-term strategies in the most effective ways. Here, he will show how both types of advertising can work together for maximum effectiveness.
Actionable takeaways:
— Learn the difference between "brand" and "performance" advertising tactics.
— See how they both "perform" — they just perform in different ways and in different time frames.
— Understand how to build marcom campaigns that both get sales today and build brands for more future sales tomorrow.
ACTIONS, NOT ADS: How Your Company Can Use Brand Purpose to Help the World
Many consumers say they prefer sustainable products and do not want to support sweatshops, but they still often buy the cheapest clothing and running shoes made in such places anyway. Companies today want to do better, but they are getting such mixed signals from customers. In this keynote, Samuel will show how companies can navigate this complex environment and both help the world and sell more products at the same time. The key to understand: Actual brand purpose goes far beyond just saying nice stuff in ads, and the benefits go far beyond just selling more stuff.
Actionable takeaways:
— See four examples of companies in various industries and countries that are using brand purpose to help both the world and their businesses.
— Gives an overview of marketing strategy and marketing tactics.
— Shows a step-by-step example of how a company could use brand purpose when targeting millennials and Gen Z.
The B2B Secret: How Building a Brand is the Ultimate "Growth Hack"
In this fun and informational keynote that can include props, Samuel will discuss the benefits of a strong brand, product marketing versus brand marketing, the importance of mental availability and brand equity, examples of good B2C and B2B branding, how to build a brand, and how to manage and measure mental availability brand equity. After all, B2B marketing is more similar to B2C than people think.
Actionable takeaway: Build B2B brands that will get leads today and tomorrow, increase conversion rates, raise pricing power, receive media coverage, and attract more talent.
Actionable takeaways:
— Understand the importance of brand equity and how strong brands lead to more revenue and profit, greater conversion rates, higher prices, and overall valuations.
— See how to build mental availability and brand salience among the 95% of B2B buyers who are not in the market right now so that they will remember you when they want to buy a product in the future.
— Learn the step-by-step process of brand positioning, brand codes, brand objectives, brand architecture, tactical execution, budgeting, and tracking.