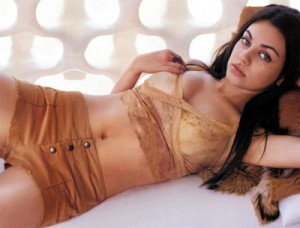 EILAT, Israel — When­ever I go to Israel, I am always asked the same three ques­tions from hot Jew­ish girls, in this order:
Do you want some­thing to eat?
How old are you?
Are you single?
(For any­one who has not trav­eled to the Mid­dle East, the answer to the first ques­tion is always "yes.")
Every­one that I meet — from fam­ily mem­bers of friends to com­plete strangers — is seem­ingly obsessed with find­ing spouses for the Jew­ish sin­gles among their friends and fam­ily mem­bers. At first, this men­tal­ity struck me as odd since I have spent the last eight years of my life in Boston, where peo­ple don't even think about such seri­ous top­ics until after they fin­ish grad­u­ate school and start a career. But, over time, I have grown to appre­ci­ate the sen­ti­ment in Jew­ish reli­gion and Jew­ish history.
Israelis, or at least the Mizrahim (Israeli Jews orig­i­nally from other Mid­dle East­ern coun­tries) with whom I spend most of my time, are much more focused on the fam­ily. Peo­ple live with their par­ents until they are mar­ried, and some­times even after­wards. Amer­i­cans, on the other hand, want to become inde­pen­dent as quickly as pos­si­ble and do not think twice about mov­ing far away from their home­towns for work or adven­ture. Israelis have large fam­i­lies, but the birth rate in the United States has been steadily declin­ing. Israelis spend nearly every evening with fam­ily mem­bers, whereas most Amer­i­cans see their extended fam­ily once or twice each year. I have yet to see a fam­ily where peo­ple actively dis­like each other.
At one fam­ily gath­er­ing, I asked an American-Israeli woman who has moved back and forth between the two coun­tries with her fam­ily about the ques­tions I always receive. She said peo­ple are very inter­ested in me because a nice, Jew­ish man is a rare com­mod­ity here. From what I've expe­ri­enced in my trav­els, per­haps the first adjec­tive — "nice" — is the most desir­able, in cer­tain respects, in Israel. Let me explain — it's not some­thing you'll see on Jewish-Israel tours or vaca­tions in Israel.
I spent four days in Eilat, a city on the south­ern­most tip of Israel that rests on the Red Sea and bor­ders Egypt and Jor­dan. Many fam­i­lies come there on vacations, but young peo­ple visit to party. A com­par­i­son to Key West in the United States might be appro­pri­ate. I was relax­ing by the hotel pool in the evening because my friends had gone to bed, and soon a group of five teenage girls walked onto the deck. Once they real­ized that I was an Amer­i­can, they rushed over and demanded that I speak Eng­lish to them since they had been learn­ing the lan­guage in high school.
Then, as I expected, two of them began to flirt with me in an effort to get some of my beer. After it was estab­lished that, for obvi­ous reasons, I was not inter­ested, one of the girls asked a ques­tion, in Eng­lish, that shocked me because these girls had said that they go to a dati (reli­gious) school: "One of my friends is a slut. Do you want to meet her?" As politely as pos­si­ble, I said, "no, thank you." I explained, in my very basic Hebrew, that I do not like girls who behave in that way. But these girls were absolutely puz­zled – they seem­ingly could not under­stand how a guy could turn down sex.
Another girl in the group, per­haps to her credit, at least wanted to offer some advice. She said, in per­fect English: "If you respect women, they won't respect you." I was absolutely mor­ti­fied that a woman — a teenage girl who is still grow­ing up, espe­cially — would believe this. But the more that I reflected on Israeli cul­ture, the more under­stand­able it became. Israel is a very tra­di­tional soci­ety — for bet­ter and for worse. The focus on fam­ily and com­mu­nity is a pos­i­tive qual­ity, but the gen­der rela­tions here would enrage Amer­i­can fem­i­nists. Israeli cul­ture, like many things in the Mid­dle East, is a paradox.
I was walk­ing through Eilat with a friend and her two younger sis­ters when a ran­dom guy stopped the 14-year-old sis­ter and called her "cutie" in Hebrew while try­ing to touch her face and pull her closer. (She ducked and ran to us, mortified.) I heard a twen­tysome­thing guy talk­ing loudly to his friends in pub­lic about the size of a part of his girlfriend's lower anatomy. Women in the mil­i­tary are rou­tinely harassed (see here and here). These things hap­pen all the time. More­over, for­mer Israeli Pres­i­dent Moshe Kat­sav allegedly sex­u­ally harassed, and pos­si­bly raped, female employ­ees. Haim Ramon, a for­mer jus­tice min­is­ter, was con­victed of forcibly kiss­ing a female army officer.
This men­tal­ity and these actions, for a vari­ety of reasons, seem to be endemic to the cul­ture. Larry Derfner, writ­ing in The Jerusalem Post that many Israeli men act like boors while trav­el­ing abroad, offers a few pos­si­ble expla­na­tions:
I've got a few, not ter­ri­bly orig­i­nal, ideas why: the harsh­ness of the Hebrew lan­guage, cli­mate and land­scape; the hard­ship and poverty of daily life that existed here until the cur­rent gen­er­a­tion; the cal­lous­ness that came from pio­neer­ing in a hard, hos­tile coun­try; the resent­ment, along­side a lim­it­less sense of enti­tle­ment, that comes from nur­tur­ing a national self-image as the world's eter­nal vic­tim; and the near-fanatical spoil­ing of Israeli children.
I have a few addi­tional ones of my own. Ortho­dox Judaism is essen­tially the only form of Judaism in Israel, and it is becom­ing increas­ingly extreme and, some would say, dis­crim­i­na­tory towards women. The country's his­tor­i­cal and cul­tural mem­ory, which is highly based on mil­i­tary ser­vice and accom­plish­ment, places a high value on act­ing "tough." The coun­try, peo­ple may think, would not have sur­vived if every­one was "nice." In gen­eral, Israelis have also adopted many of the cul­tural norms of the gen­eral Mid­dle East, where fem­i­nism is not exactly a press­ing concern.
An Israeli acquain­tance – who, it might be rel­e­vant to say, is a gay man — calls many Israeli men "baboons." I think, on some level, this is what the American-Israeli meant when she told me that "nice, Jew­ish guys" are in short sup­ply in Israel. Fam­i­lies and friends, I sup­pose, want to find a guy for their loved ones who does not act like a stereo­typ­i­cal Israeli. I hope it is not arro­gant of me to say that I am flattered.