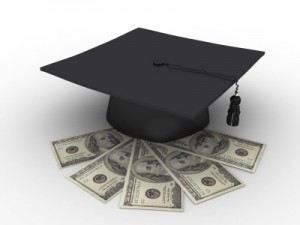 Emily Bazelon won­ders in Slate whether grad­u­ate school now costs more than it is worth even with all of the ways for con­sol­i­dat­ing college-loans:
More anx­ious are the twen­tysome­things with pro­fes­sional degrees that were sup­posed to help them find work but aren't. Gor­don, who is 29, has an under­grad­u­ate degree in com­puter engi­neer­ing from Boston Uni­ver­sity, three years in IT, and an MBA and a master's in infor­ma­tion sys­tems… But after a year and a half, he lost the job he got after grad­u­a­tion. He has $60,000 in stu­dent loans even though he had full schol­ar­ships for both under­grad and grad school (liv­ing expenses)…

"Sud­denly, it seems to me that there is a real pos­si­bil­ity that I, like tens of thou­sands of oth­ers, am hold­ing onto a degree that is actu­ally under­wa­ter. Look at stu­dent loans, the oppor­tu­nity cost of tak­ing two (busi­ness) or four (law) or eight (med­i­cine) years off of your work­ing life, add in a horde of other peo­ple with the same qual­i­fi­ca­tions as you who are com­pet­ing for a hand­ful of avail­able jobs and it's easy to see just how much the job mar­ket in these pro­fes­sions looks like a bub­ble that is about to burst."

I also heard from law school grad­u­ates with $200,000 in debt who won­der what they were think­ing as firms down­size and implode. "It is a night­mare," writes Ben­jamin, who got laid off a few weeks ago with­out a day's notice. He has moved back in with his parents—until he leaves to go teach Eng­lish in Korea…

Then there are the master's degrees. I've won­dered whether some master's pro­grams are a bit of a scam, mon­ey­wise, since stu­dents often have to pay for them. Tamara, who has a master's in physi­cian assis­tant stud­ies, picked her degree when she saw it ranked high in a CNN poll of jobs for the future. She is work­ing, but given her $200,000 debt, she says, "It is hard for me to say at this point whether I made the right deci­sion to go to grad­u­ate school… I hope one day to look back on my deci­sion to pur­sue grad­u­ate edu­ca­tion with pride, but now the feel­ing that over­whelms me is regret."

In the same boat: A guy with a master's in inter­na­tional rela­tions is work­ing at a super­mar­ket and just went on Medicaid…
As some­one who has taken out a lot of stu­dent loans for his under­grad­u­ate stud­ies in jour­nal­ism and his M.B.A., I also have the same fears and feel­ings. Through­out my life, par­ents, teach­ers, pro­fes­sors, and the media con­stantly repeated the same mantra to every­one my age: "If you go to col­lege and work hard, you will have a com­fort­able life."
But there was some­thing they did not real­ize. Every­one my age ended up receiv­ing a bachelor's degree, so they became use­less (or, in other words, they resem­bled a high-school diploma). So we took out even more stu­dent loans to get a master's degree to stand out from the crowd. Still, the grad­u­ate degrees are also becom­ing increas­ingly use­less as more peo­ple get them.
So, in a nut­shell: We are now con­sumed by debt after pur­su­ing degrees that are barely help­ing at all. Many peo­ple my age see plumbers, mechan­ics, and other blue-collar labor­ers mak­ing $50 or $60 per hour with­out ever going to col­lege and amass­ing tens of thou­sands (or more) of dol­lars of debt. Per­haps they were the truly smart ones.
These wor­ries come as more and more col­lege stu­dents today are charg­ing the sky­rock­et­ing cost of tuition to credit cards:
Sal­lie Mae's research sug­gests that more stu­dents are pay­ing for edu­ca­tional expenses such as books and school sup­plies with credit cards. And they're doing so more often: In 2008, stu­dents charged an aver­age of $2,200 in edu­ca­tional expenses to cards, up 134% from four years earlier.

These find­ings are unsci­en­tific because they're based on a poll — sep­a­rate from Sal­lie Mae's analy­sis of credit bureau data — of 292 private-loan appli­cants. Nev­er­the­less, the results mir­ror those of other indus­try surveys.

"The mes­sage is clear," says Edmund Mierzwin­ski, con­sumer pro­gram direc­tor for the U.S. Pub­lic Inter­est Research Group. "Stu­dents are car­ry­ing more debt on credit cards, and more stu­dents are pay­ing for edu­ca­tion on credit cards."
Since more banks are offer­ing fewer and fewer pri­vate stu­dent loans as a result of the credit crunch (and fed­eral gov­ern­ment assis­tance comes with lim­its), this not sur­pris­ing. How­ever, I have to won­der some­thing: As a result of recent changes to bank­ruptcy laws (enacted, it is worth not­ing, when the Repub­li­cans con­trolled Con­gress and the White House), stu­dent loan debt is no longer dis­charge­able — but credit card debt can be erased. I would not be sur­prised if more than a few stu­dents are charg­ing as much as they can to their credit cards while plan­ning to declare bank­ruptcy after graduation.
Mean­while, the Obama admin­is­tra­tion is plan­ning to increase fed­eral gov­ern­ment aid directly given to stu­dents rather than sub­si­dize stu­dent loans given by banks. I wish the White House the best of success.