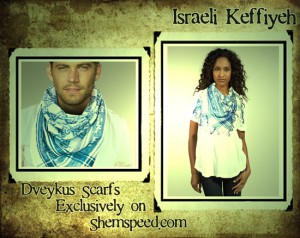 JERUSALEM — In the Mid­dle East, every­thing is polit­i­cal. Even fashion.
Now, the Jew­ish com­pany Shem­speed is offer­ing a kef­fiyeh that is an Israeli take on a tra­di­tional, Arab piece of cloth­ing:
The Israeli Kef­fiyeh, with its intri­cate Star of David pat­tern in the cen­ter piece, and words AM ISRAEL CHAI (Jew­ish Peo­ple Live) in Hebrew weaved into its fab­ric, this scarf illus­trates a divine promise that the Jew­ish peo­ple are eter­nal. [Note from Sam: The Hebrew is more-accurately trans­lated as "the nation of Israel lives."]
The his­tory of the kef­fiyeh, of course, is com­plex. Yasser Arafat pop­u­lar­ized the scarf as a sym­bol of the so-called Pales­tin­ian resis­tance, and more recently, it has become a fash­ion state­ment in more-liberal cir­cles:
As with other arti­cles of cloth­ing worn in wartime, such as the T-shirt, fatigues and khaki pants, the kef­fiyeh has been seen as chic among non-Arabs in the West. Kef­fiyehs became pop­u­lar in the United States in the late 1980s, at the start of the First Intifada, when bohemian girls wore kef­fiyehs as scarves around their necks. In the early 2000s, kef­fiyehs were very pop­u­lar among youths in Tokyo, who often wore them with cam­ou­flage cloth­ing. The trend recurred in the mid-2000s in the United States, Europe, Canada and Aus­tralia, when the kef­fiyeh became pop­u­lar as a fash­ion acces­sory, usu­ally worn as a scarf around the neck in hip­ster cir­cles. Stores such as Urban Out­fit­ters and Top­Shop stocked the item. (After some con­tro­versy, how­ever, Urban Out­fit­ters pulled the item.) In spring 2008, kef­fiyehs in col­ors like pur­ple and mauve were given away in issues of fash­ion mag­a­zines in Spain and France.
In a prior post, I dis­cussed the con­flict between Israel and Lebanon over hum­mus. Now, the Israeli kef­fiyeh might become the next cul­tural bat­tle­ground. As the designer, Dveykus, writes:
What prompted me to design a Jew­ish ver­sion of a keffiyeh/scarf is the fact that a tra­di­tional Arab head wear has become not only a sym­bol of injus­tice, but a fash­ion state­ment. In New York city one can not go any­where with out see­ing peo­ple on the street wear­ing them, they rang­ing from dif­fer­ent eth­nic­ity, color and back­ground. The first thing that came to mind was:

Do they know what they are wear­ing?


Are they mak­ing a state­ment?
If so what is it? Or are they sim­ply fol­low­ing fash­ion trends?

It is my sin­cere hope that this scarf would serve as a sym­bol of Jew­ish pride, unity of pur­pose, gal­va­niz­ing Jews from dif­fer­ent back­grounds and per­haps become as an iconic sym­bol of our future!!
The cul­tural con­flict came to a head most recently when celebrity chef Rachel Ray wore a scarf in a Dunkin' Donuts com­mer­cial that looked a little-too-much like a kef­fiyeh to some con­ser­v­a­tive com­men­ta­tors. How­ever, it is very com­mon to see them here in Israel — even on Jew­ish Israelis.
In Jerusalem, nearly every per­son who wears the kef­fiyeh is an Israeli Arab or a Pales­tin­ian. Still, the piece of cloth­ing is still com­mon in other parts of the coun­try where there are few Arabs. I was walk­ing through down­town Ris­hon Lezion — a city in the cen­ter of the coun­try — when I saw a Jew­ish girl wear­ing one. Since I was new to the coun­try at the time, I was con­fused. So I asked a friend about it.
The friend, a Jew­ish girl whose fam­ily orig­i­nally came from Syria, said that wear­ing Arab-style cloth­ing is very com­mon among Mizrahi Jews (who come from the Mid­dle East — as opposed to Ashke­nazi Jews, who come from Europe and Amer­ica). Mizrahi Jews, for exam­ple, can have as much in com­mon with Arab cul­ture as I do with Amer­i­can cul­ture. (Just don't call them Arabs, or they will likely kick your butt.) A good friend's fam­ily orig­i­nally came from Iraq, and her grandmother's first lan­guage was Ara­bic. When they cel­e­brate at wed­dings, they yell in that Arab style that is dif­fi­cult to describe in words. If they would travel to the United States, many Amer­i­cans could be for­given for think­ing that they are Arabs. In addi­tion, many Israelis on the far left wear the kef­fiyeh out of polit­i­cal beliefs that crit­ics describe as trai­tor­ous and pro-Palestinian. (West­ern­ers who wear the scarf might do so out of a sub­con­scious desire, as one psy­chol­o­gist put it, to "iden­tify with the aggres­sor.")
Still, a Jew­ish per­son — or any­one who sym­pa­thizes with Israel — can buy his own kef­fiyeh for $15 and join the cul­tural con­flict discussion.
(Hat tip: Jew­li­cious)