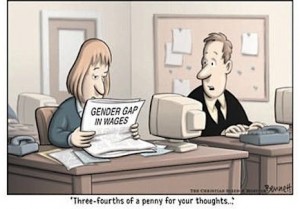 Nancy Fol­bre, an eco­nom­ics pro­fes­sor at the Uni­ver­sity of Mass­a­chu­setts Amherst, puts another nail in the cof­fin of the fem­i­nist delu­sion of the gen­der wage-gap myth based purely on sexism:
Men con­tinue to earn sig­nif­i­cantly more than women. Does the gen­der pay gap imply that women are less pro­duc­tive than men? Or do men reap rewards for char­ac­ter­is­tics that don't actu­ally increase their pro­duc­tive contribution?…

That deploy­ment may be shaped by the behav­ior that our eco­nomic insti­tu­tions tend to reward.

Social sci­en­tists have long observed that a "Machi­avel­lian per­son­al­ity" tends to enhance eco­nomic success…

Men score sig­nif­i­cantly higher than women on Machi­avel­lian­ism and aggres­sive­ness, which may help explain why 15 times as many men as women were in prison in 2008.

These traits also have sig­nif­i­cant con­se­quences in the labor mar­ket. Research sug­gests that women are less Machi­avel­lian, more agree­able and more altru­is­tic than men, with neg­a­tive con­se­quences for their earnings.

These per­son­al­ity traits may impair women's suc­cess in bar­gain­ing for higher pay. It's hard to believe that they lower women's over­all con­tri­bu­tion to society.
As I wrote in prior posts here and here, women do not gen­er­ally earn less than men solely because of their sex; women make less because the behav­iors that women tend to exhibit directly lead to lower salaries.
The rea­son­ing is not that com­plex. Men love fight­ing and com­pe­ti­tion (which leads to inse­cu­rity) while women love agree­ment and con­sen­sus (which lead to secu­rity). Men are dri­ven by evo­lu­tion­ary impulses to become as great of a resource-provider as pos­si­ble, and this means nego­ti­at­ing bet­ter salaries at inter­views and chang­ing jobs when­ever a bet­ter offer comes along. Women are nat­u­rally more inse­cure and there­fore avoid con­flict and change, mean­ing that they are less prone to hag­gling over a salary when it may threaten the job offer. More­over, women may hes­i­tate to leave a posi­tion for a higher salary because they are social crea­tures (more so than men), and they might not want to leave friends and com­fort behind for some­thing entirely new.