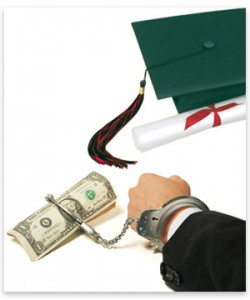 "The stress and depres­sion [over my debt] has got­ten so bad at times that I've seri­ously thought about killing myself. I've thought more about walk­ing into a finan­cial aid office, or a bank, and just blow­ing every­one away. Why even bother rob­bing them, all cash is trace­able now. No, I'd do it because my dead body or some­one else's dead body means some­one else, some­where else, has to do more paper­work than me for a change. I'd do it for the [laughs], basically."
That was a dis­turb­ing com­ment in a Fark.com online forum dis­cussing a recent arti­cle on the level of col­lege loans for stu­dents cur­rently held by young peo­ple in the United States in their twen­ties and thir­ties. Sadly, the feel­ing of frus­tra­tion as exem­pli­fied by the anony­mous Internet-poster will likely become increas­ingly com­mon as the U.S. econ­omy con­tin­ues to linger in the dol­drums for the fore­see­able future (via Vox Day and Mar­ket Ticker) and more observers won­der whether peo­ple my age (thirty) and younger will be a "lost gen­er­a­tion."
—
When I was in high school in south­ern Illi­nois in the United States, I was a reporter, assis­tant news edi­tor, busi­ness man­ager, and then editorial-page edi­tor of the "Hy News," my school's monthly stu­dent news­pa­per. While in the lat­ter posi­tion dur­ing my senior year, I wrote a col­umn — like Kat­rina Trinko did in USA Today recently — decry­ing the goals of many of my fel­low stu­dents to pur­sue degrees in col­lege based solely on how much money their would prospec­tively learn. Peo­ple, I argued, should study and then do that which they find inter­est­ing and makes them happy — like how I was going to Boston Uni­ver­sity to study jour­nal­ism. In one response of many, a class­mate asked me, "Do you know how much reporters make?"
After being laid off in 2007 from a job edit­ing and run­ning a non-profit, alter­na­tive news­pa­per in Boston, start­ing part-time MBA stud­ies, remain­ing unable to find a job for months, mov­ing to Israel, and then work­ing now in inter­na­tional online-marketing while jug­gling student-loans as well, I won­der in ret­ro­spect whether she was correct.
When I was an under­grad­u­ate in BU from 1998 to 2002, my stu­dent loans were the fur­thest thing from my mind. I signed what­ever loan papers had been put in front of me from Sal­lie Mae and oth­ers, and then I was off to study. I spent the four years wor­ry­ing more about excelling in jour­nal­ism classes and intern­ships (mainly the lat­ter). The money, I had thought, would take care of itself once I would become a super­star reporter.
It seems that I was not alone in my opti­mism. Accord­ing to a Sci­ence Daily arti­cle on a new Ohio State Uni­ver­sity study:
Instead of feel­ing stressed by the money they owe, many young adults actu­ally feel empow­ered by their credit card and edu­ca­tion debts, accord­ing to a new nation­wide study.

Researchers found that the more credit card and col­lege loan debt held by young adults aged 18 to 27, the higher their self-esteem and the more they felt like they were in con­trol of their lives. The effect was strongest among those in the low­est eco­nomic class.
I would bet that the major­ity of debt-increases-my-self-esteem responses were given by young peo­ple still in col­lege or right out of uni­ver­sity — namely, those who have had no eco­nom­ics edu­ca­tion, lit­tle expo­sure to the so-called real world, and no expe­ri­ence with the finan­cial real­i­ties of long-term plan­ning for things includ­ing mar­riage, a mort­gage, and retire­ment. Their self-esteem results not from the debt itself but rather the long-term ben­e­fits that they think the debt will pro­vide (whether accu­rate or not). As the same study dis­cusses later, these opti­mistic atti­tudes change later:
The old­est peo­ple in the study, those over age 28, were just start­ing to feel the stress of their debt…

By age 28, they may be real­iz­ing that they over­es­ti­mated how much money they were going to earn in their jobs. When they took out the loans, they may have thought they would pay off their debts eas­ily, and it is turn­ing out that it is not as easy as they had hoped," she said…

We found that the pos­i­tive effects may wear off over time, but they still have to pay the bills. The ques­tion is whether they will be able to. There needs to be addi­tional research to answer this question.
Still, I was not the only one with youth­ful, ide­al­is­tic sen­ti­ments. As Coun­cil on For­eign Rela­tions research asso­ciate Matthew C. Klein wrote in the New York Times:
My gen­er­a­tion was taught that all we needed to suc­ceed was an edu­ca­tion and hard work. Tell that to my friend from high school who stud­ied Chi­nese and inter­na­tional rela­tions at a top-tier col­lege. He had the mis­for­tune to grad­u­ate in the class of 2009, and could find paid work only as a life­guard and a per­sonal trainer.  Unpaid intern­ships at research insti­tutes led to noth­ing.  After more than a year he moved back in with his parents.
Klein's friend was not the only one. Now, as the amount of out­stand­ing student-loan debt is greater than credit-card debt for the first time (PDF), more peo­ple are ques­tion­ing whether col­lege is worth the cost — includ­ing hedge-fund man­ager and author James Altucher as well as a new Prince­ton Uni­ver­sity study and BU eco­nom­ics pro­fes­sor Lau­rence Kotlikoff.