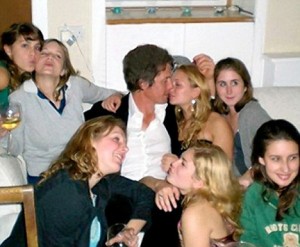 RISHON LEZION, Israel — So I was once enter­ing a local pub to meet some friends, and another reg­u­lar rushed out­side while I had been approach­ing the door. Her eyes were tear­ing up, and she was wip­ing them.
"Susan," I asked. "What hap­pened?" "Peter blew smoke in my eyes!" she exclaimed. "That a–hole!" (I have changed the names since they are obvi­ously not Israeli ones.)
Now, Susan was a girl in whom I had been inter­ested at the time. So, instinc­tively, I tried to com­fort her while agree­ing that Peter had acted like a jerk. Thirty min­utes later, Susan was ignor­ing me and was "all over" Peter. And that was just one inci­dent in the past sev­eral years that has slowly led to an increas­ing real­iza­tion and under­stand­ing on my part of how the two sexes are relat­ing to each other in mod­ern times — for bet­ter and for worse.
—
To under­stand how men and women related to each other today, it is impor­tant first to know how women think — first, because their men­tal­i­ties are more com­pli­cated than those of men; and sec­ond, because the female sex nearly always makes the choices in the dat­ing game. Except in rare cases involv­ing so-called "alpha males," women are gen­er­ally the ones who decide when sex will occur, and they select which men have chances from among all of those in the "dat­ing mar­ket" who have expressed an interest.
So, when women look at men in gen­eral, what do they see? The dat­ing web­site OkCu­pid has an inter­est­ing post after ana­lyz­ing vast amounts of data from the site (via Dr. Helen):
As you can see from the gray line, women rate an incred­i­ble 80% of guys as worse-looking than medium. Very harsh.
Men, for their part, were accu­rate in their appraisals in the study — their cri­tiques of women in the study resem­bled the nor­mal, expected dis­tri­b­u­tion of a bell curve. Of course, the log­i­cal response is that the responses of the women (and men) focused mainly on phys­i­cal attrac­tive­ness and did not take other fac­tors (edu­ca­tion, job, and so on). But the real­ity is that, for the women, these fac­tors are always taken into account — if even on a sub­con­scious level — because men and women eval­u­ate each other dif­fer­ently in the dat­ing market.
Men, being the sim­ple crea­tures that we are, focus almost entirely on phys­i­cal attrac­tive­ness. Women judge the "whole pack­age" because they must be pick­ier (in evolutionary-psychology terms) — they real­ize that they need eco­nomic secu­rity, good genes for the chil­dren, some­one who will "stick" around and help to raise a fam­ily, some­one who has the abil­ity to pro­vide pro­tec­tion and social sta­tus, and so on. This is the rea­son that it is rare to see a hand­some man with an ugly woman while the oppo­site is com­mon. Women know instinc­tively that they carry the bur­den of prop­a­gat­ing the human race on their shoul­ders, so their mate-selection choices mat­ter more than those of men (in short, they are pick­ier). Women are more impor­tant to human­ity than men — an island with nine women and one man will pro­duce more chil­dren than one with nine men and one woman. (See my prior essay on the world­wide reac­tion to the 2009 mur­der of the young Iran­ian woman Neda Agha-Soltan — the out­cry would have been less, or even non-existent, if she had been male.)
In this con­text, it is the nature of women to be hyper­g­a­mous and to be more likely to accept that their desired mate is involved with other women at the same time. Just imag­ine girls who are hold­ing out for a man who is suc­cess­fully "play­ing the field" rather than decid­ing to "set­tle" for a guy who just wants a sin­gle girl to whom he can devote him­self. Women like a man who is desired by many other women because it is a form of social proof that the man is "qual­ity." Imag­ine a pre­his­toric time in which a woman (and any future chil­dren) were doomed to a mis­er­able life and early death unless she part­nered with one of the few men who had most of the food and weapons (and the other women as a result). Forty years of fem­i­nism can­not change hun­dreds of thou­sands of years of human nature.
Women are hit on so often that they need numer­ous, quick ways like social proof to nar­row the field down to "accept­able" pos­si­bil­i­ties (like the hypo­thet­i­cal cave­man I described above) — and they do so, accord­ing to a recent study, within 180 sec­onds of meet­ing a guy (via Vox Day).
The world's major reli­gions (par­tic­u­larly Chris­tian­ity), to their credit, helped to improve the sit­u­a­tion for men by encour­ag­ing — or even insti­tut­ing — mar­riage between one man and one woman rather than allow­ing polygamy. (See a prior post enti­tled "Humans and Monogamy: The Ben­e­fits of Monogamist Dat­ing.") In a non-monogamous world — whether in pagan times thou­sands of years ago or in the sec­u­lar times of today — so-called "lesser-status men," those 80% who are viewed as "less than aver­age" in the OkCu­pid study will be left alone while most of the women will "part­ner" with the few men who have high sta­tus (even if they must share him). The end result — at least in a mod­ern, West­ern soci­ety in which pre­mar­i­tal sex is com­mon and peo­ple are mar­ry­ing later, if at all — is that women are increas­ing act­ing like mod­ern con­cu­bines. (See my prior post on how to define "con­cu­bine.") The old becomes the new, and now the world is see­ing "dat­ing in the stone age."
Arti­cle Pages: 1 2