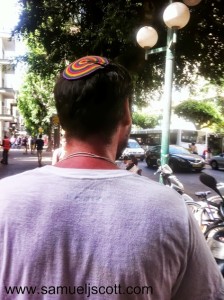 By Samuel Scott

TEL AVIV — Imagine living in a country where you can be legally married only in an official Christian, Jewish, or Islamic ceremony. You would be in Israel. That means that same-sex couples cannot become legal spouses — unlike in increasingly more places in Europe and the United States.

The State of Israel, of course, was founded as a Jewish state in 1948. But the early Zionists defined "Jewish" at the time based on ethnicity because they wanted to create a state for the Jewish nation just as the English people have England, the French people have France, and the Russian people have Russia.

Under the Law of Return enacted by the new country, anyone in the world can move here and become an automatic citizen as long as he had at least one grandparent who was a Jew — even if the new immigrant himself is not a Jew. (Converts, even non-Orthodox ones, are generally accepted as long as their rabbis abroad certify that they are sincere.) The wide latitude given to the ethnic definition of "Jew" after World War II was a result of the desire to grant refuge to anyone who would have been targeted by Adolf Hitler and the Nazis.

The founders of the state gave little thought to the religious side of Judaism because most of them were secular and thought the religious practices would soon disappear in the wake of the Holocaust and modernity. Still, the political divisions in the early state forced David Ben-Gurion, the first prime minister, to cobble together a coalition government by agreeing to give the religious community control of the Chief Rabbinate and life-cycle events such as marriage, burials, and conversions.

As a result, there has never been such a thing as secular marriage. A Jew in Israel can get legally married only in an (Orthodox) religious ceremony overseen by the Chief Rabbinate. While the state is officially secular and Jewish in ethnic terms — these important, personal events are administered in an (Orthodox) Jewish religious context. The Chief Rabbinate will not marry a Jew to a non-Jew, not hold a Conservative or Reform wedding, and not agree that a non-Orthodox convert is a Jew — and they will certainly not marry two people of the same sex. (The Christian, Druze, and Islamic communities have the ability to do as they please, and they will not marry such couples, either.) So, anyone who does not want to be — or cannot be — married by the Rabbinate in Israel must fly abroad to a place such as Cyprus and get married there because the state will recognize civil marriages performed in other countries (out of international treaty obligations).

And that includes same-sex couples who fly abroad to get married — the Israeli government will recognize them when the couples return.

For the 100,000 people who gathered here in Tel Aviv for the Gay Pride Parade last Saturday, such recognition, however, is not enough — and the politicians who addressed the opening of the event agreed with them (even after some booing and heckling relating to other domestic, economic issues):

From The Jerusalem Post:
[Finance Minister and former TV news anchor Yair] Lapid said he came to the parade to talk about "the rights of gay people to marry and adopt children," adding that he was proud of the Israeli gay community and that the community should take pride in itself.Culture and Sport Minister Limor Livnat was also booed when she took to the stage. "I came here today with love and pride, and I expect you to accept it," she told the heckling crowd.

"I will continue with my love and pride even if there will be some shouting, and I am proud of the Likud's gay pride group," she continued. "You ought to want a group like that in all of the political factions, and not come here to spew hate."

Livnat praised the LGBT community and its ability to overcome hardships and difficulties to reach great achievements.

"Can anyone imagine the Israeli culture without you? Listening to the radio, poetry, literature, cinema and theater?" the culture minister said.

Meretz chairwoman Zehava Gal-On, however, was met with approval and cheers when she disputed police claims that the 2009 shooting at the LGBT youth center Bar Noar was not a hate crime.

Opposition leader Shelly Yacimovich said it is time to demand the government act for the LGBT community and not just make promises.

"It is time to make real demands of the state, primarily allowing gay marriage," she said.

Labor is promoting a gay marriage bill, and Yacimovich asked the crowd to demand that all of the politicians on stage vote in favor of the proposal.
Of course, the Gay Pride Parade was not entirely about politics…

…and no Tel Aviv event is complete without a beach party.

Tel Aviv feels like an entirely-different country than Jerusalem, where I lived for several years — so much so that Israelis joke about needing to show a passport when going from one to the other. Tel Aviv is a liberal, easygoing, libertarian city of smooth sand; Jerusalem is a hard, rigid, conservative place of rock and stone. Jerusalemites condemn the "goyim," "Arab-lovers," and "homos" who live in Tel Aviv; people in Tel Aviv mock the "penguins" (ultra-Orthodox Jews who wear nineteenth-century, black-and-white, eastern European clothes) and other religious people who live in Jerusalem.

Not surprisingly, Tel Aviv is the place where most gay Israelis choose to live (and where many secretly-gay Palestinians likely wish they could live). From the Post:
A record-breaking 100,000 people from Israel and abroad took part in the annual Tel Aviv Gay Pride Parade Friday, which took place as planned despite the arrests made earlier in the week in connection to the 2009 shooting at the LGBT youth center Bar Noar.

Thousands of people crammed into Gan Meir park in central Tel Aviv as the festivities got under way with a community "happening," complete with music performances, stalls representing local organizations and speeches from public figures such as Tel Aviv Mayor Ron Huldai, Finance Minister Yair Lapid, Justice Minister Tzipi Livni, Culture and Sport Minister Limor Livnat, opposition leader Shelly Yacimovich and Meretz leader Zehava Gal-On….

"I am proud that Tel Aviv is the most gay-friendly city in the world," Mayor Huldai said, as he took the stage. Huldai is facing an election later this year, running against the popular openly-gay Meretz MK Nitzan Horowitz for the mayor's seat.

Once the speeches were over, a colorful Pride Parade through the streets of the city began… and ended with a beach party at Gordon Beach hosted by supermodel Bar Refaeli.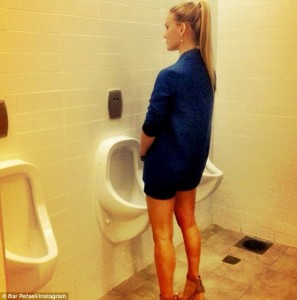 Refaeli, the famous model who also dated Leonardo DiCaprio, made her own political statement on Instagram (which she later removed) — posing at a urinal as a man and writing in a caption, "Gay, lesbians, bisexual, transgender ALL EQUAL TLV #gayweek.'"
Contrast the scene in Tel Aviv to that in Jerusalem last year:
Jerusalem was painted in all the colors of the rainbow on Thursday to mark the city's annual gay pride parade. Hundreds of participants swarmed the streets of the capital, holding signs marking the 10th anniversary of the parade.

Hundreds of police officers and Border Guard officers are securing the crowds.

Jerusalem Open House Executive Director Elionr Sidi said that the march "was an opportunity to reflect on all the changes that Jerusalem has undergone in the past decade.

"We no longer see incidents like in 2005 and 2006 of incitement, stabbing and riots against the participants. Despite these changes, there is still a lot to be done for the members of the proud community," she added.

"We have yet to reach normalization. There are still violent incidents and it is still more difficult to be gay or lesbian in Jerusalem than it is in Tel Aviv," Sidi noted.
Walking down the famous Dizengoff Street in Tel Aviv on the day of the parade, I noticed that the entire city had decided to throw a rainbow party. Nearly every cafe and restaurant was in on the celebration. Some photos from my own Instagram: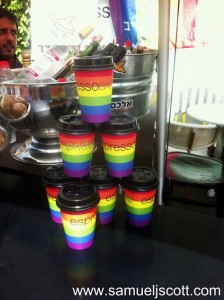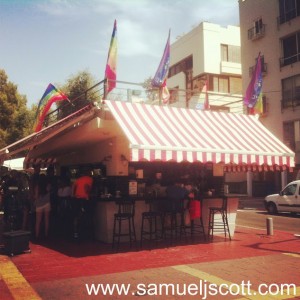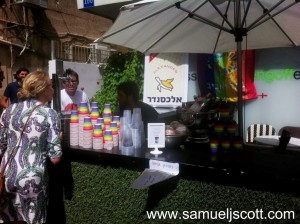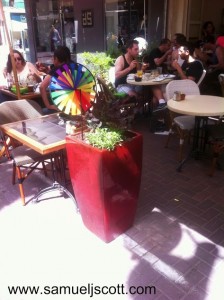 Perhaps it is little wonder that American Airlines and GayCities.com has ranked Tel Aviv as the world's best destination for gay people. It is perhaps yet another paradox of life in Israel that the best destination in Israel is one hour away from one of the worst in Israel. After all, Israel is a small country — it's a country of contradictions in a piece of land as big as New Jersey.
Samuel Scott is a for­mer Boston news­pa­per edi­tor who now lives in Israel and works as Direc­tor of Dig­i­tal Mar­ket­ing and SEO Team Leader for The Cline Group. You can fol­low Scott on his per­sonal Face­book, LinkedIn, Google+, and Twit­ter accounts as well as see his per­sonal, jour­nal­ism web­site and online-marketing one.
Thanks for reading! Follow me on Twitter and Facebook. See my marketing speaker page and contact me to visit your conference or company!