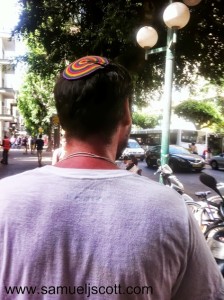 By Samuel Scott

TEL AVIV — Imag­ine liv­ing in a coun­try where you can be legally mar­ried only in an offi­cial Chris­t­ian, Jew­ish, or Islamic cer­e­mony. You would be in Israel. That means that same-sex cou­ples can­not become legal spouses — unlike in increas­ingly more places in Europe and the United States.

The State of Israel, of course, was founded as a Jew­ish state in 1948. But the early Zion­ists defined "Jew­ish" at the time based on eth­nic­ity because they wanted to cre­ate a state for the Jew­ish nation just as the Eng­lish peo­ple have Eng­land, the French peo­ple have France, and the Russ­ian peo­ple have Russia.

Under the Law of Return enacted by the new coun­try, any­one in the world can move here and become an auto­matic cit­i­zen as long as he had at least one grand­par­ent who was a Jew — even if the new immi­grant him­self is not a Jew. (Con­verts, even non-Orthodox ones, are gen­er­ally accepted as long as their rab­bis abroad cer­tify that they are sin­cere.) The wide lat­i­tude given to the eth­nic def­i­n­i­tion of "Jew" after World War II was a result of the desire to grant refuge to any­one who would have been tar­geted by Adolf Hitler and the Nazis.

The founders of the state gave lit­tle thought to the reli­gious side of Judaism because most of them were sec­u­lar and thought the reli­gious prac­tices would soon dis­ap­pear in the wake of the Holo­caust and moder­nity. Still, the polit­i­cal divi­sions in the early state forced David Ben-Gurion, the first prime min­is­ter, to cob­ble together a coali­tion gov­ern­ment by agree­ing to give the reli­gious com­mu­nity con­trol of the Chief Rab­binate and life-cycle events such as mar­riage, buri­als, and conversions.

As a result, there has never been such a thing as sec­u­lar mar­riage. A Jew in Israel can get legally mar­ried only in an (Ortho­dox) reli­gious cer­e­mony over­seen by the Chief Rab­binate. While the state is offi­cially sec­u­lar and Jew­ish in eth­nic terms — these impor­tant, per­sonal events are admin­is­tered in an (Ortho­dox) Jew­ish reli­gious con­text. The Chief Rab­binate will not marry a Jew to a non-Jew, not hold a Con­ser­v­a­tive or Reform wed­ding, and not agree that a non-Orthodox con­vert is a Jew — and they will cer­tainly not marry two peo­ple of the same sex. (The Chris­t­ian, Druze, and Islamic com­mu­ni­ties have the abil­ity to do as they please, and they will not marry such cou­ples, either.) So, any­one who does not want to be — or can­not be — mar­ried by the Rab­binate in Israel must fly abroad to a place such as Cyprus and get mar­ried there because the state will rec­og­nize civil mar­riages per­formed in other coun­tries (out of inter­na­tional treaty obligations).

And that includes same-sex cou­ples who fly abroad to get mar­ried — the Israeli gov­ern­ment will rec­og­nize them when the cou­ples return.

For the 100,000 peo­ple who gath­ered here in Tel Aviv for the Gay Pride Parade last Sat­ur­day, such recog­ni­tion, how­ever, is not enough — and the politi­cians who addressed the open­ing of the event agreed with them (even after some boo­ing and heck­ling relat­ing to other domes­tic, eco­nomic issues):

From The Jerusalem Post:
[Finance Min­is­ter and for­mer TV news anchor Yair] Lapid said he came to the parade to talk about "the rights of gay peo­ple to marry and adopt chil­dren," adding that he was proud of the Israeli gay com­mu­nity and that the com­mu­nity should take pride in itself.Culture and Sport Min­is­ter Limor Liv­nat was also booed when she took to the stage. "I came here today with love and pride, and I expect you to accept it," she told the heck­ling crowd.

"I will con­tinue with my love and pride even if there will be some shout­ing, and I am proud of the Likud's gay pride group," she con­tin­ued. "You ought to want a group like that in all of the polit­i­cal fac­tions, and not come here to spew hate."

Liv­nat praised the LGBT com­mu­nity and its abil­ity to over­come hard­ships and dif­fi­cul­ties to reach great achievements.

"Can any­one imag­ine the Israeli cul­ture with­out you? Lis­ten­ing to the radio, poetry, lit­er­a­ture, cin­ema and the­ater?" the cul­ture min­is­ter said.

Meretz chair­woman Zehava Gal-On, how­ever, was met with approval and cheers when she dis­puted police claims that the 2009 shoot­ing at the LGBT youth cen­ter Bar Noar was not a hate crime.

Oppo­si­tion leader Shelly Yaci­movich said it is time to demand the gov­ern­ment act for the LGBT com­mu­nity and not just make promises.

"It is time to make real demands of the state, pri­mar­ily allow­ing gay mar­riage," she said.

Labor is pro­mot­ing a gay mar­riage bill, and Yaci­movich asked the crowd to demand that all of the politi­cians on stage vote in favor of the proposal.
Of course, the Gay Pride Parade was not entirely about politics…

…and no Tel Aviv event is com­plete with­out a beach party.

Tel Aviv feels like an entirely-different coun­try than Jerusalem, where I lived for sev­eral years — so much so that Israelis joke about need­ing to show a pass­port when going from one to the other. Tel Aviv is a lib­eral, easy­go­ing, lib­er­tar­ian city of smooth sand; Jerusalem is a hard, rigid, con­ser­v­a­tive place of rock and stone. Jerusalemites con­demn the "goyim," "Arab-lovers," and "homos" who live in Tel Aviv; peo­ple in Tel Aviv mock the "pen­guins" (ultra-Orthodox Jews who wear nineteenth-century, black-and-white, east­ern Euro­pean clothes) and other reli­gious peo­ple who live in Jerusalem.

Not sur­pris­ingly, Tel Aviv is the place where most gay Israelis choose to live (and where many secretly-gay Pales­tini­ans likely wish they could live). From the Post:
A record-breaking 100,000 peo­ple from Israel and abroad took part in the annual Tel Aviv Gay Pride Parade Fri­day, which took place as planned despite the arrests made ear­lier in the week in con­nec­tion to the 2009 shoot­ing at the LGBT youth cen­ter Bar Noar.

Thou­sands of peo­ple crammed into Gan Meir park in cen­tral Tel Aviv as the fes­tiv­i­ties got under way with a com­mu­nity "hap­pen­ing," com­plete with music per­for­mances, stalls rep­re­sent­ing local orga­ni­za­tions and speeches from pub­lic fig­ures such as Tel Aviv Mayor Ron Hul­dai, Finance Min­is­ter Yair Lapid, Jus­tice Min­is­ter Tzipi Livni, Cul­ture and Sport Min­is­ter Limor Liv­nat, oppo­si­tion leader Shelly Yaci­movich and Meretz leader Zehava Gal-On.…

"I am proud that Tel Aviv is the most gay-friendly city in the world," Mayor Hul­dai said, as he took the stage. Hul­dai is fac­ing an elec­tion later this year, run­ning against the pop­u­lar openly-gay Meretz MK Nitzan Horowitz for the mayor's seat.

Once the speeches were over, a col­or­ful Pride Parade through the streets of the city began… and ended with a beach party at Gor­don Beach hosted by super­model Bar Refaeli.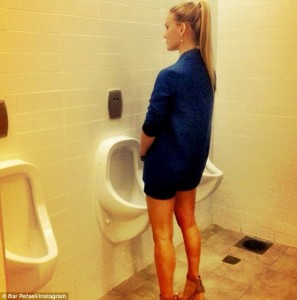 Refaeli, the famous model who also dated Leonardo DiCaprio, made her own polit­i­cal state­ment on Insta­gram (which she later removed) — pos­ing at a uri­nal as a man and writ­ing in a cap­tion, "Gay, les­bians, bisex­ual, trans­gen­der ALL EQUAL TLV #gayweek.'"
Con­trast the scene in Tel Aviv to that in Jerusalem last year:
Jerusalem was painted in all the col­ors of the rain­bow on Thurs­day to mark the city's annual gay pride parade. Hun­dreds of par­tic­i­pants swarmed the streets of the cap­i­tal, hold­ing signs mark­ing the 10th anniver­sary of the parade.

Hun­dreds of police offi­cers and Bor­der Guard offi­cers are secur­ing the crowds.

Jerusalem Open House Exec­u­tive Direc­tor Elionr Sidi said that the march "was an oppor­tu­nity to reflect on all the changes that Jerusalem has under­gone in the past decade.

"We no longer see inci­dents like in 2005 and 2006 of incite­ment, stab­bing and riots against the par­tic­i­pants. Despite these changes, there is still a lot to be done for the mem­bers of the proud com­mu­nity," she added.

"We have yet to reach nor­mal­iza­tion. There are still vio­lent inci­dents and it is still more dif­fi­cult to be gay or les­bian in Jerusalem than it is in Tel Aviv," Sidi noted.
Walk­ing down the famous Dizen­goff Street in Tel Aviv on the day of the parade, I noticed that the entire city had decided to throw a rain­bow party. Nearly every cafe and restau­rant was in on the cel­e­bra­tion. Some pho­tos from my own Insta­gram: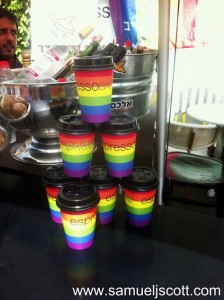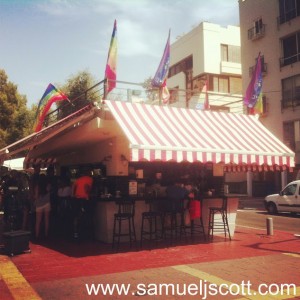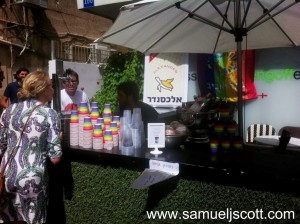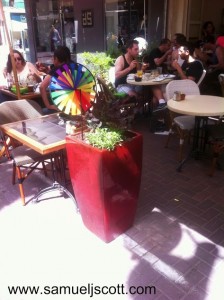 Per­haps it is lit­tle won­der that Amer­i­can Air­lines and GayCities.com has ranked Tel Aviv as the world's best des­ti­na­tion for gay peo­ple. It is per­haps yet another para­dox of life in Israel that the best des­ti­na­tion in Israel is one hour away from one of the worst in Israel. After all, Israel is a small coun­try — it's a coun­try of con­tra­dic­tions in a piece of land as big as New Jersey.
Samuel Scott is a for­mer Boston news­pa­per edi­tor who now lives in Israel and works as Direc­tor of Dig­i­tal Mar­ket­ing and SEO Team Leader for The Cline Group. You can fol­low Scott on his per­sonal Face­book, LinkedIn, Google+, and Twit­ter accounts as well as see his per­sonal, jour­nal­ism web­site and online-marketing one.
Thanks for read­ing! Don't for­get to sub­scribe to my rss feed and fol­low me on Twit­ter, LinkedIn, Face­book, and Google+. See my SEO & Inter­net mar­ket­ing keynote speak­ing page and con­tact me to visit your con­fer­ence or company!