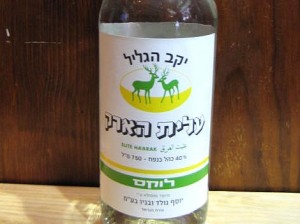 By Samuel Scott
TEL AVIV — Arak, the unof­fi­cial drink of Israel and other Mid­dle East­ern coun­tries, is a col­or­less, unsweet­ened, anise-flavored liquor that turns translu­cent and milky-white when tra­di­tion­ally mixed with water and ice. And the price of arak and other cheap alco­hol here is set, by some esti­mates, to more than dou­ble on July 1.
The new tax on the pop­u­lar drink — favored espe­cially by poor and working-class Israelis as well as those Mizrahim with famil­ial roots in Arab coun­tries — is, per­haps pre­dictably, deeply unpop­u­lar. As Liel Lei­bovitz noted in the online Jew­ish pub­li­ca­tion Tablet:
As soon as news of the ordi­nance broke yes­ter­day, [new Finance Min­is­ter and for­mer TV news anchor Yair] Lapid became the tar­get of wide-spread vit­riol, reg­is­tered every­where from the press to Tel Aviv's liquor stores. The lat­ter have no more Arak: throngs of drinkers have stormed the streets and snatched all remain­ing bot­tles at the cur­rent, low price. Soon, restau­rants, too, were dry. With their last few bot­tles at hand, Israelis then took to the Inter­net to express their dis­like of their min­is­ter. "We're the Arak peo­ple, Yair," wrote one pop­u­lar blog­ger, "and we'll shove your cigar up your butt." More than 10,000 peo­ple liked the post on Facebook.
Arak is some­times termed a "peasant's drink" here because it has cost NIS 35 (roughly $8.75) for a 750ml bot­tle. Higher-quality, imported vod­kas, in con­trast, can cost at least NIS 80 ($20) in a coun­try where the aver­age salary is the equiv­a­lent of $27,000 per year, the poverty rate is the high­est in the OECD, and most con­sumer prod­ucts are more expen­sive than in the West. The eco­nomic con­di­tions have led to many protests through­out Israel, as in many other Mid­dle East­ern coun­tries, in recent years — and the out­cry over the increase in alco­hol prices is yet another exam­ple. A 500ml glass bot­tle of Gold­star or Tuborg beer at the super­mar­ket — before Monday's lat­est tax increase — cur­rently costs between NIS 8 and 10 ($2 to $2.50).
Specif­i­cally, the tax on beer and (only cheap) liquors will rise from NIS 84 to NIS 105 per liter of alco­hol con­tained — and busi­nesses are also not happy. Niv Elis writes in The Jerusalem Post:
Chaim Oz, a vice pres­i­dent at the Fed­er­a­tion of Israeli Cham­bers of Com­merce, said busi­nesses would take a big hit from the sud­den change. The new pric­ing would seri­ously hurt sales, he said. With large orders already placed for the com­ing months, the sud­den change could bury importers and sup­pli­ers, he said.

"Some cheap vod­kas will go from NIS 40 to NIS 95 [$10 to $24]," a 140% increase in price, Oz told the Post. "Nobody will buy it at that price."

Alco­hol prices, which are fur­ther inflated at bars and night clubs, may also affect tourism. One rev­eler from the UK, in Tel Aviv for gay-pride fes­tiv­i­ties last week, said he was shocked by the prices of drinks in the city.

"They tried to charge me 85 shekels for a drink at one bar," he said. "That's more than twice what I would pay at a fan­ci­est club in London."
The rea­son for the new tax is the Israeli government's bud­get deficit of NIS 40 bil­lion ($10 bil­lion) — or 4.2 per­cent of the country's Gross Domes­tic Prod­uct. The new coali­tion gov­ern­ment, with Lapid now at the helm of the Finance Min­istry after his new, cen­trist party placed sec­ond in the Jan­u­ary 2013 elec­tions, wants to cut future deficit pro­jec­tions. As a result, Lapid has taken con­tro­ver­sial actions including:
A 1% increase to 18% in the Value-Added Tax (

VAT

) on all goods and services
Higher pay­roll taxes
Cut­ting sub­si­dies for school­ing and wel­fare aid to impov­er­ished ultra-Orthodox families
Increased taxes specif­i­cally on items such as tobacco, cig­a­rettes, beer, and cheap liquor — such as arak
Israel had weath­ered the 2008 reces­sion and finan­cial cri­sis well for a vari­ety of rea­sons that I go into in an essay over at my company's web­site includ­ing more reg­u­la­tion, stricter lend­ing stan­dards, and a lack of expo­sure to bad mort­gages and other finan­cial instru­ments that had allegedly been fraud­u­lently deemed as high-quality by rat­ings agen­cies. But the rea­sons for the cur­rent deficit — which is large for Israel but not when com­pared to many other coun­tries — are com­plex and go back years. For the back­ground, I rec­om­mend read­ing Ha'aretz's lengthy overview of the issue (in English).
Israel's Youth-Drinking Problem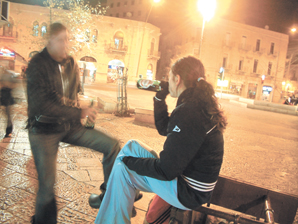 In addi­tion to com­bat­ing the bud­get deficit, the gov­ern­ment also wants to fight the increas­ing prob­lem of teen drink­ing by mak­ing it more expen­sive for them to obtain alcohol:
75% per­cent of boys and 25% of girls in ele­men­tary school drink over the week­end at home, or dur­ing the week while cel­e­brat­ing out­side the house, accord­ing to a Ynet report by Motti Ravid

"

About a third of teens aged 12–18 report that they got drunk in the last year, which is a ter­ri­ble fig­ure," Prime Min­is­ter Ben­jamin Netanyahu told the Cab­i­net in 2009. "More­over, about 20% of boys in the sixth grade report hav­ing drunk an alco­holic bev­er­age, or that they drink an alco­holic bev­er­age once a week. That is the sec­ond largest fig­ure in Europe."
Accord­ing to the same arti­cle, the prime min­is­ter said there had been a 15-percent increase in alco­hol con­sump­tion since 2006
"More young peo­ple drink alco­hol than use other drugs or smoke tobacco," Prof. Richard Isralowitz, direc­tor of the Ben-Gurion Uni­ver­sity Regional Alco­hol and Drug Abuse Resources Cen­ter, says. "Under­age drink­ing is cost­ing Israel mil­lions in finan­cial losses stem­ming from vio­lent behav­ior, crim­i­nal activ­ity and traf­fic fatal­i­ties that threaten the well-being of Israel and its people."
"Curb­ing under­age drink­ing is an uphill bat­tle because alco­hol is read­ily avail­able and age restric­tions on pur­chase are loosely enforced," he added. "Stud­ies show that youths are very capa­ble of obtain­ing alco­hol and many par­ents ignore or under­es­ti­mate both the extent of the prob­lem and their own children's alco­hol con­sump­tion habits."
When I lived in the major south­ern Tel Aviv sub­urb of Ris­hon Lezion some years ago, a group of teenagers would park on the street below my win­dow, drink, and blast loud music into the early hours of the morn­ing every Thurs­day, Fri­day, and Sat­ur­day night. I had always wanted to go down and ask them to please be quiet and go else­where, but it was prob­a­bly good that I never did:
On Sat­ur­day, May 5, a father was stabbed to death when he approached a group of youths, males and females, on the street to stop them from mak­ing noise out­side of his apart­ment win­dow. A few hours ear­lier, a 19-year-old Nazareth woman met a sim­i­lar fate.  Only a day later, in Rehovot, a 17-year-old died from stab wounds.
In Jerusalem, where I had also lived for three years, it was not uncom­mon to see packs of drunk teenagers down­town in the nightlife dis­trict — encom­pass­ing "Cat Square" (also known "Crack Square") and the neigh­bor­ing area that has become known as "Amer­i­can Square." Sadly, such events are increas­ingly com­mon — and very wor­ri­some to the gov­ern­ment because Israel had never devel­oped a "drink­ing cul­ture" until rel­a­tively recently.
Ashke­nazi Jews in Israel have always been (some­what accu­rately) stereo­typed as not being heavy drinkers. (Have you tasted Man­is­che­witz?) Mizrahi Jews in Israel come from Arab coun­tries where alco­hol is either banned under Islamic law or drunk in smaller quan­ti­ties. Among the Israeli adults I know, it is much more com­mon to smoke mar­i­juana than to drink heav­ily — in fact, most police offi­cers, at least in Tel Aviv, turn blind eyes to pub­lic pot smok­ing unless the per­son is sell­ing or dis­trib­ut­ing it.
Accord­ing to my Israeli friends and my own obser­va­tions, most heavy drinkers in Israel tend to come from these populations:
Stu­dents, tourists, and immi­grants from heavily-drinking coun­tries such as the United States and Eng­land — Israelis have told me that they call an Amer­i­can who drinks a lot a kaki amer­i­cai ("Amer­i­can shit")
Rus­sians and other east­ern Euro­peans whose fam­i­lies had escaped to Israel after the fall of the Soviet Union in the early 1990s — many of whom are not Jews and some of whom had fal­si­fied doc­u­ments allow­ing them to come to Israel
Ultra-Orthodox Ashke­nazi Jews — who had lob­bied against a pro­posed law that would make it ille­gal for a minor even to hold a bot­tle of alco­hol (the drink­ing age is eigh­teen here)
Impov­er­ished Mizrahi and Ethiopian Jews — who, for var­i­ous his­tor­i­cal and cul­tural rea­sons, tend to have less edu­ca­tion and work oppor­tu­ni­ties in Israel than Ashke­nazi Jews
Com­pared to Israeli youths, Israeli adults have a low rate of alco­hol con­sump­tion com­pared to much of the world (this data is com­piled from var­i­ous prior links):
Annual per-capita con­sump­tion in Israel is roughly about 2 liters of alco­hol — com­pared to the world leader of Rus­sia, where annual per-capita con­sump­tion is 40 bot­tles of vodka (roughly 12 liters of alcohol)
The rate of alco­holism in Israel is less than 0.5%
Only 2% of car acci­dents are attrib­uted to dri­ving under the influence
As Seth Freed­man once described it in the Guardian:
… while Israeli foot­ball fans are renowned for their pas­sion­ate exu­ber­ance when fol­low­ing their teams, barely any mem­bers of match-day crowds are drunk in the sta­di­ums, thus avoid­ing one of the chief imped­i­ments to crowd con­trol faced by Euro­pean coun­tries. Sim­i­larly, Israeli clubs and bars are – com­par­a­tively – largely devoid of the type of aggres­sion and hos­til­ity so preva­lent in towns and cities across Britain, where the effects of binge drink­ing have a dev­as­tat­ing effect on what should be an ami­ca­ble night out for thou­sands of revellers.
The rea­sons for the heavy drink­ing now among Israeli teenagers are com­pli­cated and still not well known. I'll posit these ideas:
Stress over their impend­ing manda­tory mil­i­tary ser­vice after high school at a com­plex time in the Mid­dle East
A per­mis­sive atti­tude among many Israeli par­ents to let chil­dren do what they want since they'll be in the army soon enough
Expo­sure to Amer­i­can real­ity tele­vi­sion and other cul­ture from West­ern coun­tries — "Jer­sey Shore," for exam­ple, has been shown on cable — and a result­ing desire to emu­late these "cool" Americans
Kiosk and mako­let own­ers who will sell any­thing to any­one of any age in order to make more money in these tough eco­nomic times
I invite fur­ther thoughts in the com­ments below.
The Eco­nom­ics of "Sin Taxes"
High taxes on items such as alco­hol, cig­a­rettes, and soft drinks are exam­ples of "sin taxes" — efforts by gov­ern­ments to raise rev­enue and effect soci­etal change by mak­ing socially-undesirable prod­ucts and ser­vices more expen­sive. But are such mea­sures effec­tive? The answer is com­pli­cated. The goal is to make these items cost a lot — but not so much more expen­sive that it leads to black mar­kets and orga­nized crime.
Adam J. Hof­fer, William F. Shughart II, and Michael D. Thomas argued in U.S. News & World Report this year that "sin taxes":
Result in money being wasted on lob­by­ing that could be bet­ter spent elsewhere
Result in poorer peo­ple being hurt the most
Lead to rev­enue that is rarely used for its intended purpose
A U.S. National Bureau of Eco­nomic Research (NBER) report (web­site and PDF) on alco­hol taxes deter­mined the following:
Only a sub­group responds sig­nif­i­cantly to price. Impor­tantly, the unre­spon­sive group drinks more heav­ily, sug­gest­ing that a higher price could fail to curb drink­ing by those most likely to cause neg­a­tive externalities.
I could not find any rel­e­vant Israeli stud­ies, so only time will tell whether the July 1 tax increase on alco­hol will help the country's bud­get deficit and reduce teenage drinking.
Get Your Israeli Arak While You Can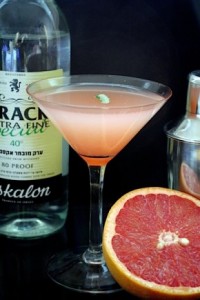 Arak is typ­i­cally drunk:
In a glass with water and ice
As a "chaser" (what Israelis call a "shot")
As Kather­ine Mar­tinelli notes, in var­i­ous cocktails
While I was out this past week­end, I asked a bar­tender how much a chaser of arak would cost this com­ing week. He, and prob­a­bly many other pub and liquor-store own­ers, said he still did not know. So, my advise to any read­ers in Israel is to try the Mid­dle East­ern liquor while you can.
Fast Com­pany reporter Neal Unger­lei­der once wrote this about arak: "You have never expe­ri­enced a hang­over until you have drank this." Come Mon­day, the hang­over will prob­a­bly be worse once you see the price.
Samuel Scott is a for­mer Boston news­pa­per edi­tor who now lives in Israel and works as Senior Direc­tor of Dig­i­tal Mar­ket­ing and SEO Team Leader for The Cline Group. You can fol­low Scott on his per­sonal Face­book, LinkedIn, Google+, and Twit­ter accounts.
Thanks for read­ing! Don't for­get to sub­scribe to my rss feed and fol­low me on Twit­ter, LinkedIn, Face­book, and Google+. See my SEO & Inter­net mar­ket­ing keynote speak­ing page and con­tact me to visit your con­fer­ence or company!