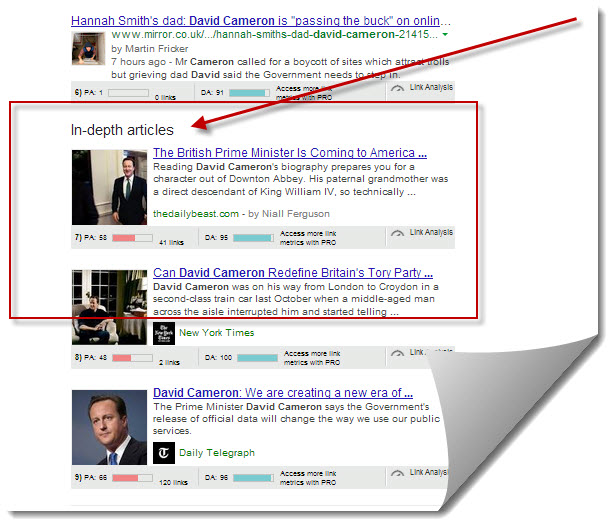 Google recently updated its search-results algorithm to include more quality content from recognized brands under the label "In-Depth Articles." As shown in the graphic to the left, many search results now display blocks of excerpts of essays on related topics. Do you want your website to be included? Here's how.
First, a few strategic questions need to be answered:
Is it part of your marketing strategy to become known as a thought-leader on a topic?
Do you want to "get found" in Google by people searching for information on that topic?
Can you produce – or can you have someone else produce – articles that are lengthy, authoritative, and comprehensive on that topic?
Are you using – or can you use – traditional and online public relations to build an authoritative brand in the eyes of search engines?
If the answer to all four questions is "yes," then you ought to take advantage of Google's "In-Depth Articles." But to succeed in the endeavor, it will be crucial to combine SEO, PR, content creation, and social-media marketing. Google's "In-Depth Articles" is yet another example of how all marketing today is holistic and integrated.
The first step is to understand keywords. One part of the multi-faceted strategy of SEO is implementing a keyword strategy to optimize website pages so that they match the search queries for which you want to be listed – or, more specifically, the intent behind those search queries. Main website pages generally target "short tail" (or general) keyword phrases while blog posts and other types of content typically target "long tail" (or specific) search queries: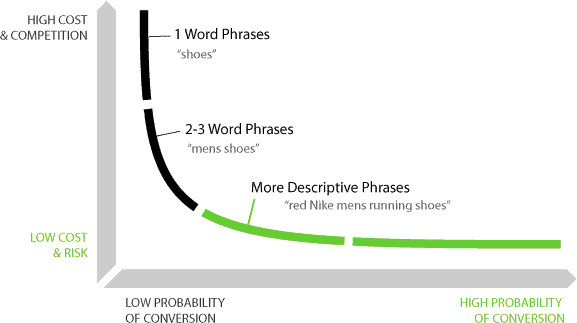 Most of the time, it is easier to rank for "long tail" queries than for "short tail" ones since there is less competition for more specific phrases. A best practice is to research which specific, "long tail" search terms are being searched by people who are most likely to "convert" – or, in other words, become a customer, purchase a product, or take another action that aligns with your business and marketing goals. Then, produce authoritative content that addresses the user intent behind those keyword phrases. Note that this authoritative content will often rank in Google more quickly, whereas the rankings of the main pages for general terms will gradually increase over time as SEO work continues.
This is part of the process of increasing the rankings of website pages, but the best practices are a little different when aiming to have lengthy content rank highly specifically as an "In-Depth Article."
When people enter queries into search engines, they usually do so, as Moz co-founder and CEO Rand Fishkin has noted, out of one of four types of user intent: navigational, commercial, transactional, and informational. Many search queries – especially "short tail" ones – are informational, and Google, via "In-Depth Articles" and other updates, wants to return the best information so that its results and answers are as valuable to searchers as possible.
So, to help Google to present the best information on a general topic, companies that want to get noticed via "In-Depth Articles" should, as Aleh Barysevich notes at Search Engine Watch, incorporate the following:
Publish lengthy, professional essays of at least 2,000 words – but preferably a lot more
Use schema.org's Article markup in the website code
Utilize Google+ Publisher markup (from Ben Holbrook at Verve Search) that includes the company logo on its Google+ page
rel=next and rel=prev (via Joost de Valk of Yoast) for paginated articles
But it does not end there. Google rightly presents "In-Depth Articles" only from outlets that it views as authoritative. To give an extreme example, a 5,000 word article from The New York Times is far more likely to appear than a 5,000 word blog post from a random blogger. So, a company that wants such content to show up in search results in this context will need to use online public relations to build a quality brand.
For more information on this topic, I recommend reading my essays on "How to Use Public Relations to Build Links" (my presentation at SMX Milan), "Google is Helping Online PR and SEO, Not Hurting It," and "Why Public Relations is the New SEO Strategy You Need."
Google continuously updates its algorithm with the goal of becoming more and more useful to searchers. So, it is imperative that companies adjust their online-marketing strategies accordingly.
Thanks for reading! Follow me on Twitter and see my marketing speaker page to have me visit your conference or company.