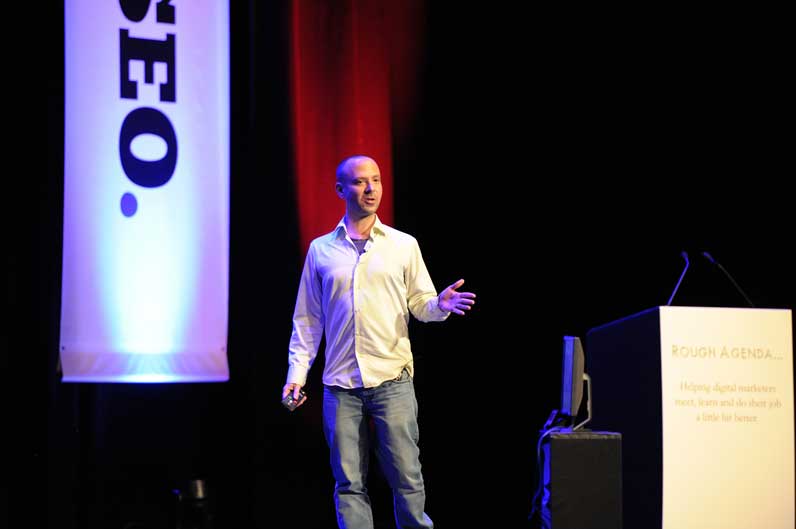 A for­mer jour­nal­ist and news­pa­per edi­tor turned inter­na­tional dig­i­tal mar­ket­ing and com­mu­ni­ca­tions con­sul­tant, Samuel Scott is a global speaker and crafter of strate­gic mar­ket­ing cam­paigns that inte­grate both tra­di­tional and online mar­ket­ing. He is also Direc­tor of Mar­ket­ing and Com­mu­ni­ca­tions for Logz.io, a new Israeli startup that is rev­o­lu­tion­iz­ing log analytics.
Global Speak­ing and Con­tribut­ing Writer
✔ Spoke at SMX Milan in Novem­ber 2013 and SMX West in March 2014
✔ Con­trib­u­tor to Moz and pre­sented a webi­nar in Novem­ber 2014
✔ Spoke at Brighton SEO in April 2015
✔ Con­trib­u­tor to the Times of Israel
Results for Clients
✔ Increased organic search traf­fic to a B2C web­site by 419%
✔ Increased B2B busi­ness leads from social media and PPC by 1,280%
✔ Increased landing-page con­ver­sion rate from 1% to 5%
✔ Increased monthly rev­enue from organic traf­fic to a new, niche e-commerce site from $0 to $4,300
Quoted By
✔ The New York Times
✔ Search Engine Land
✔ CIO
✔ SEO Japan
✔ Ha'aretz
✔ The Har­vard Crimson
Cer­ti­fi­ca­tions
✔ Google Ana­lyt­ics
✔ Google AdWords
✔ Google App Ana­lyt­ics Fun­da­men­tals
✔ Google Tag Man­ager Fun­da­men­tals
✔ Inbound Mar­ket­ing — Hub­spot Uni­ver­sity
✔ Social Media Mar­ket­ing — Hootsuite
Prior Jour­nal­ism Career
✔ Editor-in-Chief and Exec­u­tive Direc­tor of Spare Change News in Boston
✔ Staff Reporter for The Boston Courant
✔ Edi­to­r­ial Assis­tant and Free­lance Reporter for The Boston Globe
✔ Intern for The Bea­con Hill Times and The Patriot Ledger in Boston as well as TNT mag­a­zine in London
Edu­ca­tion
✔ Inter­na­tional M.B.A. stud­ies at Bar-Ilan Uni­ver­sity in Israel and Exec­u­tive M.B.A. stud­ies at Suf­folk Uni­ver­sity in Boston
✔ B.S. in jour­nal­ism from Boston University
Down­load my resume and CV —-> Here.
I offer phone-based con­sult­ing via the Clar­ity web­site.
Who Has Quoted Me