If you are read­ing this, then you must want to know more about me for some strange rea­son. If you want the nut­shell ver­sion of my expe­ri­ences in jour­nal­ism and online mar­ket­ing on three con­ti­nents over the last ten years or so, then see the home page. This is prob­a­bly more than you want to know.
I was born on Sep­tem­ber 27, 1980, in St. Louis, Mis­souri, in the United States. I grew up in Belleville, Illi­nois, a sub­urb of St. Louis of approx­i­mately 60,000 peo­ple. When I entered Belleville West High School (Class of 1998) as a fresh­man in a class of roughly 600, I loved pol­i­tics and wanted to become pres­i­dent one day. I was elected Class Sec­re­tary after amus­ing the fresh­man gath­ered in the audi­to­rium to hear the cam­paign speeches of all the can­di­dates by open­ing my speech with a bom­bas­tic take on the line (by Marc Antony in a Shake­spearean play): "Friends, Romans, fresh­man — lend me your ears!" At the end of my fresh­man year, I was elected sopho­more Class Pres­i­dent after get­ting the auditorium's sound guy to play the theme music to "Juras­sic Park" dur­ing my speech while I quoted Thomas Jef­fer­son to an absurd degree ("The torch has been passed to a new gen­er­a­tion of fresh­man!") and received a stand­ing ovation.
Style, unfor­tu­nately or not, often mat­ters more than sub­stance. More on that later.
It was dur­ing my fresh­man year that I tried var­i­ous activ­i­ties: the the­ater (I was Spintho in "Andro­cles and the Lion" and on the crew for "Joseph and the Amaz­ing Tech­ni­color Dream­coat"), the ten­nis team (two years on junior var­sity), and the Model United Nations. I quickly chose to focus on the lat­ter as a result of my inter­est in pol­i­tics and inter­na­tional affairs. The Model U.N., like its cousin the Model Con­gress, is a group of stu­dents who act like a ses­sion of the U.N. Gen­eral Assem­bly or Secu­rity Coun­cil and dur­ing which each per­son rep­re­sents one coun­try and engages in speeches, back­room diplo­macy, and res­o­lu­tion draft­ing in an attempt to solve global problems.
Belleville West went to regional and national com­pe­ti­tions, and I was often a mem­ber of the GA or SC (one year as China comes to mind). I was bet­ter at the speech-making and using com­pli­cated par­lia­men­tary pro­ce­dure than deal-making, so I used those two tac­tics to win Out­stand­ing and Supe­rior Del­e­gate awards. One time, as China in the Gen­eral Assem­bly, I killed a pro­posal that had mas­sive sup­port by announc­ing on the floor that my coun­try would veto the peace­keep­ing res­o­lu­tion once it had moved to the Secu­rity Coun­cil. Another time, I killed some­thing sim­i­lar in a smaller U.N. com­mit­tee by mov­ing to table the issue at hand because it was a vio­la­tion of arcane pro­ce­dure to dis­cuss some­thing that was the purview of another committee.
Still, it was one expe­ri­ence over my four years in Model U.N. that taught me some­thing that I would later take into jour­nal­ism and mar­ket­ing. When I was in the Secu­rity Coun­cil dur­ing a regional com­pe­ti­tion, I bat­tled with another del­e­gate — we were both "veto pow­ers." I gave log­i­cal, ratio­nal argu­ments for my side of the topic, but the other stu­dent — the annoy­ing son of an annoy­ing, local, state leg­is­la­tor — gave speeches that were vague, gen­eral, and full of amus­ing puns and jokes. The com­mit­tee voted to make him Out­stand­ing Del­e­gate (first place) and me Supe­rior Del­e­gate (sec­ond place).
Style, unfor­tu­nately or not, often mat­ters more than sub­stance. More on that later. Oh, one other les­son: When you are on a Model U.N. trip to New York City for a national com­pe­ti­tion, do not ditch your teacher, take a taxi to Green­wich Vil­lage with friends, and get your ear pierced at a tat­too par­lor at the age of sev­en­teen. Your par­ents will not be happy.
My Entry into Journalism
Dur­ing my sopho­more year of high school, I gave the stu­dent news­pa­per a shot. Quickly, I real­ized that I loved jour­nal­ism. I became assis­tant news edi­tor, busi­ness man­ager, and then editorial-page edi­tor over my senior year while con­tin­u­ing with the Model U.N. and tak­ing my hon­ors and AP classes. I won var­i­ous awards for my news arti­cles and op-ed columns at local com­pe­ti­tions, though I do not remem­ber specifics anymore.
What I do remem­ber is how I used my plat­form as editorial-page edi­tor to lam­bast the school board. Back in the 1990s, the Chris­t­ian Coali­tion and the right-end of the polit­i­cal spec­trum was gain­ing strength through­out the United States, and my part of south­ern Illi­nois was no excep­tion. Vot­ers elected enough peo­ple who were (unof­fi­cially) sup­ported by the Chris­t­ian Coali­tion to have a major­ity on the board (which over­saw Belleville West and the other pub­lic high-school, Belleville East). The board suc­cess­fully removed an Eng­lish text­book that included a fic­tional story men­tion­ing witch­craft — imag­ine the debate over "Harry Pot­ter," but years ear­lier — and opposed any attempt to increase prop­erty taxes to gen­er­ate more rev­enue for the dis­trict. So, as editorial-page edi­tor, I railed against the board in my monthly columns. In ret­ro­spect, I respect the fact that I had never once received any pres­sure to "tone it down." As a bud­ding jour­nal­ist, I ral­lied against any cen­sor­ship, and I decried the attempts to block any sources of addi­tional fund­ing since, if I recall cor­rectly, the text­books we used were from the 1970s and the build­ing was full of rust and asbestos.
Still, I was impa­tient with high-school jour­nal­ism. I wanted some­thing big­ger. So, one after­noon after school, I drove to the down­town office of The Belleville News-Democrat, the major daily that cov­ered south­west­ern Illi­nois, with a basic resume in hand. Since I was editorial-page edi­tor at Belleville West's school news­pa­per, I asked the sec­re­tary if I could speak to the editorial-page edi­tor there. To my sur­prise, in ret­ro­spect, she came down to speak to a seventeen-year-old kid. After speak­ing for a few min­utes, she took my resume, and I thanked her for her time.
Months later, I got a call in the news­room of the school news­pa­per. The sports edi­tor of the News-Democrat had received my resume from the editorial-page edi­tor, and he invited me to inter­view for the posi­tion of agate clerk. Since I had been work­ing in the evenings as a waiter at a local steak­house for extra money, I went. This was my dream! And it was here that I learned the impor­tance of doing the right thing in inter­views: do not trum­pet your­self too much — ask intel­li­gent ques­tions instead (as any jour­nal­ist can do).
Dur­ing the inter­view, I asked about their pub­li­ca­tion process. At my school news­pa­per, the reporter wrote the story, his sec­tion edi­tor revised it, the copy edi­tor proof­read it, and then the editor-in-chief laid out the page. I asked the sports edi­tor if some­thing sim­i­lar hap­pens at a "real" news­pa­per like the News-Democrat. Later, he told me that he hired me, a seventeen-year-old kid still in high school, over dozens of jour­nal­ism majors at local col­leges because I had been intel­li­gent enough to ask good ques­tions. If you are cur­rently look­ing for work in this tough econ­omy, remem­ber that.
How­ever, my first jour­nal­ism job did not work out — and, of course, I learned a valu­able les­son in the process. You know the Score­board page in news­pa­pers that lists (used to list?) all of the results and box scores from myr­iad sports and teams? My job, many nights a week, was to pull all of the infor­ma­tion off of the AP wire, orga­nize it, and then lay­out the page for the press room. I was fired after a few months.
You see, such a page has so many names of play­ers that you can­not run spell-check because it would take hours to com­plete — you just have to "know" how every­thing is spelled. After the base­ball strike when I was a kid in the early 1990s, I had lost inter­est in base­ball until I moved to Boston for col­lege in 1998 and got sucked into Red Sox Nation. So, I was not very inter­ested in the St. Louis Car­di­nals in high school. But I had to type and lay­out the box score of each night's game myself. Since I had barely fol­lowed the team, my typ­ing had mis­tak­enly spelled "Car­di­nals" as "Card­nials" in the box scores for months. Even­tu­ally, the news­pa­per got many, many com­plaints. And I was fired.
Sub­stance, unfor­tu­nately or not, often mat­ters more than style. More on that later.
When it came time to apply for col­lege, I won a half-tuition schol­ar­ship to Boston University's Col­lege of Com­mu­ni­ca­tion as a result of my jour­nal­ism expe­ri­ence (I think I had neglected to men­tion that I had been fired). Later, I even won a small grant from the local chap­ter of the Soci­ety of Pro­fes­sional Jour­nal­ists. So, it was off to the big city on the East Coast — and to a col­lege that, so they said, was the third-best one in the coun­try for journalism.
But before I left, I wanted to spend the sum­mer of 1998 doing some­thing in jour­nal­ism. I was grow­ing increas­ingly inter­ested in the Inter­net — some­thing that would fore­shadow my exper­tise in online mar­ket­ing years later — so I found The Amer­i­can Reporter, the first online-only news­pa­per whose orig­i­nal claim to fame was break­ing the news of the Okla­homa City bomb­ing. Long story short, I e-mailed editor-in-chief Joe Shea, and he brought me on board. I free­lanced from the sum­mer before col­lege through most of my days at BU. My favorite arti­cle — which I wrote for my feature-writing class dur­ing my junior year at BU and then sub­mit­ted to The Amer­i­can Reporter — was on the effort to reverse the decline of Belleville, Illi­nois. Sure, the design of The Amer­i­can Reporter is not the most pro­fes­sional on the Inter­net, but many of the arti­cles are of top-notch quality.
Sub­stance, unfor­tu­nately or not, often mat­ters more than style. More on that later.
My Nine Years in Boston and Lon­don

In the spring of 1999, I was tak­ing Intro­duc­tion to Com­mu­ni­ca­tion 201, a fresh­man course that taught the basics of writ­ing news arti­cles, screen­plays, mem­oirs, and other styles. The pro­fes­sor brought in a friend of his, the man­ag­ing edi­tor of The Bea­con Hill Times — a weekly, neigh­bor­hood news­pa­per that cov­ers the most upper-class area of the city. (Sen. John Kerry, also the 2004 Demo­c­ra­tic pres­i­den­tial can­di­date, lives there.) After she spoke about her job, I asked her if there were any avail­able intern­ships. I became an intern in the fall of 1999 dur­ing my sopho­more year. It was then that I had my first expe­ri­ence of hyper-local report­ing: neigh­bor­hood asso­ci­a­tion meet­ings, zon­ing issues, and — that ever-persistent prob­lem in down­town Boston — rats. Peo­ple always com­plained that there were so many rats even though Bea­con Hill, among other neigh­bor­hoods, was orig­i­nally built on land­fill cen­turies ago. The prob­lem will never go away.
Years later, when I was a staff reporter after col­lege for another neigh­bor­hood weekly that com­peted with The Bea­con Hill Times, the edi­tor told me that he was impressed with the Bea­con Hill Times — they ran a suc­cess­ful, prof­itable news­pa­per in an area with no real news, he said! The con­cerns of the afflu­ent, I guess.
Style, unfor­tu­nately or not, often mat­ters more than sub­stance. More on that later.
At the same time that I was intern­ing for The Bea­con Hill Times early in my sopho­more year, I was also a weekly city colum­nist for The Daily Free Press, BU's inde­pen­dent stu­dent news­pa­per with a cir­cu­la­tion of the university's 30,000 stu­dents. I named my col­umn "In the World" and dis­cussed seri­ous issues involv­ing city, state, and national pol­i­tics. To be hon­est, it was not that pop­u­lar. To quote the man­ag­ing edi­tor at the time, my writ­ings were "bor­ing." The most-popular colum­nists were those who dis­cussed dat­ing and sex or who told humor­ous anec­dotes about the every­day lives of BU stu­dents. It was then that I learned that whether one is a jour­nal­ist or, later, a mar­keter, one needs to play to the tar­get audi­ence or demographic.
Style, unfor­tu­nately or not, often mat­ters more than sub­stance. More on that later.
At the end of the fall semes­ter, I suc­cess­fully applied to become the next editorial-page edi­tor of the DFP over the spring semes­ter of my sopho­more year in 2000. Every evening after classes (Sun­days through Thurs­days), I spent hours in the news­room writ­ing our edi­to­ri­als on cam­pus, local, and national issues, edit­ing the writ­ings of the colum­nists, and then lay­ing out the edi­to­r­ial and op-ed pages. I, like every other edi­tor, did not have much of a life at the time — but, like the bud­ding jour­nal­ists we were, we loved every minute. And the fact the the news­pa­per would buy tons of beer every Thurs­day night that we would drink while cre­at­ing Friday's paper. (I would not be sur­prised if, in ret­ro­spect, the Fri­day edi­tion tended to have more typos. But we worked hard and deserved to have a lit­tle fun.)
That spring semes­ter, I became active in the newly-formed BU chap­ter of the Soci­ety of Pro­fes­sional Jour­nal­ists (SPJ) and was elected trea­surer. As a club activ­ity, we took a tour of The Boston Globe with our adviser, Prof. Christo­pher Daly, who was then (I think) the Boston bureau-chief for The Wash­ing­ton Post. Sens­ing an oppor­tu­nity, I put on a suit and had a resume and clips in hand. In the lobby of The Boston Globe, then-city edi­tor Joe (Joseph) Williams came down to speak with us. As it had hap­pened, there was a major plane crash that day, and he said that he was the guy in the news­room who hur­riedly works with a "black cloud" fol­low­ing him all of the time. I had always appre­ci­ated dark humor — espe­cially since I now live in Israel.
After Williams' talk, I approached him and asked if I could speak to him for a sec­ond. I gave him what I now real­ize was an "ele­va­tor pitch" and asked if the Globe needed a col­lege stu­dent for any job, no mat­ter how small. He said to come to the news­room to speak with him when our group toured the news­room. A short time later upstairs, he intro­duced me to the woman who was the admin­is­tra­tive edi­tor for the Metro Desk (now called the City & Region Desk, I think) and who man­aged the col­lege edi­to­r­ial assis­tants. I gave her the same pitch, and a few days later, she called me to offer me a full-time job. The moral: Always rec­og­nize and go after every oppor­tu­nity, no mat­ter how remote it may seem.
From July to Decem­ber 2000 (the sum­mer before and the fall semes­ter of my junior year), I was an edi­to­r­ial assis­tant for the Metro Desk of The Boston Globe. I lived in the so-called "stu­dent ghetto" of the Allston-Brighton neigh­bor­hood with two friends at the age of nine­teen that sum­mer before I returned to my dor­mi­tory that fall. From 7:30 a.m. to 3:30 p.m. every Mon­day through Fri­day, I ran errands from the home office to the bureaus at City Hall, the State House, and Suf­folk County Cour­t­house (in a com­pany car!); gath­ered infor­ma­tion and quotes for reporters; ordered office sup­plies and deliv­ered them around the build­ing; and tried to develop friend­ships with the reporters and editors.
One thing that I found is that you will learn more in thirty min­utes with a men­tor than three hours in a classroom.
Of course, my main goal was to get at least one arti­cle in The Boston Globe. I got three over the six months that I worked full-time and when I free­lanced dur­ing my senior year and after grad­u­a­tion (I chose night classes dur­ing my fall-semester load since I was work­ing full-time dur­ing the fall semes­ter of my junior year:
My time at the Globe also included my first attempt at online pub­lish­ing (at the age of nine­teen). I cre­ated the now-defunct web­site The World Inter­net Times (cap­tured here in the Inter­net archives as well):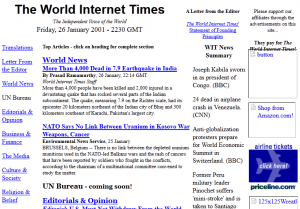 The archives, of course, includes only the text and not other fac­tor into account like the col­ors and graph­ics. My goal was to present a view of the world as if an alien would be view­ing it from orbit. Instead of writ­ing and pub­lish­ing for the peo­ple of a spe­cific city or coun­try, I would do it from a global con­text and focus more on big-picture, geopo­lit­i­cal analy­sis rather than straight news. I taught myself Dreamweaver (at a basic level), and signed up to have affil­i­ate ban­ner ads as the adver­tis­ing. I used free, syn­di­cated arti­cles, con­tent that a friend and I wrote our­selves, and I recruited other jour­nal­ism col­lege stu­dents in var­i­ous coun­tries to write for free as interns. I gave up the project after sev­eral months because it never went anywhere.
After my six-month editorial-assistant posi­tion at the Globe ended, I obtained another at The Patriot Ledger, a daily that cov­ered the South Shore of Mass­a­chu­setts, from Jan­u­ary to May 2001 while tak­ing my classes dur­ing the week. I worked eight hours a day on Fri­day evenings and Sat­ur­days dur­ing the day, writ­ing obit­u­ar­ies, fea­tures, and news sto­ries. These are the ones that I remem­ber the most:
Late on a Fri­day night, I heard on the police scan­ner that there was a vio­lent inci­dent at the mall in Ded­ham, Mass­a­chu­setts. I took a com­pany car there and got the on-the-scene facts while another reporter got the details from the police. I told my edi­tor every­thing that I had learned over the phone
Another thing I remem­ber is how my bosses looked out for their young assis­tants. When I was on the way back to the Patriot Ledger office after the shoot­ing in Ded­ham, I got lost because I was unfa­mil­iar with the roads in that part of Mass­a­chu­setts. I think I arrived at the office at some­thing like two o'clock in the morn­ing. Still, the night edi­tor — a middle-aged guy with a fam­ily — vol­un­teered to drive me back to BU in Boston because I had no other way to get home since the pub­lic trans­porta­tion was closed. I have always been grateful.
When I was a kid grow­ing up, I became quite the Anglophile as a result of watch­ing a lot of pub­lic tele­vi­sion (PBS) — "Doc­tor Who," "Monty Python," and "Red Dwarf," among other shows. So, as the spring semes­ter of my junior year and my posi­tion at the Patriot Ledger came to a close, I decided to take BU's study-abroad pro­gram to live in Lon­don, Eng­land, that sum­mer and obtain a jour­nal­ism intern­ship in that country.
From May to August 2001, I lived and worked in Lon­don. Dur­ing the day, I took jour­nal­ism classes from British pro­fes­sors and worked for TNT mag­a­zine, and at night, I worked (under the table!) as a bar­tender at a South Kens­ing­ton pub at the age of twenty. Most of my time at TNT was spent proof­read­ing arti­cles and writ­ing blurbs, but these were two pieces that I remem­ber the most (reviews of Lon­don pubs for the Aus­tralian and New Zealand expa­tri­ates in Lon­don who the mag­a­zine targeted).
When I returned to BU in the fall of 2001 to start my senior year — the ter­ror­ist attacks of Sep­tem­ber 11 hap­pened on the same day that was dri­ving a U-Haul through­out the city and mov­ing back into my dor­mi­tory — I con­tin­ued to free­lance for the Globe until I grad­u­ated early in Jan­u­ary 2002 as a result of my extra jour­nal­ism cred­its from my numer­ous intern­ships and my sum­mer study-abroad in Lon­don. I could not find a full-time job in jour­nal­ism since the post-2000 eco­nomic down­turn had already begun to accel­er­ate and the Inter­net had begun its dev­as­ta­tion of the print media.
So, I took a job in Feb­ru­ary 2002 as a staff assis­tant at The Bea­con Hill Insti­tute, an eco­nomic think-tank at Suf­folk Uni­ver­sity in Boston. Since I had never taken any eco­nom­ics classes at BU, this job was my first expe­ri­ence with eco­nom­ics. And my inter­est was com­pletely piqued — and it would even­tu­ally lead me to com­plete most of Suf­folk University's Exec­u­tive M.B.A. pro­gram years later and then later use the eco­nom­ics knowl­edge in my later writ­ings on eco­nom­ics and my cur­rent mar­ket­ing career.
My Career in Boston Journalism
I left BHI seven months later to become a staff reporter for The Boston Courant (no web­site), a weekly neigh­bor­hood news­pa­per that cov­ers the Back Bay, Bea­con Hill, Fen­way, and South End. For two years, I wrote most about the Boston Rede­vel­op­ment Author­ity (BRA) and urban devel­op­ment. (I also cov­ered local crime, the city coun­cil, and other issues.) My two favorite arti­cles were:
An inves­tiga­tive arti­cle on the Boston Uni­ver­sity Task Force –  A neigh­bor­hood com­mit­tee of res­i­dents and com­mu­nity orga­ni­za­tions that would review

BU

's pro­posed devel­op­ments and decide whether to rec­om­mend that the 

BRA

and city approve them. I found that many mem­bers were employ­ees of

BU

and/or rep­re­sented neigh­bor­hood groups that, for all intents and pur­poses, did not exist
In 2004, I became the first pro­fes­sional jour­nal­ist to be the editor-in-chief of Spare Change News, a Boston-area, non-profit news­pa­per that cov­ers so-called social-justice issues and also helps home­less peo­ple by employ­ing them to dis­trib­ute the news­pa­per. The pub­li­ca­tion gives 10 papers free to each new ven­dor, and there­after SCN sells each copy for a quar­ter and the ven­dors sell them to peo­ple on the street for a dol­lar, gar­ner­ing them a seventy-five cent profit on each issue sold.